Olympia is a wellspring for unconventional music. Something about living here encourages musicians to test their bounds, try new things, and be different. In this way, genre-bending indie band The Gravity Quartet is quintessentially Olympian. Plus, Olympia is where the group's four members—Christine Gunn, Ingrid Ferris, Giles Arendt, and Robin Toye—came together, almost by accident.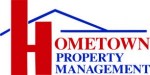 The quartet started as a solo project for Ferris, who sings and plays the oboe for the group, with Arendt as back-up. They had played together in a previous band for several years, so Ferris knew they had "always just had a kind of musical sympathy with one another," and could work together well. "And then I wanted to take it to the stage," Ferris says, "[I] heard about Christine Gunn as being probably the best cellist around. You don't meet a lot of classically trained musicians who can improvise. She's both."
At that point, the band was a trio, but they still felt they needed percussion. "I had met Robin a few years prior. We played together at the Illuminated Ball a couple of times," says Gunn,. "I knew that I wanted to work with Robin after playing with him."
But even with all four members together, the quartet did not appear right away. "Ingrid and I were working on material," says Gunn, "We were going to keep rehearsing twice a week – once with just the two of us and once with the full band – developing stuff." However, it soon became clear that all four members were equally committed, enthusiastic, and talented. "It's one of the reasons we like to say that Ingrid's wonderful album project birthed a new project. Part of the whole 'Gravity' thing is thinking of it as an exploding star, which creates a nebula, becoming the birthplace for new stars," Gunn says.
"One of the lovely things about playing pieces that might have existed in a different context, with this different configuration, is that they become completely new pieces," says Gunn. "Because everybody's adding something new, it's not the same thing."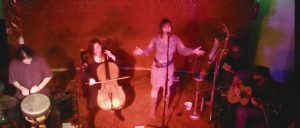 Everything they play, "becomes, really, a Gravity Quartet piece," according to Ferris. But what makes a Gravity Quartet piece? The combination of oboe, cello, and djembe, for one. "The fact that we've got this kind of instrumentation is really unique," says Ferris.
Then there is the group's genre, or rather, genres. According to Ferris, "We like to say that we bend genres to our will." Arendt described the group's music as organic, although he also emphasized, "how very rock-and-roll nature can be. When a tree falls over, it's not quiet. When an avalanche slides, it's not quiet, but it's organic." Gunn gave the genre a name, albeit one that was very unrestricted. "One of the things we like to call it is 'neo-classical impressionistic art-rock,'" she says. "We're influenced by Bach, Bowie, and Floyd."
Each member spoke about their personal influences, as well. "I grew up in the country," says Ferris, "and back in the day, there wasn't a lot to do. It was a natural atmosphere, especially because my grandmother was a musician, that my family would get together.  All of us could sing, a few of us could play an instrument and we would just play music. My parents were great appreciators of music, especially classical music, though my dad occasionally put on bagpipe music, or the soundtrack of racecars and airplanes."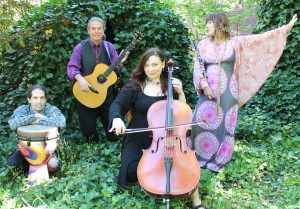 Despite this abundance of musical influence, Ferris had no intention of playing an instrument. "But, in fifth grade they said that anyone who wanted to try out a band instrument could be excused from class, and I was like 'Oh, well, that's my cue!'" When it came time for her to make a choice, "No one was choosing the oboe and I was always a bit of a rebel."
Gunn had a similar journey, but a different beginning. "My family was not musical," she says, "My dad did like to listen to classical music, but with his headphones on. One day, my sister took up the violin and I wanted her play Go Tell Aunt Rhody over and over. I drove her nuts because I thought it was just like magic that you could take this thing and just make music out of it."
A few years later, a string quartet came to Gunn's school to show kids different instruments. "They asked if any kids wanted to try anything out, and I was one of very few kids who wanted to try the cello. The instructor showed me how to play the lowest note and I was hooked," Gunn adds.
Unlike Gunn and Ferris, Arendt did not start with his current instrument. Though he plays the guitar now, his original instrument was the recorder. "It was my gateway instrument," he says. But like Ferris, Arendt grew up with music. "I grew up with my parents always listening to classical music and Dixieland jazz, as well as other music, too." And music became a part of his identity. "If I was trapped on a desert island with no instrument, I would sing and I would have music in my head. In that sense, I don't have a choice."
Toye was the only one who picked up his first instrument somewhere other than school. "There was a band in my brother's bedroom," he says. "It had a guitar, bass guitar, drum set, amps. I listened to them play, and then one day I sat behind the drum set and a friend of mine was playing Jumpin' Jack Flash and I started playing to it. I had never played on a drum set before and that started me down this road of percussive bliss. Around 1995 I started playing hand drums. I bought my first conga at The Evergreen State College. Some student had a drum for sale down at Red Square, and I talked him down from $150."
And all these influences, in addition with years of practice and various other projects, came together to form The Gravity Quartet, whose members hope to share their love of music with other people. "I like the feeling of taking people for a ride," says Gunn, "Our set lists (and upcoming EP) are constructed in such a way that there's a journey to go on."
Learn more about the upcoming EP or the band on their website, or any of their various social media accounts, including Facebook, Twitter, tumblr, and YouTube.
"Playing music really does plug me into something greater than myself," says Ferris. "I think that artists work as conduits to help spark the evolution of the minds and spirits of humanity. And it can be a very big contribution to helping society understand itself and look beyond itself to a greater vision."