Anita Olszyk grew up on the other side of the country and had to travel around the world with the military before she discovered a passion for bicycling.
Olszyk was born in New Jersey and grew up in the suburbs of Chicago. She graduated from University of Maryland and later spent nearly 14 years abroad in Germany with her husband Dave, who was in the military. She and her husband also worked in upstate New York before making the move to Olympia.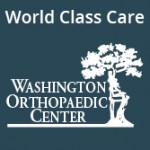 After growing accustomed to following her husband's military career around the world, it was Olszyk's turn to follow her boss from New York and move to Joint Base Lewis McChord, she said.
Within six months she picked up long distance cycling here in Thurston County. Just going on a few of the Capital City Bicycle Clubs rides brought Olszyk from viewing cycling as more than transportation to a cherished past time.
"I've ridden bikes since I was a little tyke," she said. Olszyk said she learned to ride on a dark green training wheeled bike that was passed around to each family on the street she grew up on.
With both parents working, "If we wanted to go someplace… it was either walking or biking," she said. Her household did not have much extra money so around 4th or 5th grade each sibling got a bike they would use for years.
Olszyk's bike, a used, blue three-speed bike, came from a police auction. The bike lasted for years, following her through college and still being rideable after 30 years.
She said she owns three different bikes today: a lightweight Klein bike, a Specialized commuter bike, and a steel-frame bike with fatter tires for longer distances and night riding. Olszyk bought her Klein bike in 2001, one of the last bikes purchased from the Chehalis based company before they were bought out by Trek Bicycle Corporation in 2002.
Now, Olszyk tries to commute to work three to four days a week in the summer and bikes 4,000 miles total per year. She said her commute to JBLM is about 28 miles round trip.
Of the local trails around Thurston County, Olszyk said "clearly the Chehalis-Western Trail gets used a lot." The trail is a huge commuting corridor and helps riders avoid highly trafficked roads.
She also rides a lot on Johnson Point, Skookumchuck, and in the valleys south of Rochester. All of these areas are more rural and have less traffic to deal with, she said.
"If I have the time, I try to ride 50-60 miles," she said, but on training days she will ride around 90.
Olszyk has also been training for RAMROD, which stands for ride around Mount Rainier in one day. The ride starts on July 28th in Enumclaw and will continue down Stevens Canyon, the Grove of Patriarch's, Cayuse Pass and back to Enumclaw.
The whole route is 152 miles and features around 10,000 feet of climbing. She said the whole ride took her 13 hours in 2014, but some of the quicker riders posted "insanely fast times" around 8 hours.
RAMROD riders are selected by lottery, as the National Park Service limits the ride to 800 cyclists. This year only 114 of those riders are women, and the ages range from 20 to 78.
She continually participates in randonneuring, which is "self-supported long distance biking," she said. There are clubs in Seattle and Oregon that she rides with to complete longer distance rides once a month.
Olszyk said she has completed a full year of riding one 200 kilometer ride or longer per month. She is currently on a 34-month streak of 100 kilometer or longer rides, it will reach three years in September. "You get a kind of little cheesy award and recognition for having done it," she said about completing these streaks.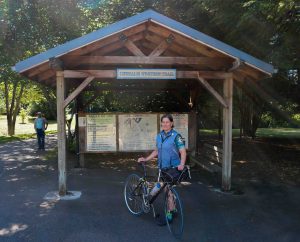 These long runs of riding sound difficult enough on their own, but "there were a couple months in the winter that I went on some absolutely monumentally miserable rides," she said. Olszyk recalled a rainy February ride north of Raymond on Highway 101 where it was 37 degrees and hailing. Only 80 miles into the ride she said "it was just kind of insane, like 'what am I doing here?'"
Even after all this riding she has never fallen off her bike as an adult, she said. As she knocked on the wooden picnic table she laughed, "It'll probably be the last of my luck. But, my day will come."
She said she has also enjoyed biking in the Bend, OR area, central Oregon, and in the mountains of Santa Barbara, CA. "It's hard to pick a favorite, there's just lots and lots of nice riding."
Her other favorite organized rides are the 125-mile ride from Tumwater to Vader and back, the Reach the Beach ride in Oregon and the Capital City Bicycle Club Annual Two-County Double Metric Ride.
For the past few years, Olszyk said she has been the "head food wrangler for the CBC Two-County Ride for several years. It involves procuring food for about 300 riders, portioning it, and getting it to rest stops. It's just a couple days of a lot of work. Maybe just by dumb luck I have the organizing skills that gets it to work out."
Olszyk brings the leftovers from the ride to Community Youth Services, a teen shelter in downtown Olympia. The shelter welcomes even opened foods to provide for teens, unlike a food bank.
In the past, Olszyk has held board positions on the CBC and worked at treasurer, but a demanding work schedule keeps her from holding a title at the moment. "I guess I'm a mainstay. I've become somebody who's been around for a long time," she added.
With the CBC she also frequently leads Saturday rides throughout the year and hosts one social ride at her home called "Bikes 'N' Brats." Cyclists meet close to her house by Tolmie State Park and ride 45 miles and return to house in the afternoon. There, she and her husband start up the grill and serve brats, beer and other snacks. "It's a fun afternoon to chill out and have fun," she said.
In the winter Olszyk continues to lead "Cup-O-Rides" that start at local coffee shops. "It's a great thing to continue riding even through the winter and give people an excuse to get off their sofa and get out of the house for a little bit on a Saturday and maintain some bit of fitness," she said.