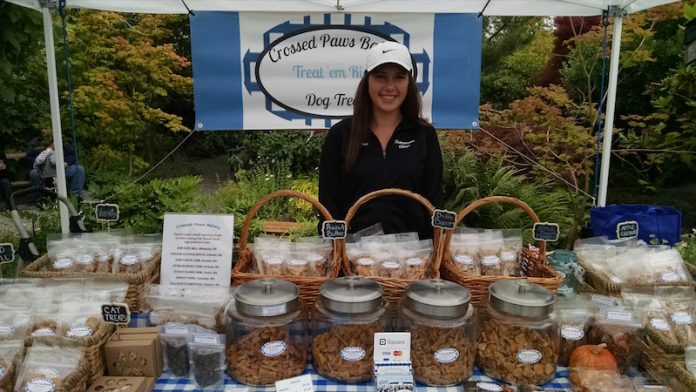 Tumwater business owner Lenore Cuskelly shops locally for ingredients. From local farmers, she fills her pantry list of parsley, dill, blueberries, pumpkins, fennel, zucchini, carrots, strawberries, kale, spinach, and apples. There's meat, too.  All of these fresh ingredients go into Crossed Paws Bakery, where all natural, preservative-free dog treats are lovingly created.

Lenore continues to tweak her recipes and cultivate satisfied customers. She also uses her 35 years of restaurant experience in all aspect of her own business. It would be natural to think that Lenore owns a café or restaurant, but instead she's mixing up delicious treats for dogs.
The "farm to table" concept is popular for human diners. Now Crossed Paws extends this idea to the canine members of the family. Lenore is a woman packed with energy and ideas. Her years in the restaurant business included time at both Tyee and Crackers, favorites from Olympia's past. She also spent time at Budd Bay Café and Anthony's, but she was ready for something new and ready to be her own boss.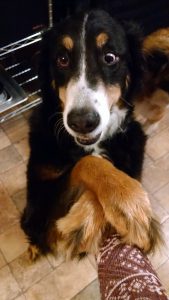 Lenore likes to cook and still makes big Sunday dinners for her family. When she became interested in making treats for her own dogs, she shared some samples with friends and requests for more kept rolling in. It took one year to figure out recipes and design shapes to match the flavors. There were many business aspects to also fine tune, such getting to know produce vendors. In May 2015, Cross Paws debuted at the Tumwater Farmers Market.
Much of Lenore's dining room is stacked with boxes of biscuits and various pieces of equipment.  The mixing, baking and dehydrating is done in her home. The dog treats are hand-cut. Since they are dehydrated, the treats have a good shelf life, but they are baked goods, made with human-grade ingredients. Lenore recommends keeping the dog treats in your freezer for longer-term storage.
The whole family is involved in the business. Lenore's husband, John Cuskelly, retired from the armed special services, and their youngest son are the friendly faces at the Tumwater Farmers Market. The display of treats is fun to examine. One looks like a little chicken drumstick and one looks like a biscotti. It is a biscotti – twice baked! Even their 89-year-old grandmother helps out.
The products are non-GMO and grain-free. Apple seeds are carefully removed to prevent any cyanide toxicity. There is no artificial coloring. Some of the dog treats have Vitamin C and/or honey, but that's the extent of any additives. "We're really unique," explains Lenore, focusing on the local nature of her business and using quality ingredients.
The actual ingredients will depend on what is in season. What are the favorite flavors? Beef & Garden Veggies, Double Bacon, Apple, Bacon and Cheddar and the always-popular peanut butter.
People are crazy about their pets, myself included. We want our four-legged friends to live long, healthy lives. Crossed Paws Bakery makes goodies for your favorite dog that everyone can feel good about. They even have a special treat for cats.
The Tumwater Farmers Market is dog friendly, so you can bring your pooch along to take a sample. Crossed Paws Bakery also sells at the Olympia Farmers Market.  The interior of the Olympia Farmers Market allows only service dogs, but sometimes Crossed Paws is set up on the edge of the market, so your dog can get closer.
Most dog treats are sold in $5 pouches. Get a frequent buyer card and your sixth purchase will be free.
Add your dog's photo to the Crossed Paws Bakery Facebook page and keep up with current events. Look for Crossed Paws Bakery pouches at The Pet Works. Upcoming will be a tower of treats, where a quarter and a turn of the handle will get your four-legged friend a little bite. Crossed Paws Bakery is also dreaming of making frozen yogurt. Yes, it's for the dogs.
Eat Well – Be Well (applies to pets, too.)