One year, Myra Downing just thought "I want to do a women's crew." Myra has been racing sailboats with her husband since 1997, but around 2011 she decided she wanted to put together her own crew. "I thought the dynamic would be different with just women," she says, "And that's proven to be true for me."
There are currently seven other sailors on the team – Thera Black, Jenifer Graf, Sandy Whitmore, Claire Elliott, Susie Zuelke, Joyce Mercuri, and Shelly Nieman.  Each woman met Myra through either the Olympia Yacht Club (OYC) or the South Sound Sailing Society (SSSS). "We're a good group of women," says Graf. "We all get along, no drama. We all have the same passion of just being out on the water."
Before the team was put together, some people had their doubts. "What I heard a lot, when I did this was 'oh, women can't race together,'" says Downing, "And women would say to me 'They can't do it. They can't get along.'" But Downing, and the rest of the crew, have found the opposite to be true. "With this group, it's such a great dynamic," she says.
The all-women sailing team has more going for it than just chemistry. "They're not kicking our butts. We're right there with them," Downing says, in reference to the other boats in the same classification as her boat, the Balder 2. "And now they're saying 'Wow, they're good.'"
Like most boats that race in the SSSS's summer series, the crew of the Balder 2 is made up of a mixture of sailors with a variety of experience. Graf, who has previous experience with power boats, was "brand new to actually working everything on a sailboat" when Downing invited her to join the crew last year. Black got her start in a similar manner in 1995 when she joined SSSS. "Honestly, a lot of it was just jumping on a boat at the South Sound Sailing Society and learning through experience," she says. And Whitmore, who has been sailing for 15 years now, also had a similar introduction. "A friend took me sailing," she says, "And then, the second time he took me sailing, he took me on a raceboat."
Many of the crew members race on other boats during the fall, winter, and spring series of races, but they all look forward to their summers spent with the other women of the Balder 2. "The beauty of having an all-women's team is that, fortunately or unfortunately, people fall into roles when there's men on the boat," says Downing. When the crew is only women they take on every role, including skipper, tactician, driver, sail trimmer, and winch grinder, whose job it is to adjust the tension on various sheets, or ropes, on the vessel.  Some of these roles are more often than not assumed by men.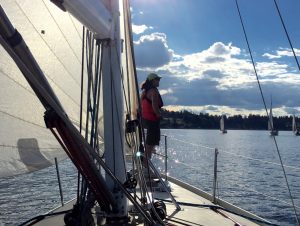 "What I like about racing is it fine tunes my sailing skills," says Downing. And racing with the all-women's crew gives her more opportunities to master a broader range of those skills. But Myra's favorite aspect of sailing is a bit more general – "just the whole concept that you can make the boat move without anything other than your own resources."
"I love being on the water," says Whitmore. This is a sentiment echoed by many of the other crew members; sailing is an experience unlike anything else. "I take every opportunity to be out there," says Graf. "I'm amazed at how many people live in this area and they've never been on the water," says Black, "It makes me sad, because it's just a magical place. I definitely encourage people to explore that part of our back yard."
Downing, Black, Graf, and Whitmore all have the same advice people who want to become involved with sailing: go to a South Sound Sailing Society meeting and raise your hand. "Somebody will take you sailing," Whitmore says. Summer is the perfect time to learn, since the races are shorter and the weather is usually nicer. Summer is also when the OYC offers sailing lessons, which, according to Black, "get people of all ages and abilities out on the water." But she also recommends involvement with SSSS. "Volunteer opportunities and crew opportunities are there," she says.
The crew understands that sailing can be intimidating for people who have little to no experience, but they say there is nothing to worry about. "It's about fun, and it's a lot more accessible than you might think," says Whitmore. Similarly, Graf says, "The sailing community is so nice and friendly. It seems like almost anyone would answer any questions and point you in the right direction to find good contacts for getting involved." That was the experience of every sailor on the crew of the Balder 2; they were introduced to sailing through friends and family, introduced to Downing through the OYC and SSSS, and are happy to welcome new people in turn.
"What I like about racing with this particular group—and I look forward to it every year—is that we just have fun," says Downing. "The highlight of my sailing has been this race team."