When Angela and Gabriel Trance recently moved to Thurston County to be near her parents, they brought along their desire to share martial arts. The couple operated two dojos while living on the east coast and now own Aspire Family Fitness & Martial Arts.

Gabriel said if he was going to do something, he wanted it to be something he loved. The couple enjoys being small business owners because of "the freedom owning your own business provides." Angela, or Ms. Angela as the students call her, handles all of the administrative work that goes into running a business. Gabriel, also known as Sensei Trance, is responsible for instructing students, primarily focusing on karate, judo, and self defense.
Sensei Trance has roughly four decades of martial arts experience and currently holds the rank of yondan (fourth degree black belt). In some circles students will refer to their instructor as Master. Sensei Trance prefers his students use the term Sensei. He believes Sensei communicates being a teacher interested in the continual journey of becoming a better martial artist. And this journey is for both his students and himself. He explained, "To me, master means I can't learn anymore. [But I] learn all the time – the more I teach, the more I learn." Viewing everyone as on the same path of growth helps foster a sense of humility and promotes mutual respect.
The couple comment that their dojo is an environment filled with respect between teachers, students, families, and the world outside. Laurie Bjerke said being involved with the dojo has taught her son, discipline and respect. "Sensei has been a great example of respect. I'm a single Mom, and it's been great having a male role model for Jonah."
Another mother, Anne Duran, beamed while sharing, "I've been so proud of how passionate my son's been. He's had a lot of behavior problems at school, but being here has helped him focus, and he hasn't been suspended [since he joined]." Duran's son added, "I don't want to fight at school anymore. Being here helps me to feel better."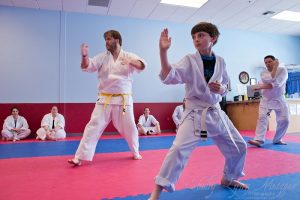 Inside the dojo, respect is modeled by bowing together. Outside the dojo, the Trances show mutual respect through compassion. Since their grand opening in April, the couple has hosted multiple events. When food is left over, they share it with hungry people in downtown Olympia.
While living back east, Ms. Angela used to work with PATH programs, helping people get into HUD homes. Sometimes she would also play the role of mailbox, saying "People didn't have a way to get mail. I'd say 'Use my address,' and then I'd deliver them their mail. Anyone can be a paycheck away from being homeless." Ms. Angela may no longer be employed as a social worker, but she is still passionate about helping the community. "We feel blessed, and want to give back and pay it forward." The Trances point out, while not everyone has equal knowledge or circumstances, "we are all equal in value."
The Trances wish for the dojo to be a resource for anyone interested in learning martial arts. Therefore they offer trial classes and scholarship opportunities. Sensei Trance shared that his own sensei, Toyotaro Miyazaki, is in his 70s, and still practicing. Thus, classes are available to anyone over the age of five.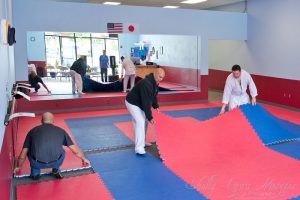 Sensei Trance acknowledges students learn in a variety of ways, and instructs accordingly. During Little Tigers classes he will often use games to impart the kihon (basics) in a way that sticks with the younger students. He teaches through verbal and visual directions, working individually with students, and floating throughout the class. When needed, he will also communicate through sign language. As a young boy Gabriel met a mute girl who lived in his neighborhood and progressively learned to converse with her. Since then he has continued practicing sign language and is able to better instruct a deaf student. The Trances strive to continually cultivate a learning environment.
Both the Trances and students commented the "family" in Aspire Family Fitness & Martial Arts truly is an important aspect of the dojo. Student Keith Johnson stated, "They care a lot about their students. It's great to spend quality time practicing with my son. We get to work together and progress together."
Another student, Robert Weirich, reflected that the biggest surprise for him was "…being more social and meeting more people. We come in early and hang out after class. It has been an extremely positive experience. I am very honored and proud to be a part of this."
The Trances encourage students to build each other up and celebrate achievements. Though, Sensei Trance did interject that they are not a "McDojo" (slang in martial arts circles for dojos which give out empty rank). He does not want to feed a sense of false accomplishment. Sometimes students will ask when they will test for a certain belt color. "I tell them, 'I don't know, and the more you ask the less I know.' Learning patience is part of becoming a martial artist. In order to be promoted they must be able to perform the techniques." Instead, Sensei Trance builds students up by correcting and polishing what they've learned, and pointing out how they've grown. "It is uplifting to see students overcome challenges. We look up to our students." Ms. Angela occasionally gives out awards to students she sees being leaders, or going out of their way to help each other.
Learn more on the Aspire Family Fitness & Martial Arts website or call 360-214-2990. Visitors are always welcome to check out the dojo in person at 5739 Littlerock Rd SW in Tumwater.