Sean-David McGoran graduated from the Berklee College of Music, served in the U.S. Army Bands, has a Master of Arts, is a co-founder of The Tuned In Academy located in downtown Olympia, and is "currently completing a doctorate with a project focus on facilitating and serving the community through music."
It is Sean-David's belief that music is necessary for everyone, and welcomes anyone who wants to be a student of The Tuned In Academy. The age demographic starts as young as five, and extends all the way through to those qualifying for a senior citizen discount. The academy offers a diverse and growing collection of music classes to help students express their own "musical voice." (A sampling of their classes includes Strings, Guitar, Piano/Keyboard, Brass, Band and Percussion, Rhythm and Melody, as well as Vocal.) Students have the opportunity to receive instruction through multiple learning environments such as in a group setting, through private instruction, and even via Skype. Instructors help communicate music to students in a variety of ways. Whether how to read standard sheet music, or through an alternative teaching method based off of theory, scale, and chords, the goal is to help music be accessible to all who are interested.
Variety of classes, environments, and teaching methods are not the only areas in which The Tuned In Academy offers diversity and inclusion. It is also their heart beat for music education to span the socioeconomic spectrum. The Tuned In Academy's website states, "At Tuned In it is our desire to serve the community. We back that up with 10% of our proceeds from all classes of five or more tuition-paying students. 10% of all non-scholarship group class tuition received (above our operating budget threshold) goes right back in to the scholarship fund to provide scholarships to students that could not otherwise afford classes at the academy." The scholarship ranges are based off of "official Section 8 housing limits." Part of Sean-David's doctoral studies has involved putting together a selection board to help further scholarship opportunities for current and prospective students of the academy.
Taking that vision a step further, the academy is currently in the brainstorming phase of how to take music education to the homeless. They view busking as an important community art form. It not only provides a means for people to perform instead of beg, but it helps give them a deeper voice than what they could communicate through words alone.
The Tuned In Academy makes sure to impress the importance of what they call "presentation over performance." They remind students, that as an art form, music is more than "amusement and entertainment," it is more than constructed sound. Music can communicate ideas across languages, and cultures, helping to facilitate much needed conversations. And those conversations can help bring much needed unity. In order to help students go beyond surface level conversations, The Tuned In Academy will be offering Song Writing classes starting in the summer of 2017.
Sean-David has many dreams he'd like to see the academy be able to undertake. One day he would like to create an instrumental library where people would be able to check out instruments for classes, as well as to eventually take home and practice with. As a keyboard class wrapped up one student longingly told Sean-David, "I wish I could practice at home, instead of just in class." Currently he was limited to suggesting her family check Craigslist for free pianos. One day it is his hope that the academy will have grown enough to further help students without having to refer them elsewhere.
The academy would like to see a growth in their staff, specifically, with instructors who are trained in music therapy. The Tuned In Academy provides a music education driven by the belief that people and community are "inherently more valuable than any medium or man created thing –including music." As much as they are passionate about sharing music, they are even more passionate about helping people through music. As it is, a few parents whose children are on the autistic spectrum have already expressed that their children's involvement in music, "…is the one thing that makes a difference." Sean-David also strongly believes in including music as part of the healing process for soldiers with PTSD. (He shared some insightful pieces written on Music as therapy for PTSD. They can be viewed here, and here.) He noted that even though The Tuned In Academy is a non-profit, all of the staff instructors are paid. This is so that they can pour 100 percent into helping their students, and their passion for teaching music.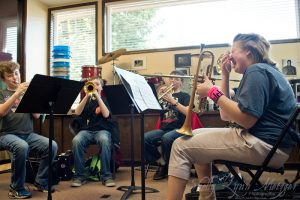 Sean-David wrapped up the interview by saying, "We want to serve the community. We want people to know we're here so that people can benefit from what we do."
For more information on The Tuned In Academy you can contact them through their contact page, email address info@thetunedinacademy.org, or phone number 360-688-9911. If you would like to help support The Tuned in Academy, they are a 501(c)(3) organization, therefore donations are tax deductable. They will gratefully accept instrument donations, as well as financial contributions.