Summertime can be financially tricky. Here in the Pacific Northwest open windows, free outdoor activities, and a box of popsicles can easily replace heating bills, school supplies, and daily packed lunches. But there are some sneaky costs too.
Whether you're planning a summer getaway, mid-break staycation, or just signing up for camps galore, we can all use a few extra dollars to comfortably enjoy long days, balmy nights, and anything else the season throws our way.
This is where Thurston County's evergreenDIRECT Credit Union can help. Through July 8, qualified applicants for their Summer Freedom Loan can receive a $4,700 loan at 4.7% interest with 47 months to repay. Borrowers who qualify for this promotional rate will have nearly four years to repay the balance, with monthly payments of approximately $110.
evergreenDIRECT's Marketing Director John Ybarra explains that this type of loan is ideal for families with a vacation, credit card consolidation, or college visit on the horizon. One member even used the money for a rainy day fund, useful in a La Niña summer.
Have a high schooler in need of their first car or excited band member looking for the perfect tuba? Paying for tutors, babysitters, team uniforms, or sleepaway camp? All easily remedied by evergreenDIRECT to insure a tranquil summer (especially once those tuba lessons kick in.)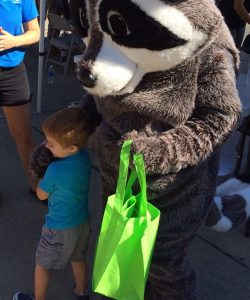 Visiting colleges or preparing to drop your graduates off at school in the fall? The costs of books, meal plans, t-shirts, and Twin XL sheets can add up quickly. And don't forget tissues for sentimental parents on the long drive home.
Interested parties can apply for the Summer Freedom Loan online, in person at their Olympia or Tumwater branches, or by calling 360-943-7676.
And what's even better than a low interest, low payment loan? It's definitely having the ability to skip two payments each year thanks to evergreenDIRECT's Take 2 program. With Take 2, borrowers can take two consecutive months off each year for the duration of the loan. This lets families waive payments over Thanksgiving and Christmas or teachers to take July and August off and relax.
Advisors recommend having an emergency fund that can cover 3-6 months' worth of expenses. For many living paycheck-to-paycheck this can feel out of reach. But a plan like the Summer Freedom Loan can start your rainy day fund for as little as $110 a month. Knowing that you're covered against the perils of home repair, unexpected medical bills, or the looming 'check engine' light helps avoid sleepless nights and stress-filled days.
Visit evergreenDIRECT Credit Union Monday through Friday from 9:00 a.m. until 5:00 p.m. at their Olympia offices or 5:30 p.m. at the Tumwater location. Shared branching is available while traveling and many ATM's are fee-free for members. Know a member and want to become one yourself? Have them Refer a Friend and you'll both receive $25.
Started more than 60 years ago by state employees, evergreenDIRECT is open to anyone who lives, works, worships, or goes to school in Washington and their family members. They offer banking via App for iPhones and Android devices as well as an informative Facebook page full of educational articles, upcoming events, member feedback, and financial promotions.
Sponsored