When Vajra Romano and Christina Lagdemeo met 9 years ago at a Yoga Journal conference in Colorado, they were headed to opposite ends of the globe – Christina to India to volunteer and Vajra to Hawaii – to teach yoga. They kept in touch for four years through email, and then in 2012 reconnected in Seattle. They married within a year and are now the founders, owners, and teachers at True Self Yoga, West Olympia's first, and only, yoga studio.

It was a long and winding journey that brought them to yoga, to each other, and back to Olympia, where an outpouring of family support and community effort led to the February opening of True Self. "So many people came out to help us. It's humbling how generous people were, with their time, with their resources. There were so many people who contributed to everything in here," says Christina. "It really feels like a community effort – so many people gave their skills and their talents."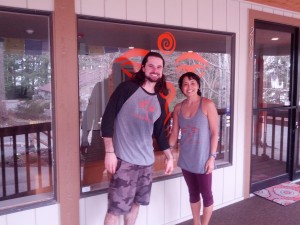 True Self offers 32 classes per week, from Yoga Nidra meditation to Heated Hatha. There is a class for everybody. "We want to meet people where they are. That's our mantra," Vajra emphasizes. True Self Yoga is two studios in one, with an infrared heated fire room, and an earth room, where the more gentle classes take place.
"Yoga is thousands of years old. It's way beyond us, and we're just trying to keep the lineage traditional and be authentic in what we offer, while meeting people where they are and being in this modern world, and having amenities that serve people," says Christina. Those amenities include gorgeous changing rooms complete with showers, a water-bottle fill station, coconut water and kombucha on tap for purchase, and lots of parking.
Vajra, who is from Olympia, was interested in meditation and Buddhism from a young age, and discovered the power of yoga when he attended Naropa University in Colorado. Here, he shifted his studies from Buddhism to Yoga, graduating from the yoga teacher program.
"In Boulder, I realized that yoga is a cultural phenomena – how yoga is being integrated into the west, that was a big part of my path coming to yoga," says Vajra. He says it took a while to identify as a yoga teacher. "The very first time I taught yoga was in Olympia," he says. He started teaching yoga at the community center in downtown Olympia for friends and family, and as they began to bring friends, he gained confidence in teaching. He then travelled to Puerto Rico, Maui, and all over the country teaching yoga.
"In 2010, I came back full circle to Olympia. It was the second time I really sank roots here, I taught at the Valley Athletic Club and Hot Yoga Olympia, then I realized, at that time, that this is what I want to do, I want to open a studio and I really want to do one on the Westside. Living on the Westside I wanted a studio and said 'if someone doesn't do it, I'm going to do it myself,'" he explains. "In 2010 it wasn't the right time to do it, and I wouldn't have been able to do it on my own. In hindsight, there was something missing, and obviously it was her," he says, looking at Christina.
Christina was on a different path, where she discovered yoga as a stress reliever from her high-powered career in Washington D.C. She worked for the White House for 10 years and three different administrations, first in the budget office and then as Deputy Director of the White House Initiative on Asian Americans and Pacific Islanders. She turned to yoga in 2001 when her older brother took his life. "I really turned to yoga and meditation at that time, it was definitely my salve, and helped with my healing process," she says. Christina took a break from her work in Washington DC to volunteer for three years in India with victims of human trafficking, where she deepened her yoga practice and furthered her spiritual journey.
After reconnecting and marrying, the couple travelled to India together. "What we've experienced, travelling to different ashrams in India together, has shaped what we are offering. We want that sense of sacred space when you walk in the door," Christina says. The couple then moved to Kauai, where they lived on a farm and taught yoga for two years.
They were contemplating their next step when tragedy struck their family – Vajra's cousin, Trevor, committed suicide. The couple then really felt compelled to return to Olympia and open the studio Vajra had dreamed of.
"It was a three-fold inspiration. First, life is short, act on your deepest inspiration. It was something I've wanted to do for a long time. Second, connect with family. Third, open the studio, in memory of Trevor, and offer youth scholarships. Those three are the foundation," Vajra shares.
The couple was also drawn back to Olympia because of the natural beauty and strong community here. "Once you grow up here, even if you go away for a long time, it's part of you. A lot of people are drawn back to Olympia. It's a beautiful place and you appreciate it when you come back," says Vajra.
Vajra and Christina both emphasize that their motto is "don't let the business of yoga get in the way of the real business of yoga." Their ultimate goal is to connect students to the practice of yoga and to help others.
True Self Yoga offers a full schedule of classes, including a community, pay-what-you-can class on Fridays at 5:30 p.m., with all proceeds from that class going to the Quest for Truth youth scholarship program.