By Margo Greenman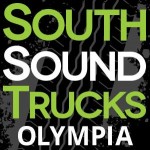 What happens when you combine tea, sugar and yeast in a barrel and let it ferment for a few weeks? You get the effervescent probiotic drink best known as kombucha — a delicious beverage that's not only good, but good for you, too.
With origins tracing back to China around 221 BC, kombucha was revered for its healing properties and became a commonly consumed beverage in countries like Russia and Japan for many years. However, by World War II, the once widely consumed beverage began to lose its international prominence.
Today, the naturally carbonated tea is making a modern day comeback as a healthy alternative to sugary soft drinks, and Tumwater-based Rainbow Cloud Kombucha is pioneering the way as a local producer of the fermented stuff.
Matthew Eklund, the mind behind Rainbow Cloud Kombucha, takes his SCOBY — or symbiotic colony of bacteria and yeast — seriously. What started as a hobby for the young entrepreneur has since turned into a full-fledged production line, but he takes extra care to ensure each growler-full is just as good as the smaller batches he used to craft for friends and family several years ago.
The first batch of kombucha Matt made was brewed inside of a fish bowl. It was 2011, and a friend of Matt's who was moving asked Matt if he wanted to take over the live kombucha cultures. Already a kombucha drinker, Matt was intrigued and said yes.
Matt fell in love with brewing kombucha immediately, and 11 cultures quickly grew to 22. He started out brewing kombucha for friends and family, but soon more people were requesting it. "No matter how much I made, people wanted it," says Matt.
Matt started brewing his kombucha at a friend's house in Union before moving his operation to Olympic Mountain Ice Cream's warehouse in Shelton. With a bigger production space, Matt was able to ramp up production, and he started vending his kombucha at local farmers markets and festivals across the region. Business was booming, and it was again time to expand.
Earlier this year, Rainbow Cloud Kombucha moved its operation to a warehouse in Tumwater that it shares with several other conscious-minded food producers. The warehouse, or "Good Karama Kitchen" as Matt and the others like to call it, is home to several local businesses like Smiling Mo's Gluten-free Cookies, Rockstar Creations and Whole Life Superfoods. The result is a collective of like-minded entrepreneurs all working harmoniously under one roof.
Since moving to Good Karma Kitchen, Matt has been able to grow Rainbow Cloud Kombucha's production even further. He's currently producing about 700 gallons of kombucha a month, but he expects that number to double by the end of summer.
Matt says if there's one thing you should know about Rainbow Cloud Kombucha, it's how the fermented tea is made. Or rather, what it's made in. Unlike most kombucha producers who use glass or food-grade plastic, Matt uses oak barrels to make the fermented tea. Using oak barrels makes production more costly, but Matt says it's worth it — and the difference is one you can taste.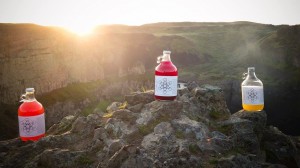 Matt says oak barrels help neutralize the sour, vinegar taste kombucha is known for, offering a sweeter, more enjoyable flavor to the drinker. "The oak barrels take away a lot of that really sour smell," he explains. "We do a light ferment that keeps it semi-sweet. It's a smoother, crisper taste, rather than a punchy, vinegar taste. Ours is a good entry-level, friendly kombucha to try."
Rainbow Cloud Kombucha offers five different flavors, including Matt's favorite — organic ginger, but all of his kombuchas start the same way, with a base tea Matt orders from Tacoma tea company, Mad Hat. Matt combines the tea with natural flavors, sugar and the kombucha culture, then lets the mixture ferment in oak barrels for one to two weeks, creating a product that he's proud of.
Excited for what the future holds, Matt looks forward to introducing more people to the healthful beverage, growing Rainbow Cloud Kombucha, and continuing to work with people who are passionate about the product.
Rainbow Cloud Kombucha can be found at locations across Thurston county, including the Olympia Food Co-Op and Ralph's and Bayview Thriftway (where it's served fresh, on tap).
If you would like to learn more about Rainbow Cloud Kombucha, you can visit Rainbow Cloud Kombucha's website, or follow Rainbow Cloud Kombucha on Facebook.