By Mary Ellen Psaltis
Why not go out on a limb? That's where all the fruit is. – Mark Twain (or possibly Will Rogers)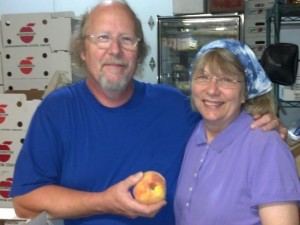 Karl and Bev Black have taken that philosophy to heart and live out on a limb. Together they create gallons of dreamy ice cream every day. Their shared passion for integrity and their gusto for living has built and sustained Olympic Mountain Ice Cream as a benchmark for hand-crafted, fabulously flavored ice creams and gelatos for over 30 years.
I was able to visit the location where the magic happens. It's past Shelton, down winding roads and along gravel tracks – you don't get there by accident. I felt like I had won a golden ticket to Willy Wonka's Famous Chocolate Factory.
The 'factory' is a building next to the Black's house. As I walked in the door, the warm aroma of toasted coconut swirled around me – invisible and delightful. One wall of the surprisingly small work area was lined with four silver ice cream machines each with a person (no Oompa Loompas, but family members instead) guiding the just-made confections into containers.
Each batch equals three gallons. They make almost uncountable numbers of batches six days a week. There are daily orders to fill and people want their ice cream. Every container is hand packed.
I watched generous pours of caramel apple lusciousness being put in layers. Mesmerizing. Nearby, lemons were being juiced – one at a time. The flavors of Olympic Mountain Ice Cream are intense, real and fresh. Washington peaches become peach ice cream – only in season.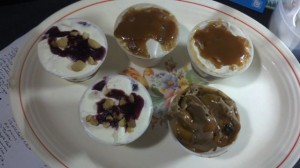 The Blacks originally bought their acreage in the Skokomish Valley for the fertile soil and excellent water. Although no longer produce farmers, they still grow their own herbs to use in certain recipes. There are two trays of well-used recipes on a shelf near the machines. The day's orders and other lists are carefully hand-inked. It felt like everything was done with hand and heart, rather than technology.
Olympic Mountain Ice Cream may be made in machines, but it's the creative forces behind these machines that make this ice cream different than others. Black explains that the milk fat is 18% (that means creamy) but it's so much more than that about the whole ice cream experience. "The texture, ingredients, flavor" all play a role as well as the "mouth feel and body." What does it look like as it melts? How much air is mixed in? These are important questions. One chef in Seattle is so enamored with the vanilla ice cream that he simply melts it and uses it as sauce for his desserts.
Many of the 350 varieties contain pieces of ingredients such as chocolate chips, nuts, or piecrust. The Blacks assured me that "you don't have to search for stuff in ours."
"Every scoop has a bite of everything." That's what I like to hear. If you are a purist and want vanilla, you will be relieved to know that there is one machine just for you. Every Friday it produces 450 (or more) gallons. That ought to satisfy you for a few moments.
I asked both of them if they liked ice creams. "I love it," smiled Bev. Karl is tasting and checking batches and looked pleased that ice cream remains a passion. He noted that some people (in business) go for the bottom line and take out the "passion and magic." This is absolutely not the case at Olympic Mountain. Their work is a labor of love and an abiding desire to provide an experience unsurpassed by any other ice cream. Their dedication to customer satisfaction is true. Black believes that people are important. Give their ice cream a taste and decide for yourself.
Ice cream – especially high quality ice cream – is a luxurious addition to a warm summer day. Taste summer in Black Berry Cheesecake (with a touch of lemon) and don't be embarrassed to lick the bottom of your bowl. Olympic Mountain Ice Cream is making the world a sweeter place – one bite at a time.
Enjoy a scoop at Bayview Thriftway, sitting on the outside deck or strolling along the boardwalk.
Eat Well – Be Well