By Ben Deatherage for Grays Harbor Raceway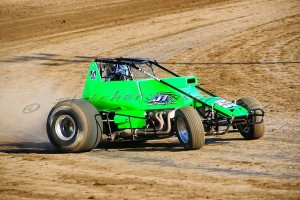 The Northwest Wingless Tour will make their final 2013 appearance to Grays Harbor Raceway this Saturday August 24th for the Pepsi Open Wheel Frenzy.  When the Non-Wing pilots bring their mounts to the 3/8-mile clay oval it is guaranteed to be a night of high speeds and breathtaking action so make sure that you don't miss this last opportunity.  The series has paid two visits in 2013 which took place back in July when the NWWT kicked-off their first ever Non-Wing Speedweek.  Kyle Miller would be the face in victory lane on both occasions as he would dominate the field during that weekend.
The NWWT has visited Grays Harbor Raceway ten times and has seen seven different winners.  Currently Kyle Miller is on a winning streak with three straight Non-Wing wins at GHR which was started last year on August 29th.  He has the most wins so far that anyone has managed to achieve since the series started to visit GHR in 2009.
Reece Goetz is the only other driver to win more than once with his sweep of the Big E Weekend back in 2011.  Jeff Bell, Travis Rilat, Shawn Rice, J.J. Hickle, and Seth Bergman are the four drivers that have visited victory lane once when the tour has come to town.
A terrific point battle is being waged between defending champion Bill Winsley and Rob Lindsey.  Winsley has a slim two point margin entering Saturday night over Lindsey, who is the currentNWSprintCarHistory.com Rookie Of The Year points leader.  Sterling Kane isn't too far back himself as he trails Winsley by just twenty-two markers.
The Grays Harbor Raceway is known for its high speeds and side by side racing as well as its large track size. Hosting racing action from April to October regular classes include 360 Sprints, IMCA Modifieds, USAC Ford Focus Midgets, Street Stocks, Hornets, and for the first time the Northwest Extreme Winged Sprint Cars. For more information visit www.graysharborraceway.com or call the brand new Northwest Tracks Hotline at (360)-699-RACE.
In 2013 the Northwest Wingless Tour will partake in eighteen races at four different race tracks in the states of Oregon and Washington. In four seasons there have been four different champions in this organization that has started to become pretty popular among fans and drivers in the Northwest. Be sure and check out their brand new website at www.nwextremeseries.com.
Additional Details
Past Northwest Wingless Tour Winners At Grays Harbor Raceway:
2013- Kyle Miller on July 12th, Kyle Miller on July 13th
2012- J.J. Hickle on May 19th, Kyle Miller on August 29th
2011- Reece Goetz on August 26th, Reece Goetz on August 27th
2010- Jeff Bell on June 12th, Travis Rilat on July 15th, Shawn Rice on September 4th
2009- Seth Bergman on September 5th
Northwest Wingless Tour Points (Top Ten):
1. 10W-Bill Winsley 705; 2. 23-Rob Lindsey 703; 3. 89-Sterling Kane 683; 4. 10-Kyle Miller 555; 5. 7K-Kyle Mehner 474; 6. 25-Pat Canfield 406; 7. 3G-Garret Johnson 369; 8. 27W-Guy Weedman 325; 9. 28-Mark Herz 288; 10. 4-Jesse Thistle 243
2013 Northwest Wingless Tour Schedule
4/20 Cottage Grove Speedway (Cottage Grove, OR) Kyle Mehner
5/4 Cottage Grove Speedway (Cottage Grove, OR) Kyle Miller
5/11 Sunset Speedway Park (Banks, OR) Sterling Kane
5/18 Sunset Speedway Park (Banks, OR) Rained Out
5/25 Sunset Speedway Park (Banks, OR) Mitch Hoffses
6/8 Cottage Grove Speedway (Cottage Grove, OR) Kyle Miller
6/22 Sunset Speedway Park (Banks, OR) Bill Winsley
7/12 Grays Harbor Raceway (Elma, WA)* Kyle Miller
7/13 Grays Harbor Raceway (Elma, WA)* Kyle Miller
7/19 Cottage Grove Speedway (Cottage Grove, OR)* Kyle Miller
7/20 Cottage Grove Speedway (Cottage Grove, OR)* Kyle Miller
7/26 Willamette Speedway (Lebanon, OR)* Kyle Miller
7/27 Willamette Speedway (Lebanon, OR)* Kyle Miller
8/10 Sunset Speedway Park (Banks, OR) Bill Winsley
8/24 Grays Harbor Raceway (Elma, WA)
8/31 Cottage Grove Speedway (Cottage Grove, OR)%
9/1 Cottage Grove Speedway (Cottage Grove, OR)%
9/14 Sunset Speedway Park (Banks, OR)
*- Denotes Non-Wing Summer Speedweek
%- Denotes Wingless Nationals presented by Herz Precision Parts