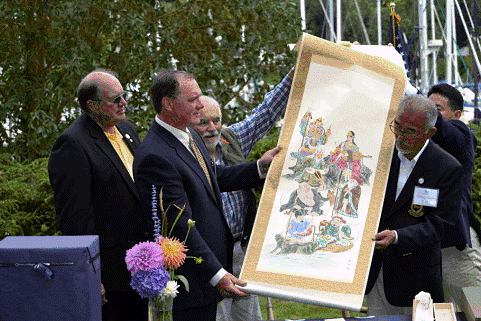 Submitted by The Port Of Olympia
Port of Olympia's Swantown Marina & Boatworks and Shin-Nishinomiya Yacht Harbor signed a unique "sister marina" agreement on August 18th at Swantown Marina in Olympia.
The sister marina friendship marks the 50th anniversary of the "sister state" relationship between Hyogo Prefecture, Japan, and Washington State.
Lt. Governor Brad Owen and Port Commissioner Bill McGregor welcomed participants, including Hyogo's Governor Toshizo Ido and legislators, and Toshikazu Hayashi, president of Shin-Nishinomiya Yacht Harbor.
Said Owen, "We have plenty of sister city agreements and sister port agreements, but this sister marina agreement is the first of its kind in Washington state, and perhaps in the nation."
"We are agreeing to exchange information on the development of our marina services and operations, and share knowledge and activities on environmental stewardship," said McGregor.