Submitted by Capital Medical Center 
A new, minimally invasive surgical option is now available at Capital Medical Center for patients needing spine surgery, including spinal fusion, vertebroplasty and scoliosis correction. The Mazor Robotics Renaissance®, a state-of-the-art guidance system for spine surgery, is now being used to assist the hospital's orthopedic spine surgeons and neurosurgeons. Capital Medical Center is the first hospital in Washington to offer robotic-guided spine surgery.
"Capital Medical Center is committed to bringing advanced technology and the best treatment options to our patients," said Jim Geist, CEO. "Adding this state-of-the-art system to our nationally-recognized spine program goes hand-in-hand with the $16.3 million expansion of our surgical department that is happening this year."
Minimally-invasive surgery can mean smaller incisions, shorter hospitalizations, less pain and faster recovery for patients. But, smaller incisions usually pose a challenge to surgeons due to the lack of direct line-of-vision, and can require many intraoperative X-rays to compensate. Renaissance helps surgeons overcome these challenges. The system has been clinically validated to ensure 1.5mm accuracy for increased patient safety as compared to freehand spine surgery, which translates to the best possible clinical results for patients with less use of fluoroscopy.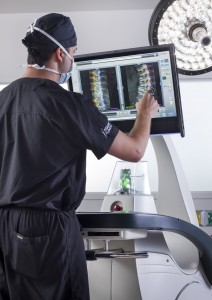 Before entering the operating room, surgeons use Renaissance to pre-plan the optimal surgery in a CT-based 3-D simulation of a patient's spine. During surgery, Renaissance guides the surgeon's hand and tools to the precise pre-planned location. In a recent multicenter study published in the medical journal Spine, investigators stated that Mazor Robotics' technology "offers enhanced performance in spinal surgery when compared to freehand surgeries, by increasing placement accuracy and reducing neurologic risks."1
"Renaissance has been a tremendous addition to the spine surgery program at Capital Medical Center," said Andrew Manista, MD, orthopedic spine surgeon and chief of staff. "The ability to pre-plan a patient's surgery and the precision of the system during the procedure are significant advantages for a wide variety of clinical applications, from minimally-invasive procedures to complex spinal deformity correction."
To learn more about Capital Medical Center's spine program or surgery with the Mazor Robotics Renaissance, go online to www.capitalmedical.com/services/joint-spine/.
1Devito DP, Kaplan L, Dietl R, et al. Clinical acceptance and accuracy assessment of spinal implants guided with SpineAssist surgical robot: retrospective study. Spine. 2010;35(24):2109-2115.
About Capital Medical Center
Located in Olympia, Capital Medical Center is a 110-bed full-service hospital serving all of Thurston and surrounding counties. Part of the Capella Healthcare family of hospitals, Capital Medical provides a comprehensive range of medical services and high quality care. Capital Medical strives to be a forward thinking, innovative hospital where trust, teamwork and technology come together to make a positive difference in the health of the community and region. Capital Medical Center is partly owned by some of the physicians who serve our patients. For more information, go online to www.capitalmedical.com.