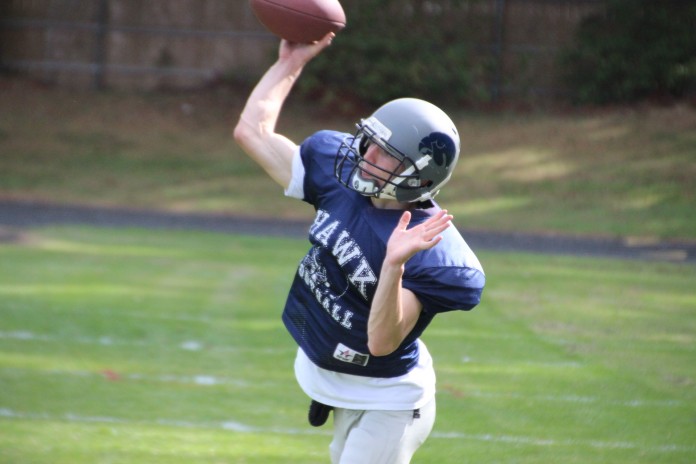 By Gail Wood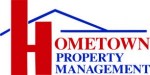 Without question, Kobe Key is a double threat as the quarterback for the River Ridge High School Hawks.
He can pass – he tossed 20 touchdowns with only two interceptions last season. And he can run – last season he piled up a combined 1,517 yards, passing for 1,307 yards and rushing 209. In the third quarter against North Thurston High School in the second game of the season, Key dropped back to pass, then scrambled for 15 yards, setting up a touchdown in the Hawks 19-13 comeback win.
But his double-threat talent isn't why Key is the Hawks' starting quarterback for the third straight season. It's because he's a leader.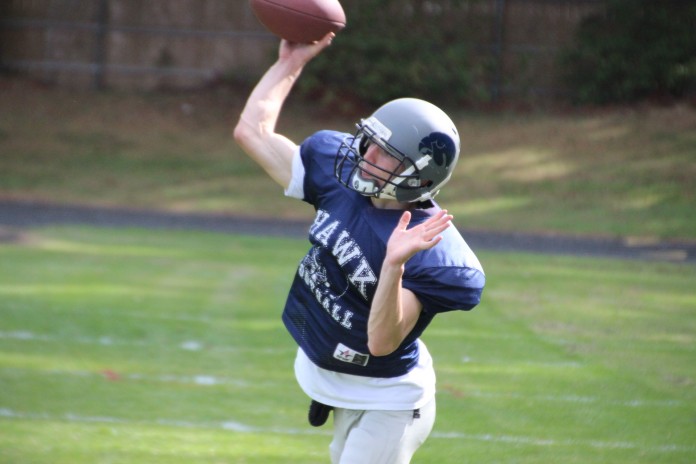 "That's the bottom line," said Steve Schultz, who is in his 14th season as the Hawks head coach. "If you can't lead a huddle, you can't be a quarterback. That's number one for me when we're picking our quarterbacks."
Forget about the passing and the running – that's secondary in Schultz' playbook.
"You're better off with a lesser athlete who can lead," Schultz said. "You just are at that position."
And having the right first name might help. Before Kobe took over as the starter, there was Colby. That's Colby Schultz, Steve Schultz's son.
"We talk about quarterbacks from the past and we say that was a big game by Colby, and we say Colby or Kobe?" Schultz said with a smile. "Either one. Both of them had great games."
The "Did you say Kobe or Colby?" confusion hasn't gone away. Colby Schultz is an assistant coach with the Hawks this season. But in November, Colby will head overseas for a one-month training in IT. For now, dad is enjoying the moment.
"It's good times," Schultz said.
And it's again good times for a Hawks team that finished 9-2 last season, setting a school record for most wins in a season.
Protecting Key, a second-team all-league pick last season at quarterback, is an experienced (and big) offensive line. Three starters in that hard-hitting offensive line are back. That's a combined 900 pounds of protection for Key. Back are David Bowker (6'4″, 290, senior) at left guard, Caleb Price (6'5″, 330, junior) at center and Kyle Krammer (5'10", 280, senior) at right guard.
"We have three of our big guys right in the middle returning," Schultz said. "That's big."
At running back, the Hawks have Padric Green and Gustavo Diaz, two pounders who can break the big play. At tight end, there's Brayden Anderson, who caught a touchdown pass in each of the first two games of the season.
"We have some shake-ability and we have some speed," Schultz said about his running backs.
But the Hawks don't rely on just one back, one big-play player.
"That's made us rely more on everybody across the team," Schultz said. "Everybody has a certain role. And we have to put together drives and not turn the ball over. Basically, it's helped us become a better team."
The experience at quarterback gives the Hawks an edge. But it's not just Key's passing and running that makes him tough to stop. It's his drive to win.
"Kobe is just a solid competitor," said Jack Zillah, the Hawks offensive coordinator for the second season. "He plays within himself. He's matured a lot between last year and this year. We've responded by giving him more things in the offense. I love coaching him. He makes the offense works. He makes me look really smart. That's always good."
Key has matured since his sophomore season. He used to adlib, making decisions to run when he should have passed. Now, he's making the proper adjustment.
"If the protection on a pass play isn't what he likes, he gets it rearranged and he gets it lined up to how he wants it to go," Zillah said.
In the first two games of the season, Key pulled in a couple of pass attempts and scrambled, turning a probable interception into a big play.
"He makes a lot of smart decisions," said Chad Arco, the Hawks quarterback coach. "He's really grown up this year from last year, ,just maturity wise and also decision making."
Key, who is 5'1″1 and 165 pounds, is no stranger to the pressure of playing quarterback. It's a position he's played since he was in second grade, his second year of football.
"I like playing the position," Key said before a recent practice. "I like having the ball in my hands. I like the position."
From first grade to this season, Key's dad, Shane Key, has always been there on the sidelines, coaching and cheering. Shane is the running backs coach for the Hawks. Last season, Shane coached his oldest son, Michael.
"I love it," Shane said about coaching his sons. "The coolest thing last year was hearing the announcer say, 'The pass goes from Key to Key.' That was the coolest thing to hear – Key to Key."
Another key to the Hawks' success this season is their hard-hitting defense. Keying that defense is Zach Carter, a 6'1″, 225-pound senior linebacker who has a knack for blowing up a play. In the first two games of the season, Carter graded out at 90 percent.
"I grade the linebackers and I've never had a linebacker grade out at 90 percent," Schultz said. "He made some plays against North Thurston that saved the game for us."
To go far in the playoffs, the Hawks will need a solid performance from their offense and their defense.
"It really takes both sides for us to win a game," Schultz said. "We can't take anything for granted."