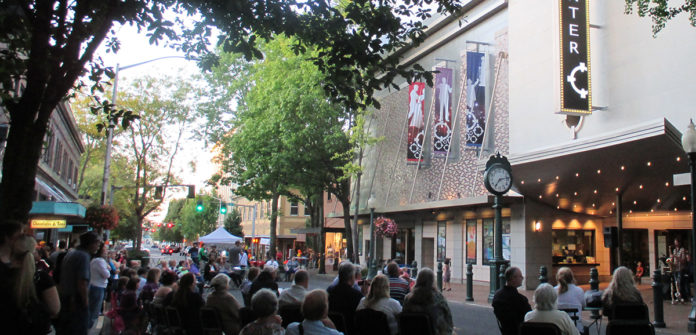 It doesn't matter if you are folk legend Arlo Guthrie or the student orchestra from a local high school. At Olympia's Washington Center for Performing Arts, you are going to get the same quality of lighting, sound, and production values, plus the experience of performing in a world-class venue.
"We may have Pink Martini here on a Thursday night, then turn right around and Friday evening our local choir group will be performing," says Marketing Director Anne Larsen Matheson. "It's a lot of work for the crew, but they love it and provide that same top quality service and venue."
That dichotomy perfectly captures the dual function of the Center, which celebrates its 30th anniversary this month with a formal celebration at the season opener on October 1. With 40 regional, national, and international acts per season subsidizing the nearly 250 performances by local artistic partners, the Center plays a critical role in the cultural life of Thurston County.
"I can't imagine Olympia without it," says Ken Johnson, who shares Artistic Director responsibilities at Ballet Northwest with his wife, Josie. "It's really a jewel for our community. For local artists to be able to perform in such a venue is a treat. It really sets us apart from other communities of this size."
Ballet Northwest and the Masterworks Choral Ensemble (MCE) are two long term artistic partners that have been in place since before the Center opened. In the early 80s, says Gary Witley, Artistic Director and Conductor at MCE, locals performed in gymnasiums and churches and a so-called 'cafetorium,' a lunch room at Capital High School that was converted into theater space for local arts groups, including MCE and the Olympia Symphony Orchestra.
"Once the Center was built, Olympia finally had a professional venue, not only for local arts groups to use and grow, but also for use by more nationally known traveling groups. The entire arts scene in Olympia became richer the night the Center opened," says Witley. MCE and the Symphony were among the first groups to appear onstage at the Grand Opening in September, 1985.
For such partners, particularly in organizations that include children, the experience gained through the relationship with the Center is invaluable. "It's had a huge impact on the professionalism and quality of our productions," says Johnson. "It's such a beautiful venue. We have students who have gone on to professional ballet schools and conservatories, and sometimes the venues they perform in aren't as nice as the Washington Center."
Witley says MCE has also benefitted from the collaboration. "We have grown in professionalism through our association with the Center's staff and crew. Since 1985, Roger McIntosh and Ken Glidden and their talented crew have helped us bring our performance 'vision' to life, solving problems and offering creative assistance."
Along with almost 25 artistic partners, the Center also works to bring in student groups. "Olympia Junior Programs (OJP) is another one of our big partners," says Matheson. "They bring in 27,000 school kids every year." From February through April, dozens of yellow school buses disgorge hordes of elementary school students at the Center.
"There are parent ushers volunteering here, and each school has a seating section," says Matheson. "They come in, watch a show for one hour, and then back out to the buses. Particularly for the kids coming from the rural school districts, this may be their only opportunity for a live performance. It's really important to offer live, educational performances at an affordable price." The Center also makes free or discounted tickets available for programs like the Boys & Girls Clubs of Thurston County and Big Brothers Big Sisters of Southwest Washington.
For kids who actually grow up performing at the Center, says Matheson, the impact can be life-changing. "This is a wonderful experience," she says. "They're getting to stand on stage and look out at the audience just like these big national groups that are coming through. It's fun when you can be on your church stage or at your school gymnasium, but this is different."
One such student came back to town recently during a national Broadway tour. Jennifer Seifter graduated from Olympia High School and spent several years with Ballet Northwest. "Here's a hometown girl who grew up experiencing what it was like to do live performance, and now here she is living her dream and on the Broadway tour of Memphis", says Matheson.
Sometimes, she says, the season will include a relatively unknown group or performer who explodes onto the national stage shortly thereafter. "About two years ago at this time, we did a concert with Jon Batiste," she says. "We had the opportunity to see him in New York at a booking conference, and loved him. His music was infectious. We brought him out and had a great lively evening of music and stories and dancing."
In June, it was announced that Batiste would lead the house band on Stephen Colbert's new late night talk show. "If you'd been here at The Washington Center two years ago, you would have seen a fantastic show by a relatively unknown artist," says Matheson. "And now he's hit the big time!"
Regardless of your musical or artistic taste, Matheson says, it's important that everyone understand one key point: "This is your building," she says. "You can come here, you can be comfortable watching a live performance. You don't have to be stuffy or dressed up. You can find something here that will entertain you and move you, and you will make memories. That will continue for the next 30 years at least."
For more information about Washington Center, visit www.washingtoncenter.org or call 360-753-8585. Tickets to any upcoming show can be purchased by visiting www.olytix.org.