Submitted by Johansen Olympia Dance Center
Every summer, students from the Johansen Olympia Dance Center drive or fly long distances to attend intensive ballet summer schools, and this year was no different.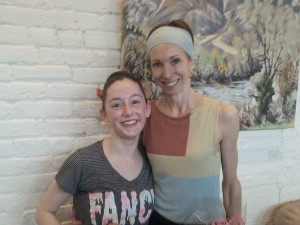 Eleven students landed spots in prestigious summer intensives, which required auditions:
Olivia Breed attended Ballet West in Salt Lake City, Utah.
Brenna Evans attended Colorado Ballet in Denver, Colorado.
Olivia Jones attended Jillana Intensive in Taos Ski Valley, New Mexico.
Kate Peterson, Monica Tsien and Emily Walter attended American Ballet Theatre at the California, Texas and North Carolina sites.
Camryn Phipps attended Oregon Ballet Theatre in Portland, Oregon.
Valentina Reetz attended Joffrey Ballet in Chicago, Illinois.
Russell Ridgeway attended Juilliard School in New York, New York.
Sunny Swasey attended Hubbard Street Dance Chicago in Chicago, Illinois.
Audrey Wright attended State Street Ballet in Santa Barbara, California.
"Ballet is about much more than simply teaching dance. It is about imparting self-confidence, poise, grace, and discipline. These programs build on what we teach in the studio and our students return with not only greater skill, but also a boost in confidence and morale. Also, they now have incredible experiences to pull from later in life," said Ken Johnsen, co-director of the Johansen Olympia Dance Center.
The studio offers a wide-range of classes for all ages and in a variety of styles of dance, including pre-ballet, ballet, jazz, tap, hip-hop, contemporary, stretch & strengthen, parent/toddler, and Downs' at Dance. The studio is also the home of Ballet Northwest, the non-profit company that performs "The Nutcracker" and other productions at the Washington Center.
Children can enroll in ballet classes as young as age three in the Pre-Ballet classes that teach kids all the way to first grade. From there they transition into Beginner Ballet. Other children go straight into hip hop, jazz or tap or take a combination of classes.
The studio is under the direction of Ken and Josie Johnson, both certified to teach the American Ballet Theatre National Training Curriculum through American Ballet Theatre in New York. The curriculum consists of a comprehensive set of age-appropriate, outcome-based guidelines to provide the highest quality ballet training to dance students of all ages and skill levels.
To learn more about the Johansen Olympia Dance Center and to view the class schedule for the 2015-2016 year, visit www.olympiadancecenter.com