By Grant Clark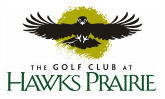 A new era in Timberline Blazers' football is about to begin. Gone is Nick Mullen and his hard-nose, physical style of defense and creative Pistol offense. In comes Mike Spears and his hard-nose, physical style of defense and creative Pistol offense.
It's certainly a "meet-the-new-boss-same-as-the-old-boss" scenario in Lacey because as far as coaching changes go, this one is about as smooth as they come.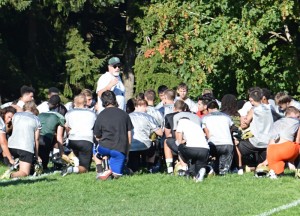 Spears, the ninth head coach in the program's 46-year history, served as an assistant coach on Mullen's staff the past seven seasons, coaching the defensive line and special teams. He doesn't plan to alter course too much from the already established successful blueprint.
"Usually when you have a new incoming head coach they are asked to build everything from the ground up," said Spears, who served 28 years in the US Army before retiring. "Nick did such a great job here. If you think of this program as a house, the foundation has already been built. The walls and ceiling are already up."
All that's left for Spears is some interior decorating, but even that shouldn't be too taxing with the Blazers returning five starters on offense and six on defense from a squad that advanced to postseason play.
"It's been an easy transition," said senior captain Ryan Birbeck. "Coach Spears has the same philosophy as coach Mullen, so we really haven't missed a beat."
Spears took over the reins from Mullen, who resigned as head coach this past spring after being named the school's athletic director in early June, and should benefit greatly by having six returning assistant coaches – Dave Gray, James Jones, Rikki Reid, Chris Groen, Grant Williams and Orlando Johnson.
In his eight seasons at the helm, Mullen posted a record of 53-31, guiding the Blazers to four trips to the Class 3A state playoffs and three league championships. His tenure included back-to-back Narrows League 3A crowns in 2012 and 2013 and an undefeated regular season in 2009.
His 53 career victories are second most in program history, just two wins shy of Kevin Young's record 55 triumphs.
Last year Timberline returned to the Narrows League 4A division following a 16-year hiatus and finished with a record of 5-5, winning its final three regular season games to secure the league's fourth and final playoff berth. The team lost in the state preliminary round, 51-14, to Lake Stevens, led by the University of Georgia-bound Jacob Eason, rival.com's top rated pro-style quarterback in the country. However the team gained valuable experience during last year's run in the new classification.
"The two leagues are day and night different," Spears said of Timberline's move from Narrows 3A to the Narrows 4A. "We had to put on our big boy pants last year. The 3A Narrows is about speed. The 4A Narrows will smack you in the face. There's no 'gimmes' on our schedule in this league."
Defense should once again be a strength for the Blazers as they welcome back their entire starting linebacking corps from last year, a physical group with Birbeck (6-foot-1, 215-pounds) manning the middle and fellow seniors Connor Crump (5-10, 210) and Jarryn Bush (6-2, 220) on the outside.
Up front James Strong (6-5, 230) should be a menace from his defensive end position. The senior saw his recruiting stock soar this summer with strong showings at several camps.
"His motor just doesn't quit," Spears said. "James has put in the work this summer. We expect big things out of him."
Senior defensive back Uli Ma'ae, a first-team all-league selection as a junior with a panache for the big hit, anchors the Blazers secondary.
Spears will continue to run the Pistol offense, which was brought in by Mullen in 2007.
"It's an offense we've run for a while here. The players know it and are comfortable with it," Spears said. "We will tweak it a little bit, but for the most part it hasn't changed too much."
Gabe Gutierrez, last year's Narrows 4A first-team all-league selection at quarterback and a three-year starter at the position, has graduated, leaving a major question mark. According to Spears, three players are currently battling it out for the role.
Whoever ends up behind center – or four yards behind him as the case may be with the Pistol – will command the quick-strike offense behind one of the league's bigger, albeit younger, offensive lines, led by junior center Camren Bowes (6-3, 275).
"The chemistry is there," said Bowes about the Blazers offensive line, which could see three juniors and two sophomores in the starting lineup. "We've known each other since kindergarten, played youth football together. We've picked things up pretty easy."
Timberline opens the season with a non-league contest against cross-town rival North Thurston on September 4 at South Sound Stadium. The Blazers have won three straight in the series, which is the longest consecutive series in Thurston County, with the rivals playing at least once a year since 1970.
History of Timberline Football Coaches
| | | | | |
| --- | --- | --- | --- | --- |
| Coach (Seasons) | Wins | Losses | Years | First Season Record |
| Nick Mullen (8) | 53 | 31 | (2007–14) | 4–6 |
| Kevin Young (7) | 55 | 20 | (2000–06) | 6–4 |
| Darren McKay (5) | 24 | 23 | (1995–99) | 3–6 |
| Don Lichy (5) | 30 | 16 | (1989–93) | 7–2* |
| John Jordan (9) | 35 | 47 | (1981–88, 94) | 3–6 |
| Pete Fulton (5) | 19 | 26 | (1976–80) | 3–6 |
| Dewey Allen (2) | 12 | 7 | (1974–75) | 6–3 |
| Ron Rosevear (4) | 5 | 32 | (1970–73) | 0–9 |
*Best record for first-year coach at Timberline. Team finished tied for second in Narrows League 4A in 1989.