By Douglas Scott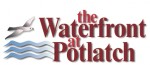 Hood Canal is a scenic wonder, with its fjord like canal stretching 65 miles in length. Home to migrating salmon, fantastic spot shrimp, and incredible scuba diving, the region not only grants access to some of the greatest hiking around, Hood Canal gives those fortunate enough to visit incredible viewpoints and vistas from seven roadside stops. Stretching along Highway 101, and up the steep, wild river valleys, visitors to Hood Canal have the best of everything. Whether you want to see wilderness from tall bridges, gaze upon the city of Seattle from a mountain top overlook, or just enjoy sunrises and sunsets from beaches and pullouts, Hood Canal will wow you with beauty from your car window or along a short hike. These seven stops shouldn't be missed, as they are just the start to discovering the amazing beauty of the wilderness, cities and views of Hood Canal.
Lake Cushman Overlook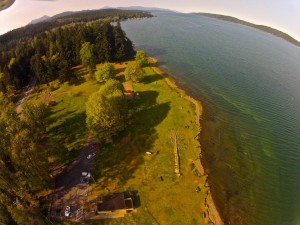 Where: https://goo.gl/maps/75NuY
Why: With stunning views of Mount Rose, Mount Ellinor and Mount Washington, as well as incredible panoramic views of Lake Cushman, it is little wonder why the Lake Cushman Viewpoint is a popular stop for locals and tourists alike. Located on the road to Staircase, stopping at this viewpoint gives you a chance to take in the beauty of the region while gazing up the North Fork of the Skokomish River, into the wilderness of Olympic National Park. Getting here for sunrise or sunset makes this already gorgeous location a must see.
Best Time: Sunset
Other cool areas nearby: Staircase, Mount Ellinor
Potlatch State Park
Where: https://goo.gl/maps/g933p
Why: Directly next to Highway 101, Potlatch offers something that very few state parks in the nation can offer. Located along the Hood Canal on the Olympic Peninsula, Potlatch State Park gives you a park by the water with majestic views of Mount Baker to the north, and glimpses of Mount Rainier to the east. Potlatch is also an amazing spot to sit and watch herons, seals, salmon, eagles and migratory birds in nature. For the most incredible experience, catch a morning sunrise, as few places are more beautiful in the early morning light. This area, named for the gift giving ceremony, called a potlatch, was known by the Skokomish Tribe as "Enetai," which translates to "Beyond" in English.
Best Time: Sunrise, Lunch
Other cool areas nearby: Lucky Dog Casino, El Puerto De Angeles, Skokomish Park at Lake Cushman
High Steel Bridge
Where: https://goo.gl/maps/hFOCV
Why: The High Steel Bridge stands 420 feet above the South Fork of the Skokomish River and is quite impressive to stand on. Originally built in 1929 by the Simpson Logging Company, the High Steel Bridge helped open up logging to the Skokomish River Valley. Towering over huge fir and cedar trees along the river bank below, the bridge causes severe vertigo for many who dare peer over its side. With guardrails, looking over the bridge is extremely safe, though all visitors should use caution. Staring down over 400 feet, look for remains of car tires, pumpkins and just about anything else locals have thrown over the edge. The High Steel Bridge is the 12th tallest bridge in the United States, and the tallest in Washington State. With the easy access and incredible views, a side trip to the High Steel Bridge makes for a great quick stop for visitors of all ages and abilities.
Best Time: Any time
Other cool areas nearby: Olympic National Forest trails and campgrounds, Hoodsport Coffee, Lucky Dog Casino
Dosewallips State Park
Where: https://goo.gl/maps/SwWmf
Why: The views from Dosewallips State Park are some of the best on the Hood Canal, and access to hiking, biking and kayaking await those looking for adventure. Split into two sections, Dosewallips State Park gives both visitors and campers access to the both salt and fresh water. To the west of Highway 101, Dosewallips campground sits along the river, giving campers an excellent view and access to hiking trails. With stunning views of Mount Constance looming large upstream, herds of elk, rivers full of salmon and trees for of bald eagles greet those who make Dosewallips a stop on their adventures on Hood Canal.
Best Time: Any time
Other cool areas nearby: Olympic National Park, Pleasant Harbor Marina Resort, Seal Rock Campground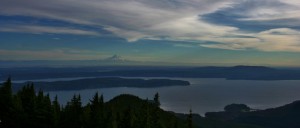 Mount Walker
Where: https://goo.gl/maps/EvXNT
Why: Straight up to a tree-lined mountain top, a few thousand feet above sea-level, the Mount Walker trail and road rises and circles a cone shaped mountain near the mouth of the Hood Canal. With a panoramic view of the Salish Sea and the Puget Sound on one side, and a stunning view of the Olympic Mountains at the other, the sights from this mountain are awesome. With two unique views, there are two ways up to the top of this mountain. One is a half-day hike that zigs and zags up the mountain in a great display of the Olympic Peninsula's forests. The other is by car, up a dirt road that circles the small mountain. On a clear day, your eyes will rest on the glacier-filled peaks of Mount Rainier, then fall to the emerald city of Seattle. Never pass this road up.
Best Time: Lunch, Sunset
Other cool areas nearby: 101 Brewery at Twana Roadhouse, The Timberhouse Restaurant, Falls View Campground and Hike
Collins Creek Campground and Murhut Falls
Where: https://goo.gl/maps/tfspx
Why: Often passed over, the Duckabush River region along Hood Canal offers amazing camping, great river access, and easy hikes to gorgeous waterfalls. A favorite lunchtime spot just a few miles away from Highway 101 is the Collins Creek Campground. Up the gravel forest service road from Collins Creek, Murhut Falls gives visitors of all abilities a fun little trail to hike to see a gorgeous two-tiered waterfall from a well-maintained trail. Closer to the paved road, the US Forest Service also maintains Interrorem Cabin and access to a historic fishing area along the Dosewallips called the Ranger Hole Trail. The short trail is easy to walk and gives impressive views of the always beautiful Duckabush River.
Best Time: Lunch
Other cool areas nearby: Lena Lake, Hama Hama Oysters
Twanoh State Park
Where: https://goo.gl/maps/dscZm
Why: Located east of the Great Bend of Hood Canal, Twanoh State Park gives off great views of Hood Canal, incredible access to shellfish harvesting, and access to one of the warmest saltwater beach in all of Washington State. Sporting over half a mile of shoreline, this areas gives visitors a chance to see all sorts of wildlife, ranging from deer and eagles, to seals and porpoises. Perfect for a side trip off of Highway 101, Twanoh State Park is an excellent place to unwind after a day of hiking, or a perfect spot to take in lunch along the beautiful beaches of Hood Canal.
Best Time: Any time.
Other cool areas nearby: Hunter Farms, Lucky Dog Casino, Alderbrook Resort and Spa