By Douglas Scott

On July 25 and 26, the pioneer spirit comes to Tenino for the historic city's Oregon Trail Days. Held the fourth weekend of July annually, the Puget Sound Free Trappers and the Tenino Area Chamber of Commerce host an annual historic celebration. With a parade, fantastic events for kids of all ages, and exposure to the rich history of Tenino, Oregon Trail Days is a fantastic weekend destination.
"Oregon Trail Days represents our region by inviting local talent from traders, musicians, farmers, and crafters to display those talents in one area," said Maria Chambers, a chair member for this year's event. "It is a cost-effective way for families to get out and enjoy spending time together that gives all ages a little something fun to do."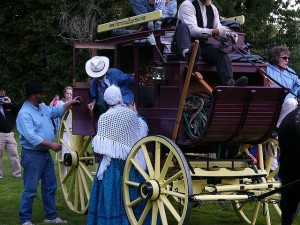 Maria, who has been with Oregon Trail Days for seven years, is excited for this year's event. Sponsored by Key Bank, Pink Winner, and Wayne Fournier for Mayor, this year is shaping up to be the event's most popular year. Thanks to the sponsors, an expanded kid area will make this an awesome experience for the entire family.
"I'm most looking forward to seeing an increase in attendance and the reactions to the expanded kid zone," said Maria, explaining that one of the exciting features is running inside a giant inflatable ball. "Seeing the Tenino Depot Museum get some much needed attention is always a very inspiring time."
If the inflatable kids area isn't where you want to hang out, Tenino's Oregon Trail Days have some great historical pastimes to practice, such as making ice cream, cutting shakes, stonecutting, and much more. To cap that off, the Puget Sound Free Trappers will be supervising kids of all ages as they shoot black powder rifles at targets.
Visit on Saturday, July 25 to fish in the pond or partake in the popular Oregon Trail Days Parade.  The parade steps off at 11:00 a.m.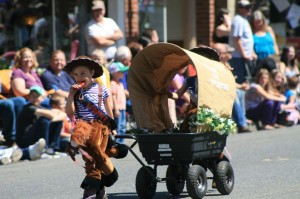 "Oregon Trail Days kicks off with a parade down our main street where people come from as far as Morton and Aberdeen to participate,"  Maria said. "There will be lots of candy and toys for kids, as well as floats and our own hometown T90 Motorcycle Drill Team."  Participating in the parade is something that is a badge of honor to the city.
The community now known as Tenino say its first settler in 1849 placed his homestead directly on the old Oregon Trail. The man, Steven Hodgden, also became the city's first postmaster in 1860. Since then, Tenino's history reads like a novel, with amazing stories making the town famous. During the Great Depression, the bank in town handed out wooden money when they ran out of legal tender.
While you probably won't be getting slices of cedar back as change, there will be plenty of entertaining and historical events going on throughout the weekend. Tenino's Oregon Trail Days are a great way to celebrate the last weekend of July, while embracing Thurston County's history.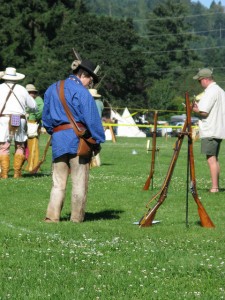 When you arrive stop at the kiosk in the park to get a passport which will help you map out the perfect day in Tenino.  The event is a great place to take the family out for the weekend. With a playground and a pool in the park, the park is a cool place for everyone. Trees casting shade will help everyone cool off, as will the bites of homemade ice cream you and your kids made a few minutes earlier.
This weekend, head down to Tenino and make some great memories while remembering the past. Celebrating Tenino's Oregon Trail history with the Puget Sound Free Trappers and Tenino Area Chamber of Commerce promises to be a great time for all, and with a great line-up of events, might just become your annual tradition.
Tenino's Oregon Trail Days
Saturday, July 25 from 10:00 a.m. – 6:00 p.m.
Sunday, July 26 from 10:00 a.m. – 4:00 p.m.
Find a more detailed schedule of events on the Oregon Trail Days Facebook page.