"There are certain things people just don't want to clean," chuckles Drew Freemantle. He and his wife Tonya, own Maid Perfect, a residential and commercial cleaning company that serves the Olympia-area.
"Extra scrubbing in the shower, rings in the toilets, microwaves, burner rings, baseboards, tops of fan blades – these are all places that tend to get ignored," says Drew, adding that Maid Perfect's mission is to provide a thorough cleaning from a company you can trust.
"With the cleaning business, it's trust. That's huge," says Drew. "We have an anti-snoop policy. We don't make judgments and we don't snoop."
Drew also stated that confidentiality and a no-solicitation policy are other practices of trust and professional standards the company abides by.
The couple, who have been married 24 years, have two grown kids and four dogs, went into business for themselves eight years ago, when Drew decided to go back to college at the age of 40. Their entrepreneurial spirit served them well as they raised their family and continued to grow their business.
Now, their business is nearly all referral-based, with upwards of 40 regular clients. Maid Perfect employs one other person besides Drew and Tonya and they work in pairs or as a group. After eight years of owning their own business, plus a decade of combined janitorial experience, the Freemantles are cleaning and customer service experts.
The process starts with a free, walk-through consultation that takes about 30 minutes. If a client decides to move forward, the first cleaning is always a deep clean, and then follow-ups are scheduled for maintenance. Bi-weekly cleanings are the most popular service and usually take about two hours, and Drew says the cost is not as much as people think. Weekly cleanings and one-time cleanings like move-outs are also available.
"Open communication is a big thing with our clients," says Drew. "We're here to clean for them and make it what they want."
When the Freemantles' aren't making homes and businesses sparkly and clean, they are outdoors, (they just got a travel trailer) exploring places like Cannon Beach or Lake Cushman. And Hawaii has been a favorite vacation 14 times.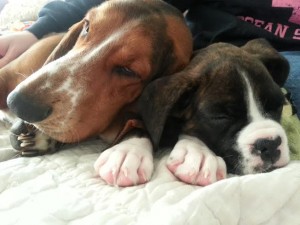 They are constantly inspired by their four dogs – a basset hound, dachshund, boxer and Chihuahua – so much that the couple has also recently opened their own line of dog treats, 4 Hungry Dogs, specializing in natural, gluten-free goodies with flavors including pumpkin and spinach.
A love of animals has even helped relationships with cleaning clients evolve into pet-sitting arrangements. It's this type of customer trust, and communication that are at the heart of Maid Perfect. The Freemantles wouldn't have it any other way.
While Maid Perfect is growing, Drew says they will always keep their cleaning teams small, noting that trust includes having less people in your home. (Some companies will put five or six people on a team).
"We want to maintain that small, personal edge," says Drew. "We have really great relationships with our clients. We're always checking up and making sure things are the way they wanted."
For more information on Maid Perfect, check out their website or call 360-402-6248.
Follow Maid Perfect on Facebook for tips (did you know peanut butter can remove tape residue?) and deals, like bathroom plus kitchen specials.