By Mary Ellen Psaltis

From turbo cookies to spelt bread, Blue Heron Bakery has been baking goodies for Olympia's health conscious crowd since 1977. But even though classic vegan bakery is moving into an expanded location, many pieces of its beloved past (including the recipes) are coming along too.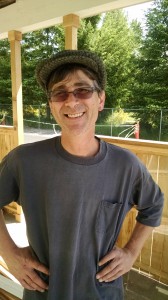 On June 12, the bakery is leaving its long time location on the flats of Mud Bay to larger digs on Harrison Avenue. It may not be physically far, but the bustling West Olympia location will allow the bakery to expand its offerings including new menu items and a place to relax while nibbling on goodies that have made the place a fan favorite.
Owner Evan Price has been working diligently to create an inviting space where customers will still find their favorite cookies and granola, but much more.
The first thing you'll notice is the giant blue heron sign. Yes, it's the original from 1977. The wainscoting comes from their previous location and is trimmed with repurposed mahogany trim. If you brought your personal cup, you'll find a sink especially for you to rinse it out, if necessary. After ordering your favorite coffee or food, you can hang out at tables inside or head to the patio. It's far enough off the street to offer a peaceful moment.
Of course, the Blue Heron Bakery is still baking. There will be shelves of breads to take home or pastries, biscotti or muffins to savor with your coffee. But the menu is expanding. Each day there will be two soups. Depending on available ingredients and time of year, you might find a minestrone or mushroom barley. There will be sandwiches, as well. The perfection of a recipe for chicken salad with pecans and cranberries is underway.
Price is enthused to offer pizza. It will be an Italian style – likely topped with Roma tomatoes, a little olive oil and not much more complex than that. Expect to find a single flavor of pizza – something to add variety to your meal choices.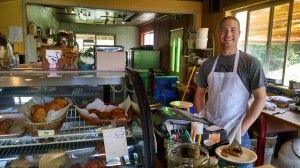 And that's not all. Price admitted that, "I just love ice cream." He regularly takes home cookies from the bakery to bookend ice cream sandwiches. The new location will allow Blue Heron to produce its own ice cream. Flavors are not yet pinned down but I'd bet on blackberry. If you want to scoop it up at home, there will be pints to go.
The bakery currently has 18 employees and might need to add a couple more to fully staff the larger location. Doors will still open at 7:00 a.m. but stay open longer. The new closing time is 8:00 p.m., which adds two hours to the old schedule.
Eli Dayley, barista, has been part of the Blue Heron Bakery family for three years. He appreciates the opportunities and enjoys his work. Price values mentoring his employees in many areas of the bakery. Dayley is a guitar and bass musician and looks forward to not only working at the new location but being able to play music there, too. Plans are in the works to have live music.
I moved to Olympia in 1977, when the Blue Heron Bakery was hatching. As Price puts it, the bakery was "natural before it was fashionable." It has a long history of providing our community with thoughtfully produced edibles. That means no artificial colors or dyes. That tradition will continue as the bakery expands into its new location.
As a lover of whole foods, Price knows that health-minded food can (and should) taste great. His life philosophy is to be joyful and lighthearted. There are opportunities for expression every day of the week.
If you have somehow managed to miss getting acquainted with the Blue Heron, stop by their new nest. It might become a regular part of your flight path.
Eat Well – Be Well
Blue Heron Bakery
4419 Harrison Ave, Suite 108
Olympia, WA 98502
Open 7 days a week from 7:00 a.m. – 8:00 p.m.
Follow Blue Heron Bakery on Facebook.