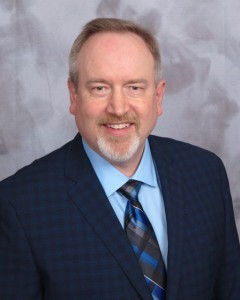 Family first is a phrase we hear often, but what does it really mean? For some, family first means looking out for a little sister or doing something thoughtful for a parent. For others, it means making sacrifices and putting someone else's needs before your own. At the heart of it all, family first is about taking care of one another and always having your loved one's best interest at heart.
Dr. Karl Hoffman understands this notion well, as he has many families throughout the community. From his own family at home to his family of patients at Hawks Prairie Dental Center in Lacey, his church family, his colleagues in study club or fellow dads that support the high school track team, Dr. Hoffman is always putting family first, no matter which family it is.
After graduating from the University of Washington School of Dentistry 25 years ago, Dr. Hoffman has spent the past 20 years serving the community at his private practice in Lacey. Over the years, Dr. Hoffman has cultivated a staff and clientele that — to him — is like a second family, and he treats them as such. Providing top-notch personalized and conservative care to each and every patient that walks through his door, Dr. Hoffman's patients trust in him and the care of his talented team of dental technicians.
For Dr. Hoffman, this is his greatest accomplishment. It is, after all, a testament to his expertise and caring approach to dentistry. From reversing dental issues on adults to ensuring healthy dental development in his younger patients, Dr. Hoffman says nothing makes him more proud than providing positive experiences and quality care to his patients.
And he always goes the extra mile to make sure his patients are comfortable. For some patients, comfort comes in the form of getting dental work in Dr. Hoffman's colorful "Husky room," a purple and gold painted office decked out with the memorabilia of his alma mater. For others, comfort comes in the form of clear communication. Dr. Hoffman is fluent in Spanish, a skill he picked up while living in Costa Rica as a child.
Dr. Hoffman says he has a lot of patients who were once in "dental trouble," but now, many years after comprehensive care, these patients now enjoy healthy, comfortable smiles. But Dr. Hoffman doesn't only provide quality care to the patients he serves at his dental practice in Lacey, he extends these services at no charge to his third family: the community. For more than a decade, Dr. Hoffman has been volunteering at the Olympia Union Gospel Mission where he provides free dental care to community members who can't afford to pay for dental services out of pocket.
"Volunteering at the Olympia Union Gospel Mission has been very satisfying for me because I not only believe in their mission, but I think their system is extremely effective at helping people," explains Dr. Hoffman.
Giving back to the community is important to Dr. Hoffman, and it's also an extension of the work he started straight out of dental school serving in the US Public Health Service Commissioned Corps. "I was already public health minded due to my background and felt a strong urge to help [the Olympia Union Gospel Mission's] program," he says. Dr. Hoffman has been volunteering (and recruiting other volunteers) with the Olympia Union Gospel Mission for 11 years.
Of course, when he's not working at his dental clinic or volunteering his services to the community, Dr. Hoffman is putting family first with his first family: his wife and two kids. He has sponsored numerous youth projects and sports team locally. With a son at Saint Martin's University and a daughter at Northwest Christian High School, Dr. Hoffman stays busy. Between taking pictures as the "unofficial" photographer for his daughter's track team and volunteering with friends and family at several of his church's charities, Dr. Hoffman is always finding ways positive ways to impact the community he lives in and loves.
You can learn more about Dr. Hoffman and his Lacey dental practice, Hawks Prairie Dental Center, by visiting Hawks Prairie Dental Center online, or by calling Hawks Prairie Dental Center at 360-456-7070.
Hawks Prairie Dental Center
130 Marvin Rd SE #201
Lacey, WA 98503
360-456-7070