Submitted by Olympia Food Co-op
Did you know that Saturday, May 9th is World Fair Trade Day? The fourth annual celebration is themed Stand with Small-Scale Farmers: Together We Can Cool the Planet, and focuses on the unique impact small farmers around the world can have on reducing the harmful effects of climate change.
The Olympia Food Co-op is a strong supporter of Fair Trade as a movement that aims to increase access to fair wages, safe working conditions, sustainable practices, and democratic process for farmers and producers around the world. (Read more about Fair Trade goals and practices here. Our mission goal to "support efforts to foster a socially and economically egalitarian society" aligns closely with that of the Fair Trade movement, and we prioritize Fair Trade products in our buying practices throughout the our stores.
According to the World Fair Trade Organization, Fair Trade is "a tangible contribution to the fight against poverty and exploitation, climate change and the economic crisis that has the greatest impact on the world's most vulnerable population." We agree. We carry fairly traded products ranging from hair care to avocados, from chocolate to coffee and tea, from nuts to spices and beyond. We also support the work of the Domestic Fair Trade Association, to help bring fair trade protections to farmworkers within the U.S.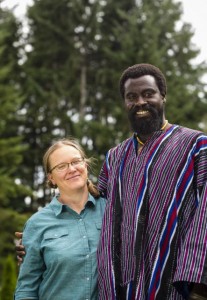 For produce buyer Erin Majors, purchasing fairly traded products is a way to demonstrate to growers that consumers support fairly traded produce, which she hopes will help them "move in the direction of paying their workers better wages, providing better working conditions, and taking steps to get certified." She mentions the avocados the produce department purchases through Equal Exchange whenever available. These avocados are grown by members of PRAGOR, a collective of 20 small-scale, progressive, cooperative farmers in Michoacan, Mexico. Not only are these avocados some of the most delicious, highest quality she's seen, but purchasing them helps small-scale farmers survive in a climate where agribusiness often seems to have the upper hand. (Read more about PRAGOR here.)
In the aisles of the Olympia Food Co-op you will also find products from a local company that happens to be one of the leaders in fair trade body care. Alaffia, which sources fair trade shea butter from cooperatives in Togo, was founded by Rose Hyde and Olowo-n'djo Tchala, "to help West African communities become sustainable through the fair trade of indigenous resources." It's also handcrafted right here in our community!
Like all certifications, Fair Trade is not without its controversies. In recent years, one of the major certifying agencies, Fair Trade USA, previously TransFair, has moved to begin certifying large-scale, plantation-style operations in areas such as coffee and chocolate. Many in the fair trade movement feel that this undermines small farmers, and potentially weakens environmental standards, among other issues. In addition, companies like Alaffia list other potential difficulties with fair trade certification, such as cost, Western-developed criteria and others. Some suggest that in addition to fair trade certification, knowing the company you are buying from is the best way to assure the strictest fair-trade standards are being met. More on the movement for Authentic Fair Trade can be found at http://equalexchange.coop/small-farmer-campaign.
Watch a video about World Fair Trade Day here.