By Melanie Kallas Ricklefs

Bob Kramer is the artistic genius behind Kramer Knives. He has achieved a level of excellence in his work that most of us strive for in our own. The knives that he creates in his Olympia shop are aesthetically magnificent, high-performance pieces of artwork. While Bob is a master in the art of bladesmithing, he did not always fit the stereotype of excellence.
Throughout school, Bob struggled with reading and writing. He never understood why it was so hard for him to learn from books. Being the sixth child in a busy household, Bob was often overlooked and became a goofball to be noticed. His parents and teachers attributed his poor school performance to laziness and irresponsibility, and Bob started to believe them.
It wasn't until Bob's first semester in college that he found out that he was dyslexic. He was not lazy, or irresponsible, his brain simply processed things in a way that made reading and writing a challenge. After solving the mystery of his learning difficulties, Bob started to wonder about different ways of making a living, ways that didn't require a college education.
When he was 19, he began a journey of self-discovery to find "another way" of life. He traveled around the country working in restaurants, and even spent a year clowning with Ringling Brothers and Barnum & Bailey Circus. Bob was learning from life experience, and the more he saw, the more he became aware of the level of professionalism in hard-working people from every walk of life. As he says "it opened [his] eyes to excellence in anything you do, be it waiting tables, or anything else."
When Bob arrived in Seattle, he took a job at the newly reopened Four Seasons Olympic Hotel (currently the Fairmont Olympic Hotel). Of the sixty talented chefs and cooks that surrounded him in the kitchen, not one seemed to know how to sharpen a knife properly and efficiently. Bob decided that he would become exceptional at sharpening knives, and started a business of his own.
One day, while admiring the beautifully hand-crafted knives pictured in a Blade magazine, Bob was inspired to take a bladesmithing class in Arkansas. They turned coal into coke, and forged knives out of leaf springs from cars. The blades they crafted were higher quality than the thousands of knives that Bob had handled in his sharpening business. He was hooked.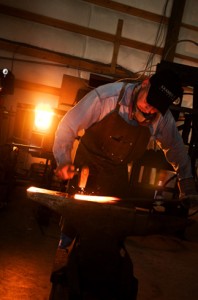 Upon returning to Washington, Bob continued to forge knives. His original focus was making the bowie knives and fighting knives that he had learned in class, but before long, Bob realized that he had no idea how these knives would be used. He did, however, know the uses and qualities of a great kitchen knife. He was confident that he could create kitchen knives with the comfort, weight, and balance required for optimum performance.
To further his craft, Bob decided to become a Master Bladesmith through the American Bladesmith Society. This path required years of experience forging flawless blades, each with over 300 layers of steel. It also required the study of metallurgy. Bob always loved science and found the study of metallurgy books to be easier than other subjects because the words had meaning to him. In 1997, Bob became one of only 120 Master Bladesmiths in the United States. To learn more about his Master Bladesmith test, see Bob's story.
Bob found a different path to success, one that did not require a college education. His knife designs are based on a "combination of restaurant experience, knife-making experience, and the relentless pursuit of excellence." His goal is to deliver the "ultimate cutting experience" to anyone using one of his knives. Though his Damascus steel blades are exquisite in their patterns, they are durable, high-performance knives meant to be used for a lifetime.
Due to overwhelming demand, Bob has licensed his basic designs to Zwilling JA Henckels, where they are produced at a higher volume than he could supply himself from his shop in Olympia. This enables Bob to take his time creating custom knives. He can lose himself for hours creating complex patterns in Damascus steel, or fashioning the perfect handle out of cocobolo wood.
He is truly an artist, and allows himself to explore and expand his craft with each new blade. His custom designs are available for auction, or by lottery, on his website.
As a society, we tend to see a college education as the only way to succeed.  Bob Kramer's journey exemplifies the fact that there are many paths to excellence. As Bob points out, we need more craftspeople and tradespeople. There are ancient arts that will be lost to us if we do not continue to teach them to future generations. We can strive for success in anything that we do, and we can achieve excellence.
Bob lives in Olympia with his wife, Leanne, and dog, Farley.
For more information about Bob's journey, or his knives, visit the Kramer Knives website.