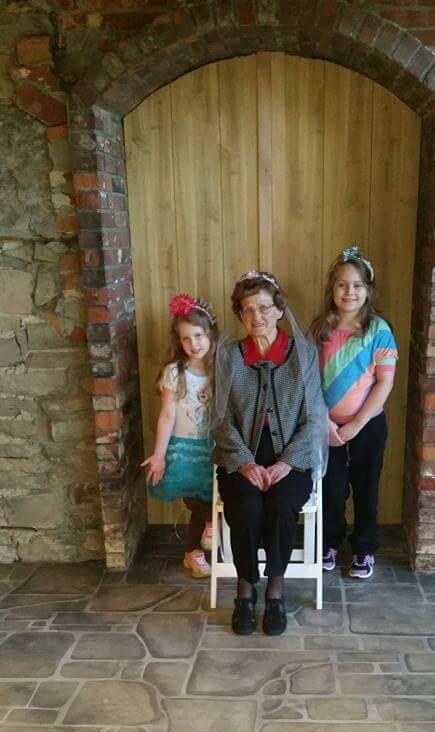 Submitted by Campbell & Campbell Event Center
On her 90th birthday, Helen Finely had no idea where she was going. As her daughter Vicki and son-in-law Bill drove her toward Tenino on February 28, she imagined they might be going to visit relatives in Bucoda.
Instead, they arrived at Campbell & Campbell Event Center, where droves of friends and relatives were waiting, including her 88-year-old sister and many of her great-grandchildren. "When we opened the doors, she couldn't believe it," says Vicki.  "Mary had made everything so nice."
Mary Adams owns Campbell & Campbell, and she and Vicki are old army buddies. The birthday theme they agreed upon was a Tea Party. "We're always having tea parties with the grandkids so when Mary suggested this, I thought it was a great idea," says Vicki.  While the kids took advantage of stations where they could decorate their own headbands and create other art, the adults enjoyed the theme and each other's company.
Vicki says that her mother's life has come full circle. "She was raised on a farm in Nebraska, and now she's come back to a rural community." Along the way she got married to Vicki's father, a military man, traveled around the country and spent nearly forty years as a bookkeeper.
For Helen, the surprise gathering was a memorable way to celebrate a life that began in 1925. "She's still talking about it," says Vicki. "She called her sister in Georgia to tell her all about it, and anyone who wasn't at the party has heard of it by now. It was a really special day. Mary did a great job."
Campbell and Campbell Events now offers tea parties. For more information, contact Mary Adams at 360-259-1495.