Submitted by The Crowe Law Office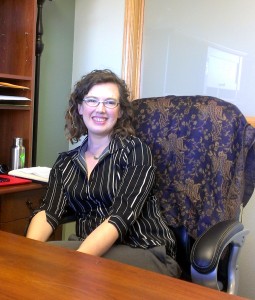 Holly Scott believes that the legal profession is a service industry. "That's something Dan Crowe and I share, an understanding that we're helping people with problems they can't necessarily deal with on their own," she says. In January, Scott joined The Crowe Law Office in Yelm, bringing a wealth of experience in workforce issues and a familiarity with family law.
Before law, she had a career as a human resources professional. While at a power plant that served hospitals and medical facilities in Boston, she got to know many of the workers. "They were all union crew," she says. "I learned a lot about labor law through them, but being in HR I was also navigating employment law through the non-represented employees. I got involved in that whole process and really interested in that type of law."
After graduating from Seattle University Law School, Scott worked for the Department of Labor and Industries and later, the Employment Security Department. "Working for L & I, I was dealing with a lot of wage complaints, farm workers and child labor issues," she says. Mostly, she focused on the legislative process, although she also worked closely with those who answered the wage complaint hotline. "Most of the calls were from people who weren't getting paid their wages, experiencing wage theft, or people who weren't getting their meal and rest breaks properly applied," she says.
At Crowe Law, Scott will be focused on general practice. "Whatever comes up," she says.
In addition to her regular job, Scott volunteers regularly with Thurston County Volunteer Legal Services and in King County. A lot of those cases involve family law, and the experience helps to keep her contributions in perspective.
"Right now, I have a few pro bono cases that are really tough situations," she says. "Every time I see some of these clients, I'm awed by what huge things they are doing. In some cases, relatives are taking in children of family members to make sure that they're taken care of, because the alternatives would be tragic. I'm just helping these amazing people do what needs to be done."
Coming from Boston to Seattle to Olympia to Yelm, Scott has definitely noticed some differences. "Everybody knows each other, which is a really cool thing for me," she says. "You go to Thurston County Bar Association functions and you know everyone in the room. You go to court, you see people that you know."
In Yelm, she's getting to know whole families, which brings her full circle. "I'm originally a small town girl from Reno, Nevada and then went and became a city girl, and now I'm back to a small town and all the adventures that come with that."
The Crowe Law Office offers comprehensive legal services, including criminal defense, family law, estate planning, business law, real estate and civil litigation. For more information visit http://www.crowelawoffice.com/home.html, send an email to info@crowelawoffice.com or call 360.960.8366.