Even with this year's balmy spring, warm dry toes are a luxury. Imagine not only having damp, sore, sockless feet but doing so as a school-aged child, expected to focus on learning and not the discomfort and embarrassment of poverty.
Many organizations raise money and collect food for our area's needy people. There are community-wide drives to equip students with backpacks, school supplies, and shoes, but seldom that simplest of comforts: socks. According to The Salvation Army, "Most people are surprised to learn that basic socks are the number one requested item at our homeless shelters. They are the most needed, but least donated article of clothing. And even though folks served by The Salvation Army may have greater needs such as shelter or food, they consistently get excited when offered a new pair of socks. Because honestly, nothing feels as good as a new pair, especially for someone used to wearing damaged, dirty or no socks at all."
From March 1 through May 1, the generous staff of Garden Courte Memory Care Community is joining forces with the Little Red Schoolhouse to collect children's socks. These will be handed out as part of the August 20 Distribution Day, along with school clothes, winter coats, and a backpack filled with grade-appropriate supplies.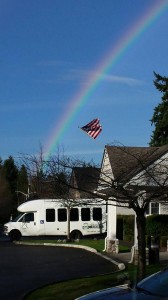 Garden Courte is a longstanding source of both skilled elder care and community charitable giving. They frequently partner with such organizations as Community Youth Services, Meals on Wheels, and the downtown Senior Center to raise money, awareness, and goods which benefit all ages, needs, and causes.
Community Marketing Director Dawn Peterson explains that "primarily it is family of residents, staff and community getting involved. Giving back into our community is critically important to our entire team here at Garden Courte. It gives all of us a sense of belonging within our community to give back for the greater need."
Socks may be donated to Garden Courte between 8:00 a.m. – 6:00 p.m., 7 days a week. For Distribution Day, the Little Red Schoolhouse also provides a list of needed school supplies and clothing items. Other donation sites include the five Lacey, Olympia, and Tumwater Heritage Bank locations and Capitol City Storage in Tumwater.
Garden Courte is located at 626 Lilly Road NE in Olympia and can be reached at 360-491-4435. Don't hesitate to reach out with questions about Caregiver Support classes, an educational Speaker Series, or any one of their fun public events. They are also participating in the upcoming 20th annual South Sound Alzheimer's Conference on May 8.
Mother Theresa summed it up, "It is not how much you do, but how much love you put in the doing." The caring staff at Garden Courte not only loves our loved ones, but the region in which they serve. We can do our part as well by supporting their efforts in simple, approachable ways like this.