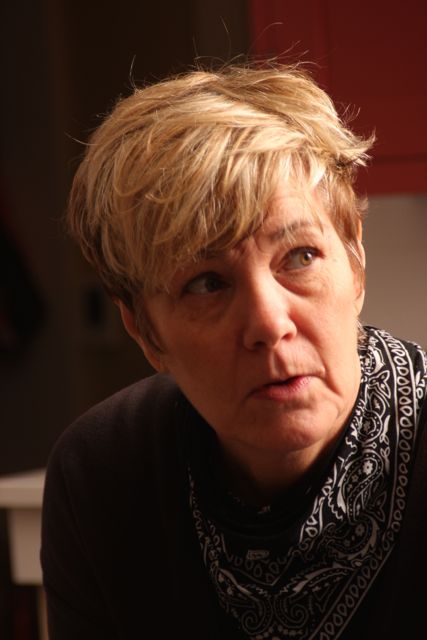 By Lynn West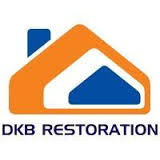 By day, Sara Rucker Thiessen enriches lives as the Education and Travel Director at the Olympia Senior Center. After hours, she is equally passionate about entertaining her audiences. Her name may sound familiar since she has been appearing in Heartsparkle Players improvisation performances at Traditions Café in Olympia for the past 16 years. However, by next year at this time, we will have the opportunity to watch her in "Brown's Canyon" (working title) on the big screen.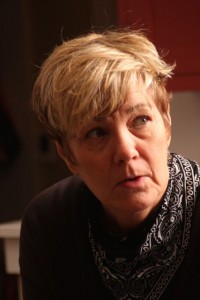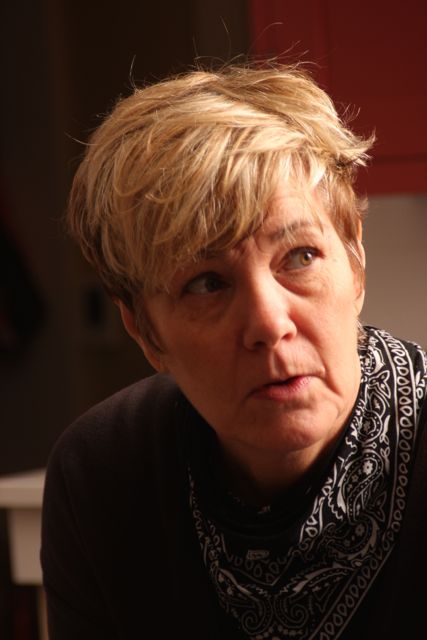 Sara is eagerly anticipating the next few weeks in the Brown's Canyon area of Park City, Utah where under the direction of John Helde, she will be a cast member in a very avant-garde production.
Although Sara has long had a passion for acting, she followed a rather unconventional and circuitous route to film stardom. "I grew up in Michigan and went to the University of Michigan," she said, "but my work at the Food Co-Op and teaching English as a Second Language at the Refuge Center led to a job in sustainable food production in Amarillo, Texas."
Amarillo also offered her first introduction to live performance and began her 33-year love affair with theater. "In a small storefront on the famous Route 66, I found a theater company which was part of my life for the two years I lived in Texas. I realized I really wanted to act," she explained.
It was in moving to Olympia to be closer to her sister and doing some acting locally that confirmed that she knew she needed more formal training. "I had the itch to really learn the craft of acting," Sara told me. "So I thought I might apply to Cornish, but then I looked at the cost of tuition, so I thought again."
Sara learned about the non-profit Freehold Theatre in Seattle that offered intensive Ensemble Training. She loved writing monologues and creating characters. "It was in this program that I learned to be a performer, and I knew ensemble fit my style well," she said.
Her meandering career then brought Sara to the Community Theater in Seattle, where she performed in one act Harold Pinter plays and dramatized versions of Raymond Carver short stories. Four years ago, along with Jenn Ruzumna and Lisa Every, she left Community Theater to form BASH Theater.
"It was through performances with Jenn and Lisa that the director, John Helde saw me perform. He asked me to be part of a short movie he was directing last year, 'Phoebe's Father,' which will be distributed soon," Sara explained. "This led to the work on 'Brown's Canyon,' the most fascinating acting experience I have had."
John Helde told me he and his wife moved from Washington D.C. to Seattle twenty years ago, and he started his film company, Try This Films. He called the preliminary work on 'Brown's Canyon,' "an experimental and intensive process."
The day I first talked to Sara she was driving to Seattle. "This session is the culmination of the work we have been doing since August," she told me. In August, Helde had chosen his five actors: Sara Rucker Thiessen, Jenn Ruzumna, Lisa Every, Eric Jordan and Carter Rodriguez, which was certainly crucial. "I need folks I knew could work collaboratively," he said.
The cast met twice a week from August until the week before Christmas. I asked John if he had a premise in mind for the film before the actors began creating characters. "All we knew, was that these five people would somehow end up trapped in a snow storm for three or four days in a large home in Brown's Canyon in Utah," he answered. From there, the character's early history, extended family, personality and ultimately their rationale for being at the location was developed.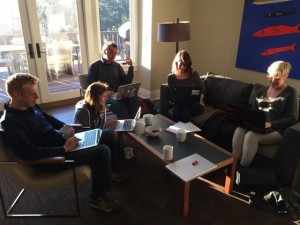 When I asked Sara what influenced her character, she said, "My work at the Senior Center was definitely part of it, but all my own experiences fit in also. My character has strict boundaries. She came from an alcoholic dysfunctional family and is looking for a transformative experience, so she can say yes to life," Sara said. The character is a single Baby Boomer and a former teacher who is now a photographer, and a mother figure to the two younger women in the film.
After character development was complete, John Helde spent December and January writing the screenplay. He said, "I wouldn't usually be able to finish a script in such a short time, but the intensive preparation made it possible." Sara assured me that even though the script is centered on real life characters with real crises, it definitely has humor too.
"I often wonder how I have been so lucky in life to have the opportunities I have," Sara mused. Maybe talent has something to do with it I told her. While we are waiting to see Sara Rucker Thiessen in her starring role, we can watch the film's progress by liking it on Facebook or just pop in to the Senior Center and say hello.