By Gale Hemmann
High school junior Spencer Westall is planting the seeds for her future – literally. The North Thurston High School student has found her calling in agriculture through the school's horticulture classes and Future Farmers of America club.
Mentored by long-time North Thurston teacher Mark Sloan, Westall has recently accomplished a big project: she put her horticulture studies to use to create an innovative watering system that hydrates plants with minimal water spoilage.
I stopped by sixth-period horticulture class at North Thurston to talk with Spencer about how the project came about.
Polite and articulate, Spencer took time to tell me about her project as she worked. She has taken science classes with Sloan since her freshman year. Westall is the Chapter President of Future Farmers of America (FFA). Although she helped care for horses and livestock growing up, and helped out baling hay, she didn't know much about working with plants.
Before the FFA state convention last spring, Spencer worked in the greenhouse after school to earn money toward the trip. She continued working in the greenhouse, and noticed she was skilled at the work and really enjoyed it. Along the way, she picked up a lot of knowledge from Sloan and Al Burmester, a retired North Thurston CTE director who volunteers in the greenhouse.
The convention itself was also a major inspiration for Spencer. As she watched the awards ceremony, she realized that she too wanted to push her agriculture skills further and make it a part of her future. As she notes, she realized, "I needed to be involved in this."
Talking with Sloan, she realized she needed to come up with a big project of her own. She decided upon a CSA (Community Supported Agriculture) project. As she worked to grow and prepare crops for customers, she noticed that a lot of lettuce crop was being wasted due to water rot from overhead watering. Her new watering system was a result of her CSA project.
As Westall explained, she wanted to create a watering method that was time-efficient and minimized water rot to the plants. She researched different methods and decided to try a hydroponic system. The system waters the plants from the bottom, reducing the waste of both water and foliage. It is also a self-watering system, meaning less time needed to be spent watering, leaving time for other important tasks.
Westall spent three weeks over the summer building the system, on top of working full-time. She started the plants from seed, and transplanted them when the roots were mature enough to handle the change from soil to water. Her friend, Sheylee Phillips, and Sloan both helped out by watering the starts in the early morning. After work, Westall would stop by the greenhouse and transplant her starts, and built hydroponics system one step at a time. Westall raised the money for the supplies herself. Al Burmester also helped out with the project.
The final structure is impressive, about seven feet tall by ten feet long. It can hold 100 plants. Using an aerated rain barrel, water is moved to the top pipes of the structure, where it flows down to the bottom row, and then cycles back up again. It can be adjusted for optimal water flow. Red cups serve as planters, which Westall used a soldering iron to create holes in the bottoms of so the plants can access the water. In discussing how the system works, Westall shows a sophisticated understanding of the scientific principles behind it.
Westall's system has clearly been beneficial, saving her time and serving as a great learning experience. But it also has some valuable large-scale potential as well. It is estimated that a system the size of hers would produce enough fruit and vegetables to support two families year-round.
Westall noted that she plans to convert the structure to an aquaponic one, with a fish tank on the bottom level. Always looking for ways to innovate upon her design, Westall shows a clear business aptitude that will get her far.
Beyond her involvement in the school greenhouse and Future Farmers of America, Westall is also active in the equestrian club and has participated in sorting for local rodeos.
So, what does this dynamic teen have in mind for the future? She wants to keep developing new watering systems. After graduation, she plans to study Horticulture and Agricultural Business at Washington State University. (She has wanted to attend WSU since she was a young girl, and visiting campus for the FFA conference solidified her desire to go there.)
I asked Westall what advice she would give another teenager who wants to accomplish a big goal. "Don't be scared. Just hit the ground running and work hard to make it happen," she says.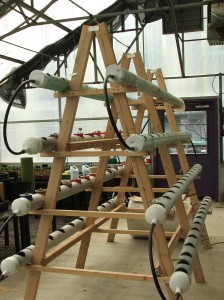 While Spencer is proud of her accomplishment, she is quick to thank everyone who has helped her along the way. Her teachers, Sloan and Burmester, and the school administration have been very supportive of her efforts. She says it's wonderful that North Thurston Public Schools support students' in reaching their goals. Spencer is also thankful to her parents and friends for their support.
Mark Sloan has been a teacher at North Thurston for over 30 years. In addition to Horticulture, he teaches Science, Animal Science, and Natural Resources, as well as advising FFA and putting in countless hours in the greenhouse. He is known as a caring and supportive teacher, encouraging students to develop their talents.
In fact, other students have been impacted by their work with Sloan as well. As I walked around the greenhouse and chatted with students, I learned that several of Spencer's classmates also want to pursue careers related to agriculture. Senior Thomas Rosebraugh is a FFA member and plans to attend trade school to pursue work in the forestry, animal, and railroad industries. He will take with him much he has learned from Sloan. So will fellow senior Connor Clarke, who has been studying horticulture since freshman year and wants to study botany and culinary arts at South Puget Sound Community College.
Spencer's friend and classmate Sam Leggett, a junior, has built an innovative planting structure in the greenhouse using milk jugs, and has also discovered a talent with plants. Junior Crae Cochran was busy preparing a soil mixture for his classmates, and also said he looks forward to Sloan's class each day.
Out back, two students helped Sloan with uncovering lettuce that had wintered over in covered beds. As I watched the students talk and work, I noticed they all seemed engaged in what they were doing. The class balances classroom learning with hands-on experience, which brings it to life for the students. As Spencer Westall and her classmates show, you never know what talents might be unearthed when students are given the tools to pursue their goals.
One way you can support the school greenhouse is to attend their seasonal plant sales. These are a great way to purchase locally-grown plants and help keep students' hands in the soil. To learn more about upcoming plant sales, email Mark Sloan or visit the North Thurston Public Schools website.