By Katie Doolittle
When students at South Bay Elementary in Lacey recently went outside to plant a garden, there was a special mission involved: compassion.
"Help people, even if you don't like them," said Siana a third grader in describing her wish for the world. Siana and 555 of her South Bay classmates wrote these notes of compassion on biodegradable cupcake wrappers before planting them with flower bulbs in garden plots outside the school.  "I wrote 'don't judge people,'" said 5th grader Lauren.
The compassion garden is just one of many efforts this year that are part of a district-wide compassion initiative in North Thurston Public Schools to reinforce positive behavior and kindness.
"We want to be at a place where we treat each other with kindness and respect diversity; where everybody belongs and feels safe," said Superintendent Raj Manhas, who spoke of the district's efforts this summer at a Compassionate Schools conference in Seattle. The district is following the principles of the International Charter for Compassion. At its most basic, the charter encourages us to build a society based on positive relationships.
Assistant Superintendent Dr. Maddy deGive further explains the staff attitude towards compassion: "Compassion has to do with a certain discomfort we feel when our students aren't getting everything they need to be successful." She goes on to explain, "What do we do about it is the key. True compassion is a verb."
A verb, indeed. All staff members have certainly taken action with the district-wide implementation of Positive Behavioral Interventions and Supports, commonly referred to as PBIS. Each school has its own PBIS framework, a set of values-driven and explicitly taught expectations for conduct, from how you walk down the hallway to how your treat each other in school. Students earn recognition and incentives for proper conduct and receive targeted intervention if they require correction. According to deGive, differentiating social instruction in a meaningful fashion acknowledges that each student "is a whole child with emotional and academic needs."
In some guise, all of the PBIS frameworks address ideals of respect, responsibility, and kindness. Compassion is a common thread K-12, and students are eager to share their personal, age-specific definitions of the concept. One South Bay Elementary kindergartner describes it as "helping people up and being nice to them." A River Ridge High School student said, "Compassion is making somebody feel better when you know that they are not having the best day.  It's going out of your way to make someone happier, even if you are not."
South Bay Elementary's work is a perfect example of helping others and the collaboration between school and community. Volunteers from Calvary Chapel North Thurston cleaned out the school's garden beds so that students could plant the Compassion Garden, which promises to be a gorgeous living metaphor come spring. Later this year, adolescents taking welding and woodshop at North Thurston High School will build benches to serve as reflection spaces within the garden.
To prep for the planting, South Bay held a school-wide assembly on the concept of compassion, where they talked about being kind to ourselves, our pets, each other and the earth. "We asked that each student think of something they could do that would be an act of compassion," said South Bay principal Kate Cook. It was those thoughts that the students wrote on the biodegradable cupcake wrappers for the garden.  The school – and others in the district – also passed out compassion coins as a way to "pay compassion forward" and encourage others to be compassionate.
"Each school is using the coins a little differently for positive behavior recognition, but the general idea is you give a coin when you witness an act of compassion then encourage that coin recipient to pay it forward to someone they see who is being compassionate," said Courtney Schrieve, Community Relations director at NTPS. "It's catching on and we hope it will spread beyond the classroom into stores, families and city."
At Woodland Elementary, for instance, students already build character and rehearse important life skills through the Second Steps program. As a means of making their academic and behavioral success tangible, students each have a lanyard charm necklace. "I got a book charm because I read every day," said Ben, a 2nd grader. He cites his school's PBIS framework, adding, "I am good at being respectful, responsible, and safe."
Woodland principal David Warning has been busy converting the district's new compassion coins into charms for each Woodland attendee's lanyard. "We want to send the message that compassion is just part of who you are, not a milestone that has to be earned," Warning said.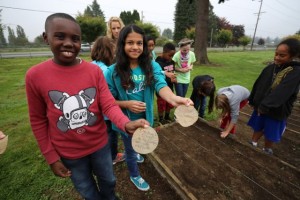 Teaching compassion like this has a positive impact on school culture and learning as well. Superintendent Manhas reports that PBIS and the related compassion focus have led to a significant drop in discipline issues district-wide. In turn, this creates more academically-focused classrooms.
"We have done so well working with kids within the school system when they are only here a few hours of the day with us," he said. "We have seen some really positive movement towards better behavior, relationships, and respect for each other."
Such positive data caused Manhas and others to ask an exciting question: "So what would happen if we took this compassion work out into the community?" Manhas and some staff plan to present the initiative and possible involvement opportunities to the Lacey City Council and Lacey Chamber.  He also hopes to plan some kind of compassion conference in Lacey next spring.
Clearly, the currency of kindness has already yielded great benefits for our community. As NTPS students are learning, the more compassion we spend on each other, the more we seem to have. So next time you are in NTPS or Lacey — be compassionate!