By Lindsey Surrell

Twenty miles from Olympia, off a small road, and down a long driveway, you will find Laurie Barta's 70-acre farm. Having moved from Wisconsin in 1988 to become a student at Yelm's Ramtha's School of Enlightenment, Laurie also sought out her dream to live on a farm.  After her first purchase of a 20-acre farm in Tenino, she said that the transition to owning land and raising cattle was not difficult because she loved animals.  Plus, "hands on learning has always been the best teacher." Currently, Laurie still loves animals, and even though she has become a slightly hardened farmer ("At the beginning, I use to cry every time I put down a cow"), she still calls each cow by name and pets them lovingly while we chat.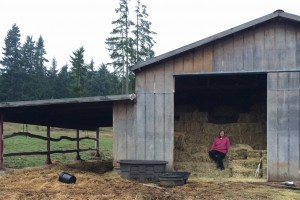 Laurie bought the land that became Cozy Vale Creamery Farm in 2003 but did not become a full time farmer until 2008 when the mortgage crisis occured and she left her job as a mortgage loan counselor. Noticing the growing interest in a local food movement, and the lack of raw milk dairies in Washington State, Laurie started her raw milk creamery in 2009. In addition, she loved raising her cows and the taste of raw milk and knew this would be the best business for her.
Currently with nine shorthorn and Jersey cows and one friendly bull ("if they're not nice, they leave"), Laurie runs this farm with her 15-year-old son and one other worker who helps on the weekends in exchange for housing on the land. In addition to cows, the farm also houses Katahdin sheep, horses, chickens, a cat and a dog.
She milks her cows twice a day, usually producing eight gallons per day, depending on the cows.  Although she tries to schedule her cow's pregnancies, three of her cows will deliver in the next month and milk production will significantly increase. Cows, like humans, are pregnant for nine months.
Cozy Vale Creamery is also licensed for cheese making, but Laurie, with her Wisconsin roots, has high standards for how her cheese tastes and is still working on the art of cheese making. In addition the cheese, eggs and lamb are sometimes available at the farm for sale.
Although she has no plans on stopping her creamery any time soon, Laurie has considered raising more Katahdin sheep.  Since the Katahdin variety do not produce fleece, they are low-maintenance and as Laurie said "I am not as strong as I once was and since the sheep are not as big as cows, I have to think of the future."
One big difference that Laurie points out about her farm compared with big dairy farms is the smell.  Even though we are feet away from her cows, she encourages me to take a deep breath. I agree with Laurie – it smells more like grass than any overwhelming cow waste. With 70 acres, the ten cows have plenty of room to roam. The cows are mainly grass-fed and supplemented with organic alfalfa grains in the winter.
Although her farm is not certified organic, Laurie tries to keep her production as organic as possible, including no antibiotics unless necessary. Washington State Department of Agriculture visits Cozy Vale Creamery once a month and tests for pathogens and coliform bacteria within the milk. Laurie recommends using or freezing her milk within two weeks.
For those wanting to try Laurie's local milk and live in the Olympia area, Westside Olympia Food Co-op and Eastside Olympia Food Co-op both carry Cozy Vale Creamery milk, available in whole and skim.  Laurie does the deliveries to Olympia on Mondays and delivers to Shop N Kart in Chehalis on Friday, and Marlene's Market in Tacoma and Federal Way on Thursdays.
But I believe one of the best parts of having local farms is being able to visit and see where your milk comes from. Every Saturday, customers can journey down the long driveway at Cozy Vale Creamery Farm and purchase their milk ($4 for half gallon at the farm) based on the honor system.  With luck, you might also be able to pet the cows.
7018 Churchill Rd SE, Tenino, WA 98589
360-264-GOOD (4663)