By Kelli Samson
Olympia's annual Pet Parade is near and dear to my heart. Saying that, you'd think I've participated faithfully, but that's simply not so.
The Pet Parade was, however, the place where my niece looked back at me and said, "This is the best day of my life! Even better than when we went to Disneyland!" Granted, she was six years old.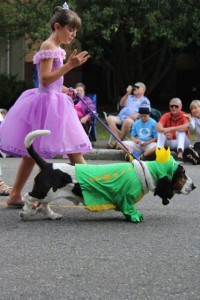 Please humor me, though, because now she is sixteen and wouldn't be caught dead walking my little West Highland Terrier in a parade through the streets of Olympia in front of, well…people.
The 85th Annual Pet Parade takes place this Saturday, August 16, at 10:00 a.m. This year's theme is "The Monster Mash." The parade is sponsored by The Olympian in conjunction with Hanson Motors, The Olympia Downtown Association, and Olympia Federal Savings. A contest for the Pet Parade's artwork was held by The Olympian. Readers judged Joseph Gardner the winner for his drawing entitled "Frankenpooch." His original art work is featured on all of the major Pet Parade material this year.
The parade route follows 5th Avenue from Heritage Park, up Franklin, and down Washington, ending at Sylvester Park. Get there early if you're planning to ooh and ahh over all of the cuteness, as it draws quite an impressive crowd.
And believe me when I say there will be lots of cuteness. And cuddliness. And, "Mom, can we get a puppy/bird/llama/hamster/kitten (or all of the above)?"
Be ready, Olympia. Some of you are going to have to be tough. You might even have to break some hearts.
And some of you will stop at the nearest pet shop on your way home. I'm just warning you.
What if you want to go beyond merely spectatorship and would actually like to participate in the Pet Parade?  First, be sure to have a pet. Second, be sure your pet is contained, as in bring a leash or a bird cage or whatever it is you need to be sure they don't escape. Some bags for their waste would be advisable, too, along with a donation of pet food to be gifted to the group Concern for Animals.
Parade participants can arrive to start lining up in Heritage Park beginning at 8:00 a.m. Being in the parade is free, which makes it even more awesome. No registration is necessary if you'd like to participate. Simply show up with your pet.
There are prizes awarded prior to the parade if you are interested. The judging takes place from 8:30 a.m. to 9:45 a.m. Past categories have been in the following areas:
Entries by children; entry by a boy; entry by a girl; entry by a family; entry by a group
Big Dogs
Small Dogs
Floats
Impersonations
Wheels
Yes, you read that right: "floats" and "impersonations." I've seen families and pets dressed up as the main characters from The Wizard of Oz. I've seen wagons decked-out to the nines, carrying the pets. One of my daughters was in the parade when she was very small, dressed as an Olympic athlete, complete with our dog unhappily wearing a medal around his neck.
Don't feel like you have to go that far, though.
That year I was in the parade with my nieces? We just happened to be driving by with the dog in the car and joined just in time, completely as-is, and it's safe to say we had just as much fun as everyone else.
To round out all of the excitement, upon completing the parade at Sylvester Park, participants receive free ice cream and goodie bags.
Bonus: Captain Little, the toy shop that's opening up in the spot where Wind Up Here used to be, has its grand opening starting at 11:00 a.m. that same day. As in, make a morning of it, families. Captain Little is owned by the same folks who brought us The Compass Rose, so you know it's going to be fantastic.
Just don't say I didn't warn you about the cuteness factor. If your family decides to buy a new pet after this year's Pet Parade, don't blame me. It'll all be on you.
Olympia's 85th Annual Pet Parade
August 16, 10:00 a.m.
Heritage Park to Sylvester Park