The sun is upon us here in Thurston County. It's garden season, and perhaps you're looking for a perfect addition or two to round out your summer garden and enhance its beauty. Or maybe you're getting your garden winter-ready, and looking for a few unique and hardy perennials. What could be better than a summertime drive out to Nature's Tapestry Gardens? Located on ten tranquil acres on Henderson Boulevard (just across from the Briggs Community YMCA), Nature's Tapestry Gardens at Tsuki Nursery is like walking into a peaceful, vibrant paradise.
The folks at Nature's Tapestry have over eight years experience in the nursery business, and they offer an experience like no other: expert guidance, one-of-a-kind plant selections, and a focus on sustainable, organic gardening. They are family-run, and put their hearts into a holistic approach to plants. From sourcing local plant starts, to caring for each and every one as if it were their own, this nursery cares about your garden from the moment you bring a plant home to giving you advice over the years to come.
I went out to visit Nature's Tapestry, and as a plant enthusiast, I have visited my share of nurseries. However, none have been as thoroughly exciting and enrapturing as this one. When you arrive, you immediately walk into a lush, inviting space. Outdoors, Japanese maples and unique perennials catch your eye with their brilliant hues, and are arranged into charming "garden-scapes," with plenty of unique nooks to explore (it was so cozy, I could imagine sitting down with a book to read). Soft music is playing, and a black lab, Jack, is happy to greet you.
Inside, a vast selection of all kinds of edible and decorative plants awaits. I was greeted by owner Tracey Kosenski (she, along with her husband, Lenny, and daughter, Jo, run the nursery). Tracey is a Washington State Certified Professional Horticulturist, and her expertise shows. She knows about every single plant in the nursery, and is happy to help customers pick just the right ones. As I admired the many "display garden" areas set up (clusters of plants with decorative touches like driftwood benches and sculptures), she noted that she likes to set up these nooks to give customers an idea of how they could set up gardens in their own yards.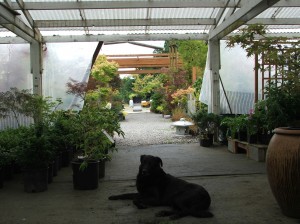 Tracey and her family are truly hands-on, managing every aspect of the nursery. They tend the plants and curate the selection thoughtfully, with a care and dedication you won't find in a big-box store. As you browse the vast selection, you'll find yourself getting lost in the beauty and color surrounding you.
Japanese maples are one of the most stunning trees, and Nature's Tapestry has them in abundance. In fact, they have the largest selection in Thurston County, and Lenny is a Japanese maple expert. (Tracey notes that one customer comes all the way from Wenatchee for the unparalleled selection and well-cared-for trees.)
Another unique specialty at Nature's Tapestry is bonsai trees. Bonsai are charming, classic, and provide long-term satisfaction to grow. The folks at Nature's Tapestry are happy to help you select the perfect bonsai from their large assortment and give you expert tips on caring for it.
Other specialties include unusual and hard-to-find perennials, dwarf conifers, ferns and hostas, and native plants. They also feature elegant hanging and potted terrariums, which are a hugely popular gardening trend that will also work in any space.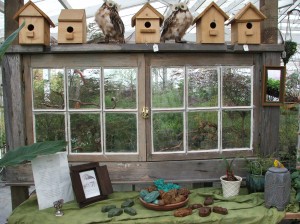 All the plants at Nature's Tapestry are nurtured organically. Organic vegetable and herb starts mean that you can be sure your food is GMO-free. They only use heirloom seeds and cuttings for their edibles. Their plants are sourced locally, from within Washington and Oregon. They only use and sell organic fertilizers, composts and potting soils. Clearly, the focus here is on quality and sustainability.
In addition to plants, Nature's Tapestry is unique in that they also sell locally made art, decorative and gift items (woven in with the plants, you will also find lovely displays of handcrafted jewelry, cloth shopping bags, birdhouses, and garden accents). "We don't just order off the internet; everything we bring into the nursery is carefully selected and locally obtained," Tracey notes.
Tracey and Lenny are long-time Thurston County residents. This fact, combined with Tracey's horticulturist training, means she has a deep understanding of the local climate and how to make plants thrive here.
In fact, gardening has been a life-long passion for Tracey. She started planting her first plants at age eight. "I would spend my allowance money on houseplants instead of toys," she said. What she most enjoys about running a nursery is seeing the excitement people have as their new plants grow. "We get a lot of first-time homeowners and new gardeners – it's wonderful to see their excitement," she notes.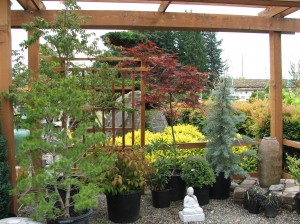 Nature's Tapestry is not only family-owned, but family-friendly, too. Bring the kids – they will have fun feeding goldfish, playing with Jack, and traipsing through the colorful aisles.
The Kosenski's love being a part of the local community. They get to know their customers, and have regulars who stop by after work just to browse and take in the tranquil environment. Sitting in a beautiful handmade lawn chair in the nursery, it's easy to see why this place is such a hidden gem – one could easily relax and spend hours here.
As we wrapped up our visit, I realized I didn't want to leave. I could easily imagine browsing the plants for hours, discovering something new in each little nook of the nursery. It's the kind of "Zen" place that makes your day a little brighter just visiting. I couldn't wait to tell my friends and family about this find.
You can learn more about Nature's Tapestry Garden on their website, join them on Facebook, or check out their gorgeous photos on their "Our Nursery" board on Pinterest.