By Tom Rohrer

Patrick Nugent's life revolves around golf.
The Olympia resident begins his day on the course and usually finishes it up on the links as well.
"I go out and play in the mornings because I work (at the Golf Club at Hawks Prairie) in the afternoon," said Nugent, a member at Indian Summer Golf and Country Club. "I'm out on the course at 8:00 a.m. practicing and trying to get in 18 holes before I go to work."
This dedication and strong work ethic has guided Nugent to a successful high school, collegiate and post graduate career that has a potential to grow even more.
A standout golfer during his time at Olympia High School and then Grays Harbor College, Nugent attempted to qualify for the U.S. Open in May by competing in the Oregon Sectional qualifier held at Emerald Valley Golf Course in Creswell, OR.  Nugent earned a bid in the sectional qualifier after finishing eighth in a local qualifier at Royal Oaks Golf Club in Vancouver, WA in early May.  The top seven finishers would earn a bid to compete in the sectional qualifier, and while Nugent finished just outside that range (he bogeyed the first playoff hole of the local qualifier to finish eighth), he was the first alternate once an individual withdrew from the competition.
Last year, Nugent failed to move past the local qualifying round, making the run towards a 36th place at sectional tournament his best slate of golf yet.  While he was unhappy with his play in Creswell, Nugent believes his best golf lies in front of him.
"I think part of it is maturity and part of it is practice habits," said the 21-year-old Nugent. "After high school, I practiced a lot harder and with more purpose and became at a better player.  Now, I'm working on the next step.  The U.S. Open, the professional tours, those are the goals of every golfer and I'm trying to work as hard as possible to get there."
After teaming up with current Stanford University Golfer Dominick Francks (whom Nugent remains close friends with) at Olympia, Nugent headed west to Aberdeen, where he starred at Grays Harbor College.  Nugent quickly made an impact for the Chokers and eventually was named the school's male athlete of the year following his sophomore season.
"That was a big honor and I took pride winning it over the basketball and baseball players," said Nugent.  "Did I think I would be in that position while I was in high school? Not really."
What changed in Nugent's play from high school to the collegiate level was his approach to the game.
"With tourney golf, there's some pressure involved. Before when I was younger, you want to play well and not play bad.  That's all you think about," he said. "When I play now, I feel no pressure. I go out and the play game and just see what happens."
Nugent grew up playing at the Tumwater Valley Golf Course with his father and would eventually play in tournaments outside of high school around the Pacific Northwest region.  A three sport athlete throughout middle school, Nugent hung up his basketball shoes and put down the baseball bat to focus on golf prior to enrolling at Olympia.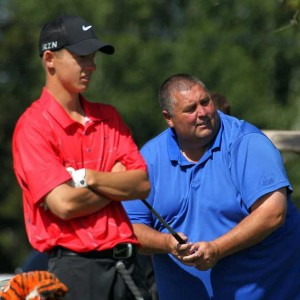 "I knew I could make something of golf.  Do I regret not playing ball in high school? A little," said Nugent. "But golf is my passion."
Nugent recently competed in the Capitol City Amateur Tournament and finished tied for fourth place with Jack Whealdon behind champion Ryan Earl, runner-up Tom Herrick and third place finisher Ryan Kelly.
Growing up, Nugent would compete in local tournaments such as the CCA, and the experience of playing in front of his family in his hometown has never gotten old.
"It's always ran so well and it's got some hometown appeal to me," said Nugent of his 141 at the tournament. "This year, I was just happy to shoot under par.   Going into Capitol City, I thought I had played poorly in the (sectional qualifier).  I just put myself into contention. I know I could've putted better, but it was still a fun tourney."
Nugent will continue his tournament slate next weekend at the Seattle Amateur and will compete in the Lewis County Amateur Tournament at Riverside Golf Course in Chehalis later this summer.
The competition and pressure that stems from golf tournaments is enjoyed almost uncomfortably by Nugent, and could be the edge he needs to take his game from a local level to the national scene.
"There is a lot more focus, a lot more on the line and you can just feel that in the air," said Nugent.  "When you're in a tournament, you have to block out that pressure and just play. If you can do that, it's just a fun game."