By Jennifer Crain
"Food and family have always played an integral role in my life," says Josefina Pilon.
"I was fortunate enough to have a loving mother who taught me all she knew about cooking authentic Mexican dishes like tamales, fresh tortillas, and also a very special kind of salsa."
For years, friends and family raved about Pilon's version of the popular sauce, telling her between bites that she could make money selling it, if she wanted to. After researching and networking, she decided to give it a try.
"I once heard that if you do what you love, you will never work a day in your life," she says. "When I reflected on my life, I realized that cooking has always been one of my passions."
Pilon started selling Fina's Southwestern Salsa at Spud's Produce Market last fall, currently her only retail location that's readily accessible to the public. She makes salsa about once each week in the commercial kitchen at Charlie's Safari, an indoor play area for kids in Lacey that serves the sauce in its in-house restaurant.
One of the biggest challenges for food entrepreneurs in the area is a scarcity of commercial kitchen space available for rent. Pilon had the good fortune to know Charlie's Safari owner Kurt Kageler through Saint Martin's University, where she serves as Assistant Director of Admissions in charge of transfer recruitment. She knows Kageler from his days working in the Alumni Office. Pilon has worked at the school for nearly 15 years. When Pilon took Kageler's graduate-level entrepreneur course, he offered her the use of his company's kitchen to get her started.
The connection isn't the only serendipity in her story. Dave Jekel, co-owner of Spud's, says it felt like a lucky day when he realized who was behind the new salsa company.
"I have known the family since I was in sixth grade," he explains. Jekel played basketball with one of Pilon's sons from the time they met all the way through high school. "We were the best of friends and I spent many nights at their home. I got spoiled at an early age with her great cooking."
The connection is a lucky one for customers, too. Jekel says in only five months they've doubled the number of containers of Fina's Salsa they sell at Spud's every week.
A daughter of Mexican immigrants, Pilon was born in Texas and moved to Whatcom County, Washington when she was a small child. Her family moved to the Olympia area in 1977.
Since then, Pilon says she's grown to love Olympia more every year.
"When my husband and I first moved to this area, we both liked Olympia because it reminded us of where we were raised – a small community and a good place to raise our children," she remembers. "Over the years, though, this area has grown into something even better as we've seen this community and its people become more and more diverse. The opportunity to continue to learn from others makes this a great place to live and it also makes it a great place to be an entrepreneur."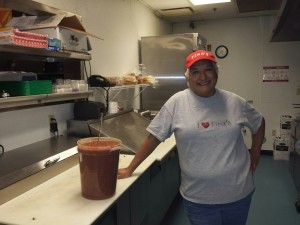 If Dave Jekel has anything to say about it, she'll be able to continue growing her business here for many years to come.
"I couldn't be happier for them," he says. "I'm glad I get to be the one who says this is where they got their start in retail."
Her sons, Sam and Chris, may be her biggest fans. Sam, who created the Fina's label, helps by delivering weekly shipments, seeking out new sellers, and brainstorming marketing ideas. Chris, a blogger with his own podcast, is working on developing a Fina's website.
Pilon says she decided to focus on salsa in the first place because it's "the signature dish that goes with everything." Fina's Southwestern Salsa is displayed in a cooler at the front of the store and comes in both mild and hot heat levels. Pilon doesn't use any preservatives, other than vinegar, and the only sweetener is the sugar found in the stewed tomatoes that make up a portion of the salsa's base. Jalapenos and cilantro lend the sauce its southwestern flavor. (This harvest season, Pilon is working on a plan to source her cilantro from a local farmer.) Her recipe, tested for decades, is a tangy crowd pleaser. In the future, she may expand to other products but salsa, her idea of the perfect condiment, will always be the focus of her business.
"The salsa is delicious and I find it does not last long at my house when you open it up and start snacking," Jekel says, adding that he enjoys eating it on fish and tacos.
Pilon is anticipating even more sales during the summer months, which means she'll have to either make bigger batches or make the sauce more than once a week to keep up with demand.
She prefers the latter, "so that my customers can be assured they are getting a fresh product."
2828 Capitol Blvd.
(360) 915-9763