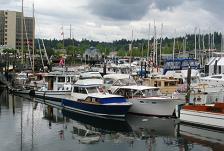 By Alyssa Ramsfield
Mother's Day weekend is the perfect opportunity to get out of the house and enjoy the many activities Thurston County has to offer. One of those many activities includes the free, fun-filled Olympia Wooden Boat Fair at Percival Landing May 10 and 11.
"The Olympia Wood Boat Fair was organized in 1979 for the purpose of encouraging wooden boat owners, craftsmen and women, and interested persons to exchange their skills, understanding and knowledge," explains Secretary of the Olympia Wood Boat Association (OWBA), Helen Jamieson. "OWBA is interested in the history, construction and preservation of wooden boats, new and old."
The goal behind the fair is to spread the knowledge and appreciation of these beautiful boats. "For 35 years, the OWBA has put on the fair at Percival Landing and encourages everyone, young and old to come enjoy asking questions and seeing wood boats from the past and present," says Jamieson.
Wooden boats of all conditions and sizes will be on display to the public. The variety of boats on hand will include power, sail, row boats, dinghies, kayaks, and canoes. Some of the boats for viewing will be in different stages of construction and restoration. Many of the boat owners will be on hand to take questions and comment on their boats.
Along with a plethora of wooden boats, event attendees will have the chance to enjoy local arts and crafts. "We have many vendors with a variety of items to purchase," describes Jamieson. Some of the past vendors have sold items including paintings, photography, wooden toys, jewelry, furniture, baby items and clothing.
The International Food Alley is also popular among fair-goers boasting 18 booths filled with local food for every pallet. Burgers, hot dogs, BBQ skewers, pulled pork sandwiches, curly fries, teriyaki, ice cream, shaved ice, and more will satisfy any stomach! It is the perfect spot to enjoy lunch or dinner during the weekend.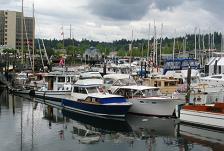 Entertainment will be available and enjoyed at the Wooden Boat Fair as well. Saturday will feature The Aspirations (Aspire School Jazz Band), Blue Pickup (Bluegrass band), and the Tumwater High School Jazz Ensemble. Sunday will include the Olympia Highlanders Bagpipe Marching Band, Sileveloughane Irish Dancers, and Ko Ko Jo (Rock band).
Saturday only, kids will have the opportunity to build their own boats.  The Boat Building Booth encourages children to use their imaginations and build their own wooden boat using given components that are found on actual boats at the event. If you are interested in having your kids participate you will want to get there early before the available wood runs out!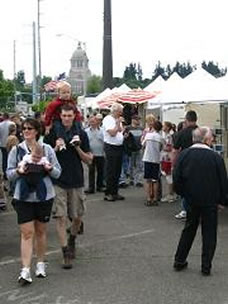 There is something for the entire family to enjoy at this year's Olympia Wooden Boat Fair.  Head down to Percival Landing to celebrate 35 years of bringing our community together through the love of boats!
Olympia Wooden Boat Fair
Saturday, May 10 – 10:00 am – 6:00 pm
Sunday, May 11 – 11:00 am  – 5:00 pm
Percival Landing in downtown Olympia