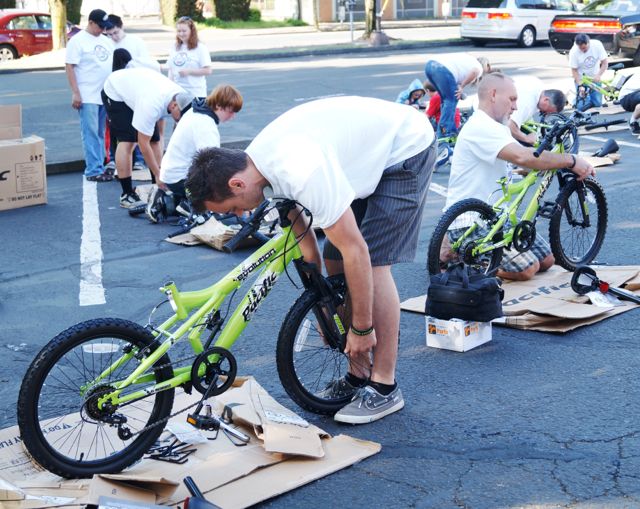 By Jean Janes

The first time pedals, wheels, and force all flow as one and the bike flies forth, balanced and true, is a cherished and singular memory for any who have had the pleasure of that first successful bike ride. The freedom is intoxicating, the speed refreshing, as a new sense of independence is experienced.  That first bike and the liberty it introduces, as well as the added responsibility that liberty entails, is an invaluable lesson that no child ought to forego due to financial need.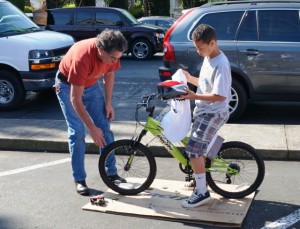 To enable those who would otherwise go without to enjoy the privilege of a new bike, the Golden State Foods (GSF) Foundation, a non-profit organization established for the benefit of those in need, has created the Build-A-Bike program, an inspired way to not only provide bicycles to children, but to also build their character.
This Armed Forces Day, May 17, the GSF Foundation will hold Build-A-Bike events nationally, including one at Joint Base Lewis-McChord (JBLM). Laura Kniss and Anna Beyder, associates at GSF, explain the motivation and process of Build-A-Bike, and what it contributes to the children and to their communities.
May 17, 2014 will be the second year that the GSF Foundation has produced the Build-A-Bike event. Last year, the Build-A-Bike held in Sumner was a great success. Kniss recalls, "What an amazing day to be able to build 25 new bikes with kids ages six to eleven and even to teach two of them to ride!" To help create an experience as poignant and life changing as learning how to ride a bike for the first time must be life changing for the volunteer as well.
The GSF Foundation is also making a point to reach out to the military this year. Purposefully held on Armed Forces Day, a day focused on the recognition and appreciation of our military service members, Beyder points out that they are "working with organizations like Wounded Warriors and Homefront America." With this focus in mind, in addition to kids from the local Boys and Girls Clubs and YMCAs, Beyder explains, "this year, children who have at least one parent actively serving in the military will be among those receiving new bikes." For struggling military families, such a gift will be invaluable.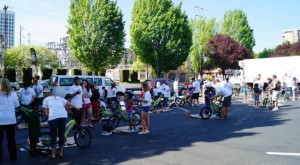 The most treasured aspect of this gift is not necessarily the bike itself, however. For the kids, helping to build their new bike inspires a solid work ethic and pride in a job well done. "It teaches safety, goal setting, and the value of hard work to achieve those goals," Beyder adds. Not only witnessing, but also actually taking part in the construction of one's bike will most certainly influence young minds on the true value of their new possession. Their bike will mean more because it takes time and effort to earn it. "A bike," Beyder expands, "helps a child develop his or her sense of self-reliance, adventure, strength and character."
When building a bicycle, each part builds on the next piece, each being in place and operational for the whole to work successfully. Each piece of this event requires and depends on the next to make the program a triumph. Beyder explains that, in addition to the volunteers, the event is made possible "thanks to the help and support of local bike shops that act as an excellent resource for future tune-ups and safety lessons" as well as additional guidance from local police. "The success of the Build-A-Bike program is due in large part to the volunteers," most of which are GSF associates. When the event takes place, each child will work with a volunteer, building with donated parts from participating bike shops.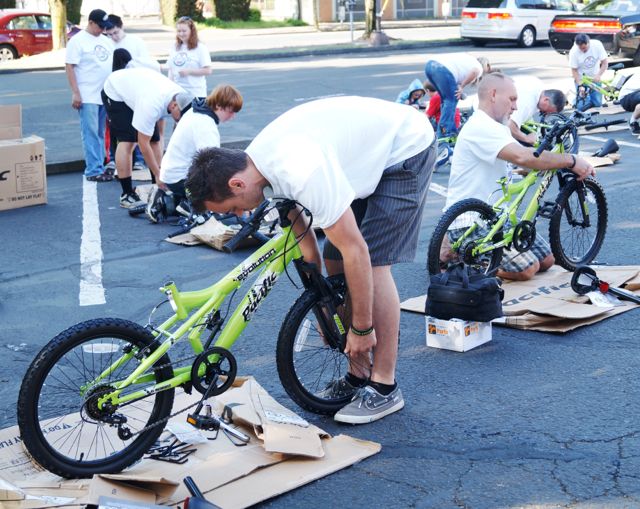 As a bike is being built by a child and mentoring volunteer, so builds the perseverance, teamwork, and pride of the child who now understands that their dedicated work can yield reward. As the character of a single child builds, so does the strength of their family and community in which they live. Dedicated to service, Build-A-Bike represents one of many projects the GSF Foundation coordinates.
"Our Foundation," Kniss reflects, "does amazing things daily." Providing 250 backpacks full of school supplies, over 1000 pairs of new Adidas shoes, "We love to help children and families in our community and our associates fully support the foundation and provide the resources that are necessary to make these little miracles possible." Now for the second year, Build-A-Bike will add to the good works of the GSF Foundation.