Submitted by Audrey Lamb, Center for Natural Lands Management
Beautiful and mysterious prairies hide in pockets throughout the South Sound. The best way to appreciate our region's prairies is to visit them in the spring when the open landscape bursts with color, and blooming wildflowers, rare butterflies, birds and other wildlife can be seen.
Enjoy the beauty of our region's prairies at Prairie Appreciation Day on May 10th. This free family-oriented event takes place on Thurston County's Glacial Heritage Preserve and the Department of Natural Resources' Mima Mounds Natural Areas Preserve. It includes guided walks on the prairie, activity trails, and the opportunities to see endangered species including the Taylor's checkerspot butterfly and golden paintbrush. Last year, more than 1,000 people attended Prairie Appreciation Day.
Prairie Appreciation Day:  (Free!)
May 10 from 10:00 a.m. – 3:00 p.m.
Glacial Heritage Preserve and Mima Mounds NAP
For directions, visit prairieappreciationday.org
Please note that food will not be available at Glacial Heritage Preserve.
You are welcome to bring a picnic.
Please leave pets at home.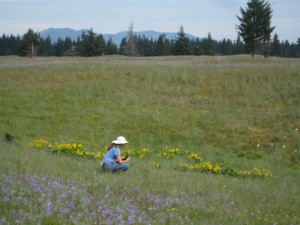 While Glacial Heritage Preserve is generally not open to the public, Prairie Appreciation Day is an excellent opportunity to visit one of South Sound's premier preserves and experience first-hand the beauty of our prairies.  Other opportunities to visit South Sound prairies include:
(A Washington State Discover Pass is required to park at Scatter Creek and Mima Mounds)
South Sound prairies are a part of Washington's natural heritage created by retreating glaciers, which formed these open grasslands nearly 15,000 years ago. Today, only 10% of the original prairieland remains.  Three prairie species, including the Taylor's checkerspot butterfly, streaked horned lark, and Mazama pocket gopher were recently protected under the Endangered Species Act.
Center for Natural Lands Management (CNLM) is an accredited land trust dedicated to the protection and preservation of imperiled species and their habitats. CNLM has more than 20 years of successfully conserving some of the rarest species and habitats in Washington State and California.
For more information or to volunteer with prairie restoration projects, please contact Audrey Lamb, CNLM, at (360) 357-6280, alamb@cnlm.org, or visit www.southsoundprairies.org.