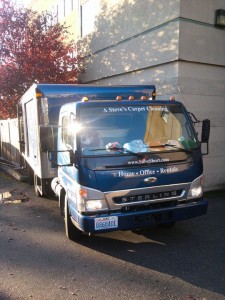 Steve Short of A Steve's Professional Truck Mounted Steam Cleaning is proud of his green cleaning techniques.  His "biggest and best and baddest" truck-mounted steam cleaners are top of the line, capable of heating water to 250 degrees.  With steam forming at only 212 degrees, he grades the heat output by carpet type and dirt level.  By also reducing allergens, an all too common plague in our climate, he leaves things "cleaner, fresher, healthier."
A member of numerous local Chambers of Commerce, Steve brings over 30 years of experience to his work.  This allows for maximum results with minimal chemicals, an important fact to clients with pets, children, or medical fragility.
Because his trucks feature a rotary carpet cleaner, they can remove even the toughest stains.  These machines are more expensive than the standard type but are capable of a much more thorough cleaning.  Says Steve, "it does a better job and makes the job easier and more efficient; I could have gotten away with a lot less and nobody would have known" but he believes in a tradition of quality service that has garnered him many pleased testimonials.
A typical appointment consists of spot treating trouble areas, a deep steam cleaning, and then re-treating any particularly tricky areas if needed.  All water is extracted back into the truck, leaving quickly drying carpets and no mess for the client.
Steve also cleans upholstery, furniture, tile, vinyl, and cement so no surface is forgotten.  Phone estimates are available at 360-701-9544 and his website is a wealth of how-to's and cleaning tips.  Most jobs are completed within a few days of calling and no request is too big OR too small.