By Tali Haller

Often, the word "robot" draws forth images of sinister, humanoid machinery; perhaps, technology capable of taking over the world, even obliterating the human race. In reality, robots are much less evil. By definition, a robot is a programmable, mechanical device used to perform dangerous or repetitive tasks in place of a person.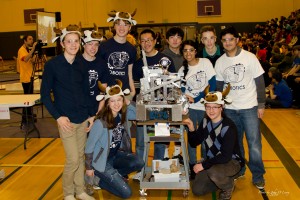 In fact, robots help us far more than we realize. From the autonomous home vacuum cleaner, Roomba, to Spykee, the customizable WiFi robot designed for protection, to Sushibot, who rolls out 3,600 pieces an hour, robots are constantly providing us with the speed and accuracy we need to move forward as a society. Their integration into our world can be seen in many instances – robots now assist in children's education, distribute medication to hospital patients, aid the military and law enforcement (often venturing into possible booby traps, unafraid of death, to check out the scene and disarm anything suspicious) and much, much more.
Their rather imperceptible assimilation over the years has begun to speed up. Recently, robots have been skyrocketing into popularity, and some are now calling them the next big thing. What's more, the youth of our generation seem to be right on board. As robot popularity soars, robotics classes, clubs, teams, and competitions are springing up around the country, propelling America further into what many our calling the technologically-ensconced "information age."
Olympia itself seems to have a spot on the map in this wave of technological ingenuity. Started just under two years ago, the Olympia High School Robotics Club may soon find itself sending one of its two teams, the 'Oly Cow team, to Worlds in the First Robotics Competition (FRC).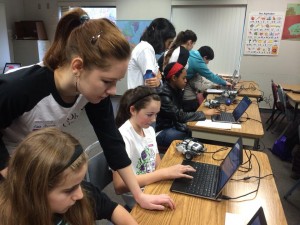 Now a senior, OHS student Jill Shah established the OHS Robotics Club at the end of her sophomore year in 2012. The club currently consists of fourteen members divided between two teams, a rookie team and the advanced team, Oly Cow. The club members are an intelligent bunch, averaging a GPA of over 3.8, who love the practical application of science, engineering, and programming that the club provides.
Shah's initial interest in robotics came from a two-week summer robotics course she took at the New Market Skills Center in Tumwater. Later, she ended up volunteering at a Robotics Competition held at OHS, but without any competing OHS students. "I thought that was sad because I knew that we had the talent, the motivation, and the money to create a really great team," said Shah. Recognizing the potential, Shah managed to pull together what is now a respected, competitive Robotics team.
According to club member, junior Levi Bisonn, OHS is the first school in the Olympia School District to make it beyond state. Next up, the team must compete at the FRC Super-Regional Championship, which includes competing teams from all over the western half of the United States. The competition will take place on March 20 – 23. If they qualify, they will proceed to the World Championship, which some call the "Super Bowl of the Mind." The overall winner meets with the President of the United States, showing off their robot and promoting STEM.
For the competition, teams must build an 18x18x18 inch robot to complete certain tasks. Each competition season the tasks change. This year, the competition is called "Block Party!" and the competing robots must be able to pick up and put blocks in a basket, grab onto a bar and hang, and raise a flag.
The tasks are assigned in the beginning of January at a "Kick-Off" event, where teams from around the world receive instructions simultaneously. In the following six weeks, teams work together, without adult help, to design, program, and build a robot in time for competition.
"Our team has an innovative robot design," said Bisonn. "Instead of picking up blocks, rotating around and then dumping them, our robot transfers blocks directly through its center, speeding up the whole process."
The club's mentor, OHS Automotive and Robotics teacher, Stan Bratt, thinks they have what it takes to go all the way. "They're phenomenal kids. Last year, at their first competition, they broke the world record high-score at one match, holding it for two weeks before another team broke it. They are just such an incredible team," said Bratt.
It turns out that luck also comes into play during the competitions. In each approximately three minute match, two competing teams are partnered against two opposing, competing teams. If one of the two teams partnered together makes a mistake, the other might go down with it. "At State, our robot partner didn't do well on one portion of the match.  They ended up getting disqualified, resulting in our team losing the match as well," Bisonn commented. "Luckily, we did good in our other nine matches and we were able to move on."
Although the "robot partner" idea may seem unfair, it has a lot of merit. "Not only does it save time, but it replicates real-world situations. If you're building an airplane, you have to be able to work with other services, the airlines, part manufacturers, etc. So, it's teaching collaboration, team work, and it also promotes a friendlier competition," Bisonn explained.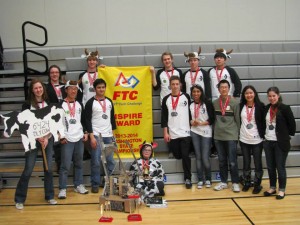 The OHS robotics club puts in a lot of work to make their robot a success at competitions. Under the supervision of Bratt, most of the club members meet daily, after school for as long as possible. "My job is extremely easy. If there was a problem, it would be trying to get them out of here every night," laughs Bratt.
Although the team may be lacking in structure, their motivation allows them to efficiently collaborate and work together. "We get to the shop, we look at what needs to be done, and we all get to work. It's beautiful camaraderie and fun," comments Bisonn.
Aside from working on the robot, the Robotics Club also documents their journey, fundraises, volunteers, manages their social media outlets (Facebook: OHS 'Oly Cow Robotics, Blog: http://www.olycow.wordpress.com), and does community outreach. For the most part, their fundraising has included a car wash and sponsorship deals for local businesses. For instance, a 1% Milk Donation ($25-$99) receives social media "shout-outs," a 'Thank You' certificate, and the business name on the competition poster. There are two other levels of sponsorship: a 2% Milk Donation ($100 to $749) and a Whole Milk Sponsorship ($750+).
To date, the club has been extremely resourceful, going a long way with the initial start-up kit issued to new teams and free machinery donated to the club (such as a damaged laundry machine). However, in order to advance, the team is in need of support from the community. "Our team needs funds so that we can travel to California and other competition locations," states Shah.
Already the club has proven their worth. Since their start they have been the winner of the THINK Award, given to the team with the best engineering notebook, twice, and the winner of the INSPIRE Award, given to the best overall team. Additionally, they have placed 2nd at the Regional and State Competitions in the 2012-13 season and the 2013-14 season.
Now, in the upcoming rounds of competition, we may see our own 'Oly Cows moooove to the top.