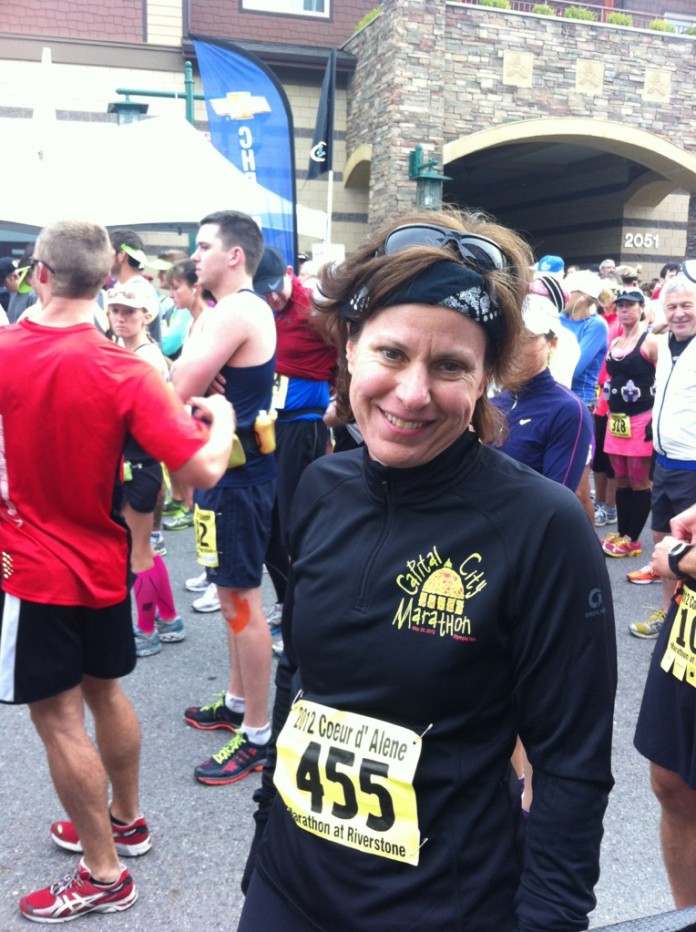 By Tom Rohrer

Since 1981, the Capital City Marathon has been a day marked on the calendar of the running community.
Perfectly combining the community's strive for physical well-being and the beauty of the surrounding Olympia area, the marathon attracts competitive, amateur and 'just for fun' runners alike.
Until 2011, Lesley Roberts served as the marathon's director, overseeing the eight person Capital City Marathon Association Board.  Following Roberts decade-plus tenure as director, the torch was passed to a new director to keep the popular event running full steam ahead.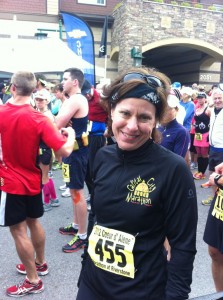 Appointed the director of the Capital City Marathon in February 2011, Nona Snell has found out that running the Capital City Marathon is a year round position, full of very few lulls and extremely busy periods. With tasks such as balancing the marathon budget, ordering apparel, staying in contact with sponsors and coordinating volunteers, Snell always seems to have a task to accomplish.
"It's always sort of there in my head," said Snell of her obligations to the Capital City Marathon. "There are some down times and some extremely busy times, but it's something that always hangs around me.  And this isn't a bad thing.  I enjoy it."
The running enthusiast believes the marathon is an integral part of the Olympia community and represents the best of the area.
"Being physically active and being outside is important to physical and mental health," says Snell. "This promotes healthy living and benefits everyone. Exercise lowers the cost of insurance, and we work with a lot of local businesses.  It's something that promotes the community but also a healthy way of life."
Snell, who says she has participated in "a lot" of marathons across the country believes the Capital City Marathon is much more than a competition.
"A lot of people walk and just like the experience of being out there," she continued. "I'm not very competitive by nature, but I love the competiveness involved.  At the same time, there are so many people just having fun and being together.  It's a great combination."
When Roberts announced she would be stepping down, the marathon board quickly looked for a capable individual to fill her place.
"There was the possibility if someone didn't step up, it wouldn't go on," said Snell. "I remember thinking how it's such an important part of the community, so I just started asking a lot of questions and was able to get a lot of beneficial answers from people involved over the years."
Already involved with the marathon as a volunteer, Snell was somewhat familiar with what went into organizing the event and could use her professional experience as well.
"I'm a detail oriented and organized person. I stay on top of things.  I'm that way by nature and the jobs I've had required that sort of mindset," said Snell. "But I still am in constant contact with the board.  They've been very involved every step of the way."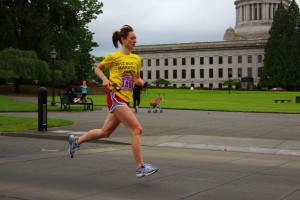 Through the efforts of Snell's direction of the Capital City Marathon Association Board, the event has been able to adapt year in year out to the demands of the running community.  The changes in recent years, while small, still have an enormous impact on the future of the marathon.
"It's been little changes here and there.  We order men's and women's size shirts instead of unisex.  We work with a photographer where people can download photos for free online," said Snell, who has participated in the marathon herself. "We work with DART in Tumwater and they provide recycled cups that can be recycled again.  That reduces a lot of the garbage.  It's little tweaks here and there."
Run entirely by volunteers, Snell has always been impressed by the amount of time spent by those who make the event possible.
"There are 550 volunteers and we need every one of them.  They're all extremely important," Snell says. "People are very dedicated and it shows how important the marathon is to them."
For years, the Capital City Marathon has partnered with South Sound Running to create training groups that prepare runners for the race in May.
These training sessions include simulated runs armed with refreshment fueling stations similar to those found on the Capital City Marathon.  These stations are armed by local high school distance runners.
"(The high school runners) take care of water spots. They hand out water and replenishment drinks," said Snell. "We give them grants for that service.  The board is committed to supporting the local running community."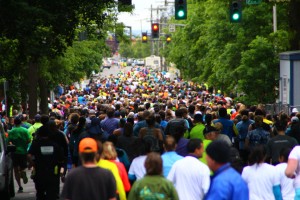 This effort to connect with the community led to the marathon association creating a foundation.  Through the Community Foundation of South Puget Sound, the marathon Board of Directors will use the foundation to support local groups involving healthy running activities and events in Thurston County.  Grants will be awarded to activities that are educational or open to community members who wish to participate.  Snell hopes the foundation will build up a balance that allows for grants to be awarded on an annual basis.
"We have set up a foundation but there is not enough funding to give away resources yet," said Snell. "But the idea is money will be used to support activities, probably focusing more on students and to emphasize a healthy active lifestyle. The board is committed to that."
On Saturday mornings, Snell enjoys seeing the large collection of runners, both individually and in groups, take to the pavement and trails in the Thurston County area for their exercise.
"I suspect when people see all these groups and runners, it motivates them to go outside," Snell said. "I can't even run on a treadmill anymore. I don't care what the weather is, I run outside.  It's just an incredible place to go running."
Running a marathon, half-marathon, or 5k is a challenging physical feat.  For those who are wary about the challenging course at the Capital City Marathon, Snell contends the beauty alone is reason for running.
"That's what we tell people about the marathon when we hear them say it's a tough run," said Snell. "It's as beautiful a course as there is."
Adding to the beauty of the marathon is the camaraderie displayed amongst the community, whether it be the volunteers, friends and family of participants, or the runners themselves.
"It's great seeing it all come together the day of the run," said Snell. "There is a balance of exercise, fun, and a sense of community.  That's what it's all about."
For more information about the Capital City Marathon, click here.