By Stacy Fisher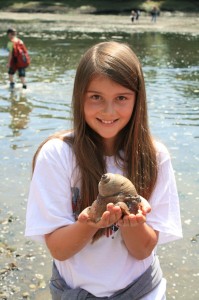 "Kids have a lot of hope.  They are creative and willing to work outside the box.  They are compassionate. I see it everyday, so it's hard to be too doomsday about our future.  I feel like Taylor Shellfish is good about that… they do not guilt the kids, but rather say 'let's be stewards together.'  Taylor Shellfish, too, is about hope," comments Dixie Reimer, when describing her experience working with Taylor Shellfish.  Reimer is a District Science Coach in the North Thurston Public Schools and former Komachin Middle School science teacher.
Youth play an important role in water conservation and protection of the watershed.
Over the past couple of years, Jennifer Whipple who coordinates Taylor Shellfish's education and outreach program, along with her sister, Nicole Hopper, have been meeting with students throughout Washington.
Whipple's message is simple, but important – "Enjoy all that the Puget Sound has to offer and protect it."
Community Engagement
"It's important for the whole community, but for us at Taylor Shellfish, it's how we make a living," explains Whipple.  "As the shellfish are filtering water, they are providing a great ecological service to keep water clean.  But if they are filtering water full of pollution, the shellfish are no longer safe to eat.  Therefore, to commercially harvest shellfish for food, we need to grow them in really clean water."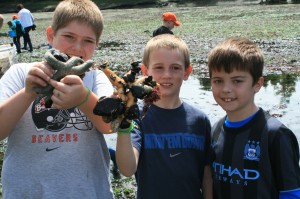 Whipple adds that in Washington State, the water quality standard for commercially harvesting shellfish, is the highest standard for water quality. "It's wonderful that more people are moving to our area, but it makes it difficult to maintain these standards," she explains.
Therefore, Whipple takes Taylor Shellfish's message directly to kids.  "We get into the classrooms and teach students about water quality.  We explain how daily activities impact water quality and how the entire family can minimize the impact," continues Whipple, speaking with a smile in her words.
As anyone can quickly tell, Whipple is well suited for her position.  Her passion for the subject matter is contagious.  Her local roots tie it all together.
She is always surprised by how many local children have not experienced a low tide beach walk.   Reimer agrees that getting the kids to the beach to appreciate their connection to the water is essential.
Taylor Shellfish has been instrumental in taking students on field trips or bringing the beach to the classroom to help make the message of water quality more tangible. "I would take 13-year-old students, who live in Olympia, to Puget Sound for the first time. Maybe a quarter of our kids haven't been to the beach, to see clams and the amazing place we live in.  They get excited about learning about their home and Taylor Shellfish really supports that knowledge," comments Reimer.
Active Environmental Stewards
Taylor Shellfish has been an active participant in student's education, generously offering resources at no cost to schools. "During the field trips, we talk about differences in point-source and non-point source pollution.  Non-point source pollution is the little contribution from each of us.  We brainstorm how we effect the water, from fertilizers, failing septic systems, dog poop – giving kids concrete tasks that they can do at home," Whipple comments.  "It's the cumulative impact of all these tiny things.  People don't think it will make a difference, but with the millions of people who live in this watershed, it really does make have an impact."
Taylor Shellfish has been offering field trips to their beaches and processing plants for years, and they are open to find ways to supplement the experience. "We recently started something really cool with Komachin Middle School. It was a whirlwind trip, starting with a visit to the shellfish farm and then returning to visit the processing plant. Next, one of our hatchery scientists presented on ocean acidification.  We ended with a big lunch eating clams. And we are going to start doing this quarterly with the middle school," describes Whipple.
Whipple comments that the reasoning behind Taylor Shellfish's involvement is to have a new generation of stewards. "With all these kids activities, including our field trips to learn about shellfish and water quality, I think the most important thing is showing them a good time. Because then they come to love the Puget Sound like I do," she says. "The students in school now are really going to have to be the ones to make the big changes.  And these basic things that we are teaching them, if they become the standard, will help create a shift."
Sustainable Business
The Taylor family, now in its fifth generation, has operated the shellfish business since 1890.  However, shellfish harvesting in this area has been happening for thousands of years, and is an important part of our culture and heritage.
Whipple comments, "It is important to show people what we are doing, because as far as food production goes, it's about as sustainable as it gets.  As the shellfish are grown, they not only filter the water to help keep it clean, but the shellfish beds themselves provide important habitat for other plants and animals in Puget Sound.While Taylor Shellfish is a for-profit company, it relies on clean water."
We live in an area that produces top quality food, requested in the top-notch urban restaurants, and it is growing right here in the Puget Sound. Keeping the water clean is a no-brainer for the shellfish industry, and involving our youth to help become stewards of the environment just makes sense.
Taylor Shellfish
130 SE Lynch Rd
Shelton, WA 98584
360-426-6178