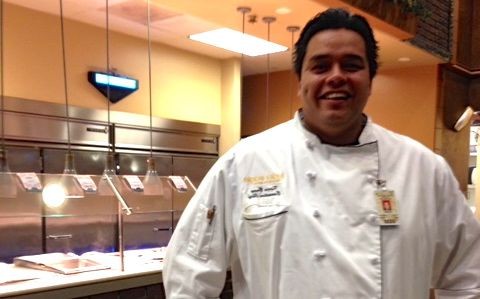 By Katie Hurley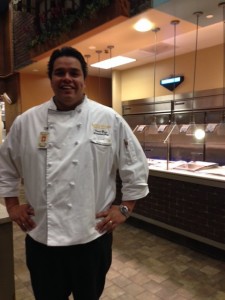 When most people sit down to eat in one of the restaurants in the Lucky Eagle Casino & Hotel, they might not think about those who work behind the scenes to make their dining experience a great one. Kevin Bray, on the other hand, thinks about them, and he talks about them. A lot.
Bray, promoted to Lucky Eagle's Executive Chef earlier this year, understands that all of the people behind the scenes play a very important part in the guests' experience.
When I sat down to talk with Bray, I wanted to learn more about him as a chef and as a person. What I learned is that he cares a lot about his community, staff, guests and family. All of them have played an important part in his 15-year career at Lucky Eagle.
When he started as a dishwasher 15 years ago, Bray wasn't aiming to be Executive Chef.  Soon he began helping with food prep and his work ethic and interest in learning caught the attention of management. After rising through the ranks to Sous Chef, Bray knew he needed a culinary degree to advance further.  He began a two-year Culinary Degree program at South Puget Sound Community College (SPSCC).
Upon completion of his degree, Bray began an internship in an Oregon casino. "There's a lot to be said for work experience plus professional training," said Bray. "I got exposure to more chefs I had never worked with before," he said of his internship. He brought that experience back to Lucky Eagle where he continued to gain the experience that led to his current position.
"One thing I heard early on in my career here is that you set your own ceiling," says Bray. "The only thing that is going to limit you is yourself." This philosophy plays a key role in how he manages his staff to this day. "If there is anything we can teach them and they are willing to learn it, we will teach them," he said. "We have a duty to attain and pass on as much knowledge as we can."
When reflecting on the number of people working at Lucky Eagle, Bray says, "It is a family atmosphere, and we all know each others' names. Without the staff we have, we wouldn't be where we are. It's about how we take care of our guests, and we are thrilled to have everybody who walks through the door.
Bray's care for the community is apparent. "It's about giving back," says Bray, a 2009 graduate of Leadership Thurston County. He puts his training and experience to work for the community by participating in the Hawks Prairie Rotary's Mushroom Festival, Taste of the Market and United Way's Straight from the Heart Winemaker's Dinner, along with teaching healthy cooking classes to members of the Chehalis tribe.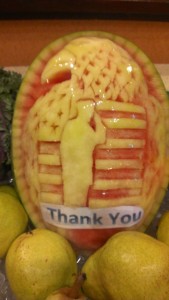 Bray also volunteers in the high school concession stand to support his daughter's school. As if that wasn't enough, he also serves as the Vice President of SPSCC's Culinary Advisory Board.
When I asked him what he enjoys most about his job, Bray referred to the holiday celebrations. "Families come together. If it is a holiday, you're going to remember it for the next year or longer, and we're going to do the best we can to make it a special event." One holiday celebration that Bray is particularly proud of is Lucky Eagle's annual Veterans' Day celebration, honoring military veterans and their guests with a traditional salmon and chicken dinner, American flags lining the road leading up to the casino and fine details like the intricately carved watermelon depicting a soldier saluting an American flag.
It's not just the holiday celebrations that Bray wants to be memorable, though. "We focus on putting out a good, wholesome product," says Bray. "We are committed to freshness and the plate speaks for itself. When we make something, we make it the best that we can."
When he's not in the kitchen or volunteering in the community, Bray enjoys spending time with his wife and six children, as well as working on his collection of old cars. He is currently restoring a 1974 Plymouth Satellite, in which he volunteered to drive his daughter's high school homecoming court.
Bray's positive attitude and commitment to quality shine at Lucky Eagle's restaurants. "I am fortunate to have a job I enjoy," says Bray. "It is truly a lot of fun and every day is a new challenge."
For more information or for reservations, visit the Lucky Eagle website or call 800-720-1788.