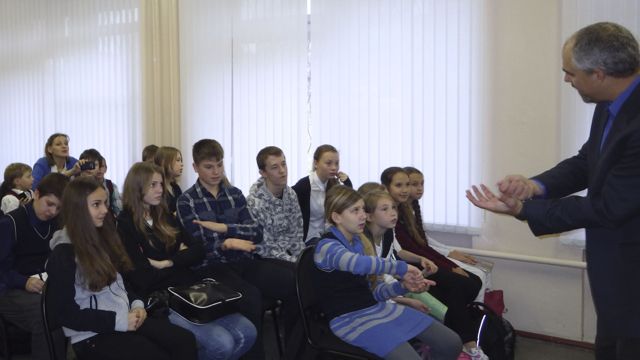 By Lisa Herrick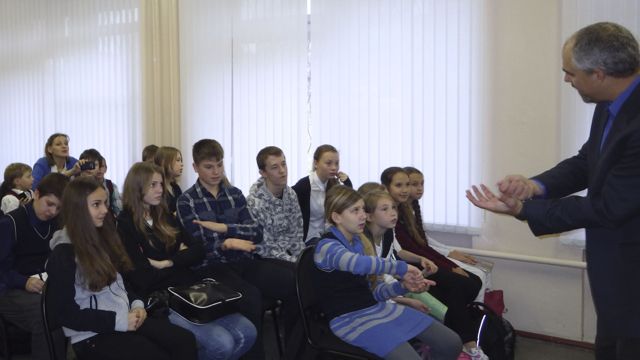 Russia, officially known as the Russian Federation, likely brings up a myriad of thoughts, stereotypes and memories, depending upon one's age and culture. That certainly has been the case for Saint Martin's University Associate Professor of English and Chair of the English Department Jeff Birkenstein, Ph.D.
Dr. Birkenstein is currently in Petrozavodsk, in northwestern Russia, where he is teaching English and researching the American short story and its Russian influences.
"I grew up in the waning days of the Cold War and my whole life after that has more or less required that I unlearn all the American propaganda my head was filled with. I remember 'duck and cover' drills, which held out the hope that we could survive a nuclear attack from the Soviet Union by ducking under our desks. I remember the battle of empires frame that was the U.S. hockey victory in the Olympics. I remember Ronald Reagan's 'Evil Empire.'  Now, of course, I realize that everything is a lot more complicated. But what isn't complicated is that people tend to lose their fear and stereotypes of each other when they meet face to face. This is my goal. Simple and modest, really," shares Birkenstein.
This simple and modest goal of dispelling stereotypes through face-to-face meetings has led Dr. Birkenstein to be the recipient of the highly prestigious Fulbright Teaching and Research Award. The Fulbright Program's extraordinarily competitive grants fund international educational exchanges for students, scholars, teachers, professionals, scientists and artists. Grants are sponsored by the United States government and designed to increase mutual understanding between the people of the United States and other countries.
Dr. Birkenstein's approach at Petrozavodsk State University is to share his expertise in the modern short story, as well as his interest in food and fiction, as ways to increase mutual understanding. Dr. Birkenstein has long incorporated Russian short story writers into his curriculum as an English professor at Saint Martin's University.
"Nearly all major modern English-language short story writers—from James Joyce to Sherwood Anderson to Gertrude Stein to Ernest Hemingway to Raymond Carver and beyond—have been influenced by Russian writers, most especially Anton Chekhov (1860-1904), but also Ivan Turgenev (1818-1893), Nikolai Gogol (1809-1852), and others. Thus, to teach the modern short story is to teach the Russian short story, as well," explains Birkenstein.
By melding Russian and American writers together in a single class with Russian students (team taught with Professor Nadezhda (Nadia) Krylova, yet taught in English, will provide an opportunity for students not only to hear the perspective of an American on some of the stories they have known most of their lives.  In turn, Dr. Birkenstein hopes to gain an ever-richer understanding of the nuance and cultural weight in the stories, which he will then take back to classes in the United States.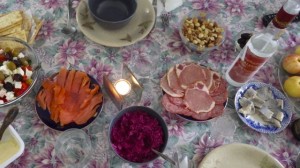 And while not officially teaching his Saint Martin's Food and Fiction class at Petrozavodsk State University, Birkenstein recognizes that a huge aspect of travel involves learning and enjoying the food of the respective culture.  His Russian students are constantly asking about American food. While not formally proclaiming oysters as his favorite food, he did reveal that living along the Puget Sound includes eating a lot of oysters.
Dr. Birkenstein describes Petrozavodsk as a city of slightly more than a quarter million people, which lies on the shores of the second largest Lake in Europe, Onega, and is in the Republic of Karelia bordering Finland. Though not generally on the tourist path, especially for Americans, it is the favored city of access to the famous 18th-century wooden churches on the island of Kizhi.  He suspects that most Americans likely do not even know where Karelia is located. In fact, Birkenstein, himself, was unaware of Karelia's existence only a few years ago. And curiously, Sibelius' Karelian Suite was recently performed in Olympia.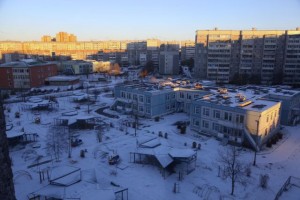 When summing up what he wants to accomplish through his Fulbright Award and his time in Petrozavodsk, Birkenstein responded, "I want to always better my own teaching and writing and researching, as well as to do my little part to bring the people in our two countries closer together."
"As Fulbrighters, we represent both the American government and the American people to most of the Russians we meet.  While not an official designation, many people will not have had significant contact with Americans before so this perspective can't help but be the case," added Birkenstein.  "I like to think I am a person who is eager to meet with and get to know people from all over the world.  People are not so different, of course, even if cultures vary widely.  Mostly people just want a decent enough life with some room to grow, whatever this might mean.  And they want to get to know other people from across the world."
To learn more about Dr. Jeff Birkenstein, click here.