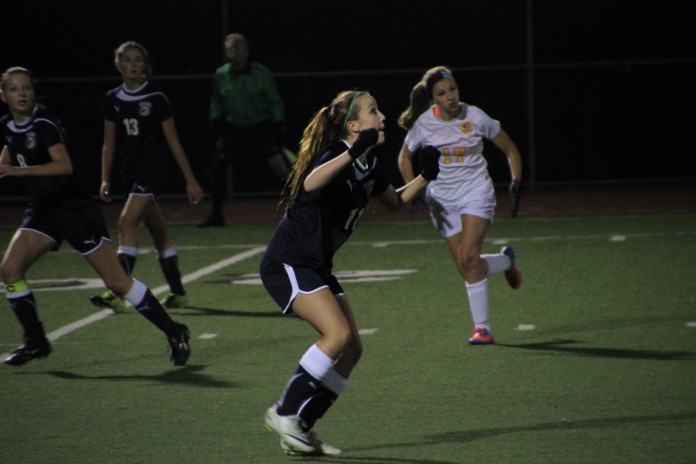 By Tom Rohrer

A little extra familiarity has gone a long way for Allen Anderson.
The second year coach for the Black Hills High School girls soccer team is seeing his effort and planning come to fruition on the field.  The Wolves sit at 11-1-1 on the year following a season where they missed the 2A state tournament for the first time since 2008.
Following four years at Napavine High School, Anderson replaced longtime head coach Lisa Summers in 2012, giving him a short time to acclimate to the roster and implement a style of play to fit the team.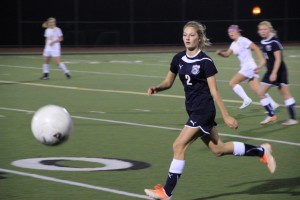 "The great thing about this year is I know the players and could prepare.  I didn't have that time last year," said Anderson, who led Black Hills to a 9-3-1 regular season record in 2012. "Going into this year, I wanted to assist them with style of play that compliments them and benefits the qualities each player has."
"We all know him better," said standout senior forward Whitney Lowe.  "We've gotten used to his coaching style, and the trust between him and us is at a whole new level."
This year, the Wolves have made the transition from an offensive minded 4-3-3 system to a 4-5-1 (going from defense, to mid-field, to forward), a set that emphasizes defense and allows for playmakers up front like Lowe to have more room to operate.
"I like the switch because of the defensive help in front of me," said sophomore center-back Delaney Trotter. "But I think we could adapt to any style with the right amount of time."
Despite the shift to a "defensive" style of play, the Wolves have seen their offensive output ascend to a trend-comprising height, scoring five or more goals in six of their 13 games.
This strong scoring attack has not disrupted the Wolves defense, as Black Hills has posted eight shutouts to live up to their coach's high expectation.
"We want to be known as one of the best defensive teams in the entire state," said Anderson, who led Napavine to three straight 2B state championship appearances from 2009-2011.  "We take pride in teams fearing to play us and knowing it will be tough to score. Senior goaltender CeCe Noyen has been terrific and our team defense has helped that too."
Along with the strong defense and offensive play, Black Hills players and coaches think the camaraderie within the program has improved this season as well.
"We get along well, that's something that I've noticed since last year," said senior center-mid Jessi Fancher. "Teams we play, we can hear them talking back to each other."
"These girls bought in to what we brought here, with what I brought here," said Anderson, a father of three. "They trust me, the coaches, and now are really enjoying playing with each other. The chemistry is so wonderful and it seems everyone is great friends."
With the year the Wolves have had to this point, one would figure BHHS to be dependent entirely on upperclassman talent.  While players like Lowe, Fancher, and senior Ali Thompson (all First Team All 2A Evergreen Conference players in 2012) are essential to the Wolves success, players such as Trotter, sophomore twin sisters Joslin and Sam Lindsay and junior midfielder Tori Steinbrecher shows that the future is as bright as the present for BHHS.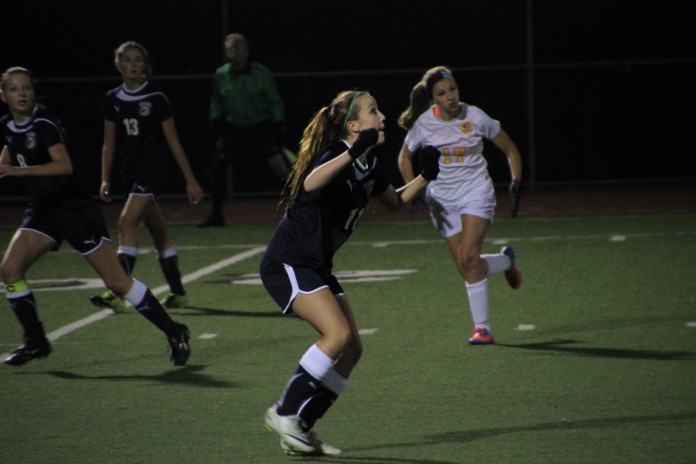 "Obviously when the seniors graduate it will be hard, but it's exciting knowing we have a lot of depth," said Trotter. "There is a bunch of talent in this program."
"Our whole bench, our starters, everyone is close to equal," said Fancher. "The starters aren't that different from the bench."
Having players familiar playing with one another, specifically the Lindsay sisters, has also led to increase productivity on the field.
"It helps.  We notice it sometimes but it's pretty normal to be playing together," said Joslin Lindsay.  "And that's how the whole team plays.  We know what everyone is going to do."
The ability to play as a team comes from on-the-field experience during the season, but also through the bonds formed participating in the intense pre-season conditioning program.
"Tryouts were harder this year.  Everyone noticed how intense it was.  There was a lot of conditioning," said Sam Lindsay, who plays on Black Hills Futbol Club with her sister during the club season.  "I think that's one of the reasons we got off to such a great start."
After posting a 1-1 tie with Timberline in the first game of the season, the Wolves rattled off 11 consecutive wins before falling to 3A Bonney Lake this past Saturday.  Currently, Black Hills sits atop the 2A Evergreen Conference with a 9-0 record in league games.
While it has been mostly smooth sailing for Black Hills to this point, the Wolves were able to overcome some adversity in 3-2 victory over rival Tumwater High School on Tuesday, Oct. 3.
The Wolves trailed the majority of the game before tying the contest up in regulation and would eventually defeat the T-Birds in a shootout.
"It was essential I think, because in the state tournament, if that situation came up, we would have confidence in our ability to come back and win," said Lowe, the leading goal scorer in the conference. "(Tumwater) scoring two goals in the first seven minutes and us coming back to win, that was huge for our confidence."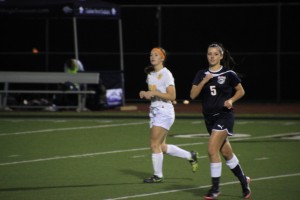 "It was good for us to be put in that situation and great for the girls to rely on their character and their belief in each other," said Anderson.  "You need to win games like that throughout the year."
With only three games remaining on the schedule and a league championship all but clinched (the Wolves must win one of their three remaining games to win the league title outright), Black Hills must soon begin focusing on post-season play.
Anderson believes his team still has a few areas to improve in, but he and his players believe they can return to the state tournament.
"We're always looking to get better, and I think we can team sharpen our defense, organization and communication on the field," Anderson said. "But the girls like that challenge of getting better and they will do anything to ensure success."
"What separates us I think is our practice intensity, and we practice like it's a game situation every day," said Fancher.  "Everybody better watch out, because we're on the prowl."
For more information on the Black Hills High School girls soccer team visit http://bhhsgirlssoccer.com.