By Tom Rohrer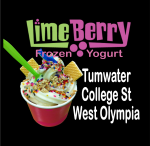 In sports, it's a necessity to forget the past quickly.
Teams strive to keep wins and losses in the past, but a lingering defeat or an emotional victory can carry over to the next week or the next game.
Both the Olympia and Capital High School football teams will need to move on from last week's defeats, as the two longtime rivals are slated to face off on Friday, September 13, in the annual Spaghetti Bowl.
Last year's game went to Capital, who had a dominating defensive performance in a 19-0 win over the Bears.
While Olympia's performance improved from last season's 34-0 home loss to Lake Oswego, a 6A school near Portland, Ore., the Bears still ended up on the short-end of a  7-6 defeat to the Lancers down in the suburbs of the Portland Metro area last weekend.
Capital, who finished 11-3 and lost in the 2A State Semifinals to eventual champion Lynden in 2012, dropped a home contest to by a score of 35-7 to Newport , a 4A school from the Bellevue area that the Cougars defeated last season 29-22 on the road.
Now, both the Bears and the Cougars must quickly forget last weekend's difficulties and prepare to take part in one of the biggest rivalry games in the entire state.
"We want to take what we did well last week, and we don't want to linger around the final result," said Capital High School head coach J.D. Johnson, who is now in his seventh season as head coach for CHS. "We did some good things and are trying to focus on that."
"One of the things we try and do here, much like Capital, is that we try to schedule a tough opponent for the early part of the season," said Olympia Head Coach Bill Beattie, who has been coaching at OHS for 19 years.  "I feel like we get more out of playing tough games and it helps us develop quickly."
To say Capital schedules a tough non-league schedule is putting it lightly.  The Cougars open with three consecutive 4A opponents (the Cougars travel to Bothell High School next week), making up what Johnson said is the toughest pre-conference schedule in the state.
The Cougars will have to take on this gauntlet in their first year back in the famed "Wing-T" offense, a scheme extremely popular in past decades (Tumwater and longtime head coach Sid Otton still run it, as do many teams across the state), that won Capital a 2A state title in 1996, a 3A state title in 1998 and an appearance in the 4A state title game in 2002 under legendary head coach Wayne Sortun.
Sortun was blessed with a bevy of talent at the skill positions with players such as Skyler Fulton (Arizona State), Jordan Carrey (Oregon, Portland State, Western Washington University ) and Tony Davis (Eastern Washington), and this year's Cougar team will have to replace standout running back Kai Van Sickle, who had over 50 touchdowns over the last two seasons.
Johnson cited the new running back duo comprised of juniors Ryan Rieta and Conner Kennedy, senior linebacker/receiver Jakob Racimo, and defensive back Jacob Johnson as players who need to step up and replace the graduated playmakers.  Despite the losses from last year's team, Johnson has seen an improvement in other areas.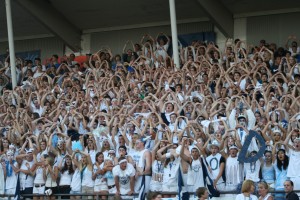 "This is a tighter group than what we've had in past. Circumstances alone have required them to come together," said Johnson.  "We've always had a great summer program and still continuously get 50 plus kids out there every day. That allows us to be a successful program."
One of those circumstances that Johnson did not mention, but is certainly fresh in the minds of the rest of CHS players, is the transfer of last year's starting quarterback Derrick Becker to Olympia.
Prior to the seasons opener, Becker was deemed eligible to play by the Olympia School District.  He has made the cross-town transfer seamlessly, according to Beattie and some of his teammates.
"I think the thing that impresses me is his knowledge of the game," Beattie said of Becker. "When you switch schools, everything is different and he's handled it well."
"He picked it up easily.  I know he was doing zone read stuff before, and he's doing some of that now," said Olympia senior Cooper Murphy, a two-way player for the Bears.  "It's rare to see him confused or ask a question."
Cooper, along with fellow two-way senior Mitch Fettig, are two of the key players according to Beattie.  Murphy, along with his defensive back duties, will play in the slot, the backfield and on the out on the edge for the Bears offensively.  Fettig could be the closest thing to a home-run threat for the Bears, as he will be Becker's main option at receiver and will also join Murphy in the defensive secondary.
For the two seniors, the Spaghetti Bowl is all about handling emotions, and playing for their teammates and coaches.
"I'm not worried about our game plan at all or if we have watched enough film," said Murphy, who watched his older brother Cole play for the Bears.  "It's all about emotion and about us keeping that in check."
"It's a fun game to be a part of put I just put the crowd, the pressure, all that stuff aside," Fettig said. "You take the atmosphere in and love it but you don't play for it. You play for your team."
While the rivalry is certainly intense between the two schools, that does not mean the two programs can't have a mutual respect and be there in times of need.
Olympia was in need of a new defensive scheme this season due to the passing of longtime defensive coordinator, head baseball coach and OHS teacher Todd McDougall.
When Beattie called out about needing to institute a new game plan, Johnson was there to answer, and even gave a clinic at Olympia to the coaches this past spring.  Even before that act by Johnson, the entire coaching staff and school administrators have an admiration for their cross-town colleagues.
"They have a great coaching staff, a great program and (Coach Johnson) has done great things there," said Beattie, who mentioned that going up against a Capital team running the wing-t takes him back to his days against Sortun. "It's a privilege to be a part of this game with them and I know that's a mutual feeling."
"It is extremely important to me to have that camaraderie and respect between our teams and schools," said Johnson.  "We're both so tied to the community.  It's a great game for community and school district."
Part of what makes the game so special is the spirit of the capacity crowd that fills up Ingersoll Stadium for the game.
"It's hard to match the atmosphere in our state," said Beattie. "I mean that because the pageantry, the division of the colors in the stands.  It's special to be in an atmosphere like that."
"Games like this are why you play football and coach football," Johnson said. "It's something that doesn't get old and gives everyone involved a chance to be part of something special to this community."
The annual Spaghetti Bowl matchup between Olympia and Capital will begin at Ingersoll Stadium at 7 p.m. on Friday, September 13.