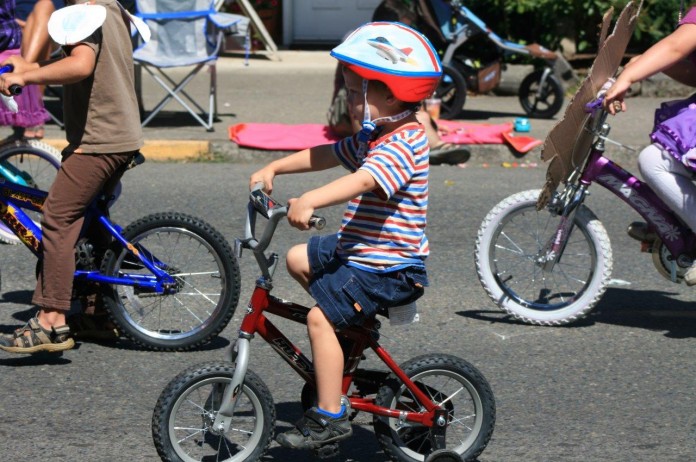 By Taryn Kama
It's not too late to achieve your family's fitness goals. If you love exercising outdoors, one way is to jump on your bike and enjoy one the many bike trails in Lacey and Thurston County.
Whether you want to get out with the kids, ride for fitness, or just enjoy being on two wheels, you can ride portions of these trails or string them together to enjoy a low-traffic, kid and bike-friendly ride.
Biking is not only good for your balance, spirit and body—it's a great calorie burner and can give you a high intensity workout if you want. For example, a 135-pound woman pedaling 12 to 14 miles an hour can burn 488 calories in 60 minutes, according to an article in Women's Health Magazine.
If you live in the Lacey area, it's a pretty good bet there is a trailhead near you. With the weather still nice, there's no excuse. Here is a list of some of the trails that will lead you on a local biking adventure.
One of the most well-known trails, and the one that takes you farthest, is the Chehalis Western Trail.
This paved pedestrian and bicycle trail runs along Lacey's western border, and stretches north 6.5 miles to the Woodard Bay Natural Resources Conservation Area and south 16 miles to the rural town of Rainier. There are numerous trailheads from which to access it.
This trail is interesting and historic with interpretative signs in some portions explaining its rich history. The historic Chehalis Western Railroad  operated from 1926 through the mid-1980's, and has now become the Chehalis Western Trail.  The trail runs north-south through the heart of Thurston County and links up with the County-owned 14.5-mile Yelm-Tenino Trail.
It passes through a variety of ecosystems and environments in both the urban and rural areas of the County. The trail provides access to over 170-acres of park land, including nearly two miles of frontage along the
Deschutes River, and features access to the Puget Sound, Chambers Lake, wetlands, forests, farmland, creeks, prairies, and other habitats.
Thurston County owns and operates 22 miles of Chehalis Western Trail in public ownership. The trail links into the planned 48-mile county-managed trail system.
It features four trailhead facilities with parking, restrooms, and picnic facilities at the Chambers Lake Boat Launch, Scenic Overlook at Chambers Lake, the Yelm Highway Pedestrian Overpass, a trailhead at 67th Avenue with parking and trail information, and a parking area at Fir Tree Road.
The northern section has a trailhead at Woodard Bay with parking and a short, interpretative walking trail at the end.
Also in Lacey lies the Woodland Trail. This paved pedestrian and bicycle trail parallels Pacific Avenue for 2.2 miles through the center of downtown Lacey, connecting Woodland Creek Community Park on the east and the Chehalis-Western and Olympia Woodland Trails at the west. It was also part of a rail line and it took a government and community effort to build.
One of the more visible bike trails is the I-5 Trail, a 3-mile paved urban trail for pedestrians and bicyclists connecting the satellite State Capitol Campus in Lacey to the main campus in neighboring Olympia.  Trail parking available at the Lacey City Hall/Lacey Library complex at 420 College Street SE.
In 1986, the City of Lacey entered into an agreement with the Washington State Department of Transportation (WSDOT) to lease one acre of land for access to the I-5 bike trail.  In 1991, the site was expanded an additional two acres, for a total of three.  The park is adjacent to the I-5 freeway bike path, and provides convenient pedestrian access from nearby commercial areas.
There are also many shorter trails for hiking and biking, go the City of Lacey website for details.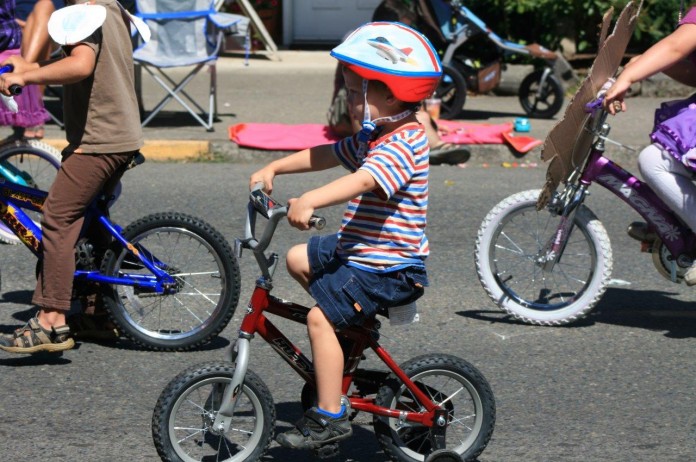 Tip for riding the trails:
 Remember the trails are multi-use. While there are no motorized vehicles, there can be horses, pedestrians and other bikers.
Announce your presence to others with a bell or a friendly "on your left" call-out well within earshot.
 Slow down when you pass pedestrians and horses.
 Watch for animals and children.
 Make sure you bike is in good working order (tires pumped, chain lubed) before you go out.
 Make sure you bike fits you properly. Visit a bike shop, such as Joy Ride Bikes in Lacey, to have one their experts fit you properly or check out your bike to make sure you have everything you need for a safe ride.
Thrifty Thurston highlights inexpensive family fun in Thurston County.  The weekly series focuses on family-friendly activities throughout our community.  If you have a suggestion for a post, send us a note at submit@thurstontalk.com.  For more events and to learn what's happening in Olympia and the surrounding area, click here.