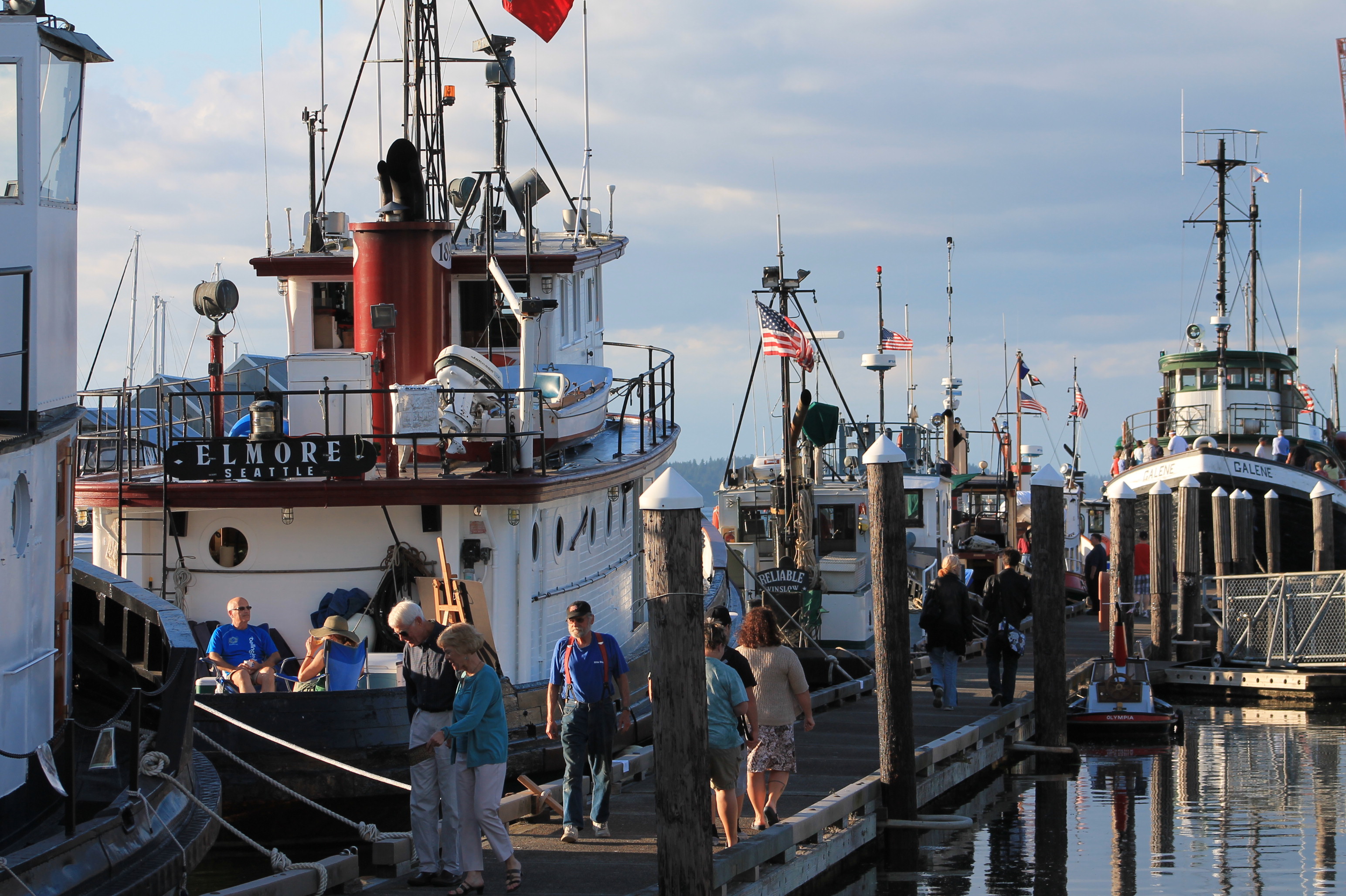 By Alyssa Ramsfield
Labor Day Weekend signifies the end of summer for many and is a time to enjoy one last outing. Well, set your anchor to downtown Olympia and bring the whole family to launch the 40th Annual Harbor Days.
The first Harbor Days event took place in 1973 to celebrate Olympia's comprehensive maritime heritage. With just a few tugboats and artists, it was a relatively small affair. Today, Harbor Days is one of the South Sound's largest festivals!
Beginning Friday, August 30 at 5:00 pm, tugboats, vendors, and entertainment will take over Percival Landing and Port Plaza for the entire weekend. "It's an exclusive waterfront festival where you can see tugs from all over the region, arts and crafts from local artisans, food, fun, and it's 100% free," describes event coordinator, Shelly Lively. "We really couldn't pull this event off without sponsors like The Port of Olympia, Olympia Federal Savings, City of Olympia, and Lucky Eagle Casino."
Over 150 arts and crafts booths and 30 vintage tugboats will line the waterfront for community members to navigate. There is also an opportunity to step aboard tugboats that have been cruising the sound for years and take in their historical importance through guided tours. There will also be a few special guests attending this year's event. "We're excited to have cast members from Discovery Channel's hit show, Deadliest Catch! They will be aboard this year's logo tug to help us celebrate all weekend long."
The celebration kicks off with a performance from the Fisher Poets. "They are a troop focused on entertaining audiences through musical poetry and sharing maritime history through storytelling," explains Lively. "We will also have a row of food vendors that will be creating delicious foods from around the world and all of our arts and crafts vendors will be open to enjoy." Paintings, jewelry, glass works, and many other hand made products will be readily available to purchase along Percival Landing.
Beyond the obvious theme of tugboats and maritime history, children of all ages are an important focus of the festival. "We want kids to be told 'yes' at our festival," says Lively. "We want kids to touch, feel, and experience as much as possible. We know that a great way to teach our youngest community members is through hands on experiences. Some of these experiences available include inflatable spheres that go on water kids can walk in, a huge purple slide, and a giant Lego set brought by the Port of Olympia. We also have the Symphony Orchestra of Greater Olympia Instrument Petting Zoo and Robotics group joining us! It's going to be a lot of fun for everyone!"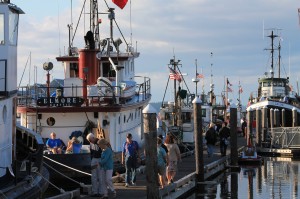 The grand finale of the festival has to be the tugboat races. "The procession of tugboats head out toward the deep channel on Sunday and the action really begins," says Lively. "There are a few options for visitors to watch the spectacle of the races. They can purchase a ticket on the Virginia V and cruise out into the sound for a front row seat or we've partnered with Mixx 96.1 to give live updates of the races all day long. Either way, we want everyone to have a chance to root on their favorite tug and get excited about the competition."
"This event is all about the community," explains Lively. "Money raised during the event, through donations goes to the Olympia Kiwanis. They are dedicated to taking that money and putting it back into our community through various programs. Clubs and groups from school districts across the county participate in helping out with this event. We want students to be educated about our working waterways and the importance of preserving them. Harbor Days is a great way for everyone in our community to get involved."
Sail into the fun this Labor Day weekend at Harbor Days.
Friday, August 30 – 5:00 pm – 8:00 pm
Saturday, August 31 – 10:00 am – 7:00 pm
Sunday, September 1 – 10:00 am – 6:00 pm
Admission is free! For specific information regarding vendors and schedule check out: www.harbordays.com.