By Brooke Guthrie

Twenty seven people stood in the rain and drizzle on a Saturday morning in May at an empty lot in West Olympia learning about one woman's vision to turn a vacant lot at the intersection of Harrison and Division into a park.
Alicia Elliott, who purchased property for $450,000 through an inheritance, is leading the group of volunteers.  She hopes they will eventually form a nonprofit and take over the park in perpetuity. Many who are involved as volunteers like the opportunity to shape a park space from the ground up and be involved in the project.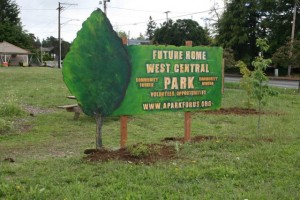 "The need for involvement in shaping our community is now greater than ever," said Melanie Gary. "This is our community. This is our Olympia. I want to be a part in shaping the type of community I want to live in and want to bring my children up in, and this park is a really great place to plug in to that. It's a great honor to show up for it."
This is a grass-roots visionary project for a community park and gathering space in West Olympia. The lot is zoned commercial and a recent convenience store proposal was objected by many in the community and local residents. An idea for a park, however, seems to have been embraced.
Elliott was tired of seeing the lot sit vacant after Rowland Lumber closed in 1980. The site is small and had sat vacant, in a prime commercial spot for over 15 years. Elliott wanted to see a park built in the spot instead. She hopes to raise $150,000 to develop the spot, and community members and businesses have started donating plants. Other local residents donated a picnic table and another has a bench salvaged from Rowland Lumber to donate to the site.
She envisions a community gathering space that is pedestrian oriented through a gated entry, an open air food court, bathrooms, a water feature, pathways, trees and benches where people can sit and enjoy the fresh air. She hopes for bike racks, a bocce and horseshoe court and tables inlaid with chess or checkers.
"We envision a pedestrian park to allow for a creative and beneficial use of this vital corner," Elliott said. "A beautiful space for the neighborhood to enjoy will enhance both the community and the economy surrounding it. This busy corner could be a place for local residents to meet, relax, visit and eat lunch, play checkers and shop for local crafts and produce."
The volunteers have been meeting weekly to plan and to volunteer on the site. There are signs, the picnic table, a staked out parking area and gravel should be added to the site in the coming weeks.
"I like the idea of getting to have some real input and involvement in the park, instead of it just being decided for us," said local resident Devon McCabe. "I live in the neighborhood and I love that my children will get to see the park transform and to know the people that are making it happen."
Local business owner, Rachel Lee of nearby Vic's Pizza said, "We think the park is awesome! We need some beauty on the west side. We are the unloved area of Olympia. It's always about downtown. We can't wait to contribute!"
The group is looking for monetary and volunteer donations, and people who want to be involved in the planning effort. Visit: A Park For Us for more information and on Facebook at: A Park For Us Facebook.