By Jennifer Crooks, Saint Martin's intern to ThurstonTalk
Saint Martin's University was founded in 1895 in what is now Lacey, Washington. Originally known as Saint Martin's College, it became a University in 2005. The only private Benedictine institution of higher education west of the Rockies, food has always played an important role at the school.
In the earliest years of the college, food services were headed by the monks. For example, Brother William Baldus served as cook from 1895 to 1896. He was replaced by Brother Edward Karge, who served from 1896 until his death in 1904. The food was described as "healthful and abundant" but "plain" in the earliest annual catalogs. This was about to be remedied.
On May 30, 1904, a group of nuns from Saint Gertrude's Monastery (Mother Johanna Zumstein, Sister Meinrada Hartle and Sister Walburga Ambuehl) moved to the campus. For the next fifty-five years, nuns from Saint Gertrude's served as the cooks of the campus. Besides cooking, they managed the monks and student's dining rooms, mended and sewed as needed. They were a welcome presence on campus. "Our Sisters know how to economize and at the same time keep the boys happy," Abbot Oswald Baran reported cheerfully in 1917. 
To honor these dedicated Sisters, the current student dining room (built in 2006) in Old Main is named Saint Gertrude's Café. These nuns departed on June 15, 1959 in order to work closer to Saint Gertrude's Monastery in Cottonwood, Idaho. They continue their wonderful ministry to this day. Commercial food companies were hired to provide food services at Saint Martin's from then on.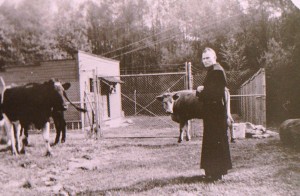 While the Sisters handled the kitchen for much of Saint Martin's history, most of the food eaten on campus was supplied from the school's own farm. The area around Saint Martin's College was mostly rural.  Land began to be cleared for a campus farm around 1901. Along with keeping livestock, vegetables were grown and an orchard was begun. In 1933, the building of the Olympia-Nisqually Highway through the northern part of campus forced the farm to be relocated to a site directly north of the Abbey buildings.
The school had to deal with rationing during World War II and in the months immediately after the war ended. Although there was a slump in College attendance during the war, the situation quickly changed in the years following the war. The school had to push for more allotments of animal feed in order to double their livestock flocks to provide for the increased school population.  By growing their food, they endeavored to keep the cost of tuition down.
The farm received some press. A May 21, 1939 retrograve (photo) section titled "Farm Chores Are A Daily Routine For St. Martin's Monks And Brothers" published in the Seattle Sunday Times featured the monks working on the farm which at that time fed fifty monks and two hundred students. The article reported on the school's agricultural activities and the roles that the monks played at the farm.  English teacher Father Gregory Wall served as an all-around handyman, acting as a carpenter, fence builder, and woodsman.  Work was done manually, with the help of plough horse named Dolly. The school kept several hundred chickens, producing so many eggs that some were sold to neighbors. Saint Martin's even kept bees. Brother Adam Richardson was the longtime beekeeper.  It was a difficult job. "Among bees," he said. "don't act afraid."
The College offered agricultural degrees. Farming courses, first offered for credit in 1946, were last listed in the College's 1955-1958 bulletin. Two types of degrees were offered—a bachelor of science in agricultural engineering and another for those who wanted to be farmers. Emphases in rural sociology and agricultural economics were also offered. The farm gradually faded out of use. Besides a Learning Garden, there is no farm on campus today.
The Saint Martin's kitchen was renovated in 1994, after fire destroyed the dishwashing room and other parts of Old Main. During renovation, the monastic and student dining area temporarily moved to a large tent in front of Old Main.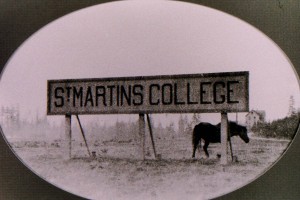 In June 2009, Bon Appétit Management Company was hired to do food services at Saint Martin's University. Feeding over a thousand students, faculty and monks daily is no easy task. Food services are offered at Saint Gertrude's Café in Old Main, Parson's Espresso and Snack Bar in Parsons Residence Hall, and the Monk's Bean Espresso Stand in Harned Hall. Bon Appétit also offers catering services to the many events and meetings on campus. The company endeavors to make healthy food that is as environmentally sustainable as possible.
From the past to the present, food has always fueled the immense energy and activities of the University. From the farm to the earliest cooks to present day commercial food services, Saint Martin's community has eaten well in the past and is sure to be eating well for many years to come.
Further Reading
Scott, John C. This Place Called Saint Martin's, 1895-1995: A Centennial History of Saint Martin's College and Abbey, Lacey, Washington. (Virginia Beach, VA: Donning Co. Publishers, 1996).
Ed. Bossert, Mary E. Nachtsheim, Mary Lucille. On the Way: the Journey of the Idaho Benedictine Sisters (Cottonwood, ID: Twin Towers, 1997.)
Between the Years, 1894-1945 (Lacey, WA: Saint Martin's College, 1945.)